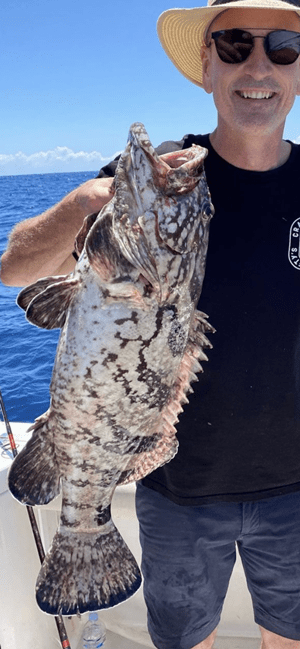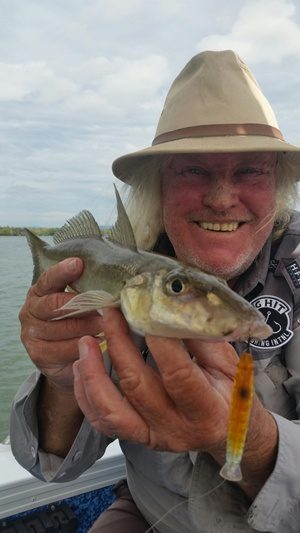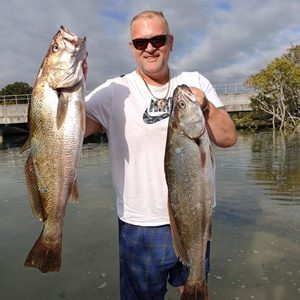 Hi Everyone, hope you have all had a good week, anglers had to get an early start to dodge big storms and hail on the Gold and Tweed Coasts last Saturday. We have seen some good dumps of rain over the past couple of weeks which has been great for our local waterways receiving a bit more of a flush out. Persistent strong SE winds have been the normal this week, hopefully we see the wind ease on Saturday and can get out for a fish. Let's have a look at what's been biting.
Customers have reported that some quality Mangrove Jack are being caught as the weather heats up, they really like those humid stormy conditions which tend to switch on their feeding patterns making them aggressive. We are blessed on the Gold and Tweed Coasts to have a great variety of spots to target Mangrove Jack from on the water or from the shore. The Tweed River, Currumbin Creek, Tallebudgera Creek, Nerang River and the Canal systems south to Broadbeach, Runaway Bay, Paradise Point, Coomera River and Logan River all being prime locations. After the rain, the River and Canals have good numbers of bait schools of Herring and Mullet moving around, this is great news as the predators will be on the hunt in these areas. Lure fisho's have also been doing well tempting some top-quality fish on a mixture of 3" to 4" minnow style soft plastics and hard body lures, just keep putting in the casts. Bycatch is common when targeting Jacks, Cod, Trevally and even the illusive Gold Coast Barramundi (keep in mind its closed season to target Barra) are awesome fun if the Jacks are slow. Just mix your methods and try either daytime or night time sessions and I'm sure you will come up trumps if you put in the hours.
Sand Crabs have been around in good numbers around the Southern Broadwater and Jumpinpin. Target a few depths of water until you find better numbers of Crabs. Fresh fish frames work well and whole Mullet are also great bait.
If you are keen to get offshore just keep an eye on the forecast, at the time of writing my report Saturday was looking ok depending on the swell which is a bit big and unpredictable this week. The close reefs have been fishing well with some great catches of Jewfish being landed, Arman had a good trip with local fisho Ben White (see photo in report) coming up trumps with a pair of Jewies for a feed. Some good Snapper are on offer at the moment with a few nice fish also showing up amongst the Jew Fish. Live Yakkas and Pike make prime baits, also try butterflied Yakkas, WA Pilchards, Squid and Mullet Fillet around the 18 fathom line.
Brad from Brad Smith Fishing Charters Reports it has been a wild week of weather some wild thunderstorms and some much-needed rain. The surface fishing action was once again dynamic with the Whiting, Bream and odd, good Flathead keen to rise off the bottom to inhale the mmd splash prawns. When the water is a bit discoloured as it is at present after the rain, I like to use a darker coloured surface lure like the cooked prawn colour for example. Apart from the surface fishing we have done some trolling with slam lures and a bit of drift jigging with the Samaki vibelicous lures for once again some Flatties, Bream and Whiting.
Clint from Brad Smith Fishing Charters reports this week mornings have been nice weather for fishing with storms developing during the afternoons so far as the weather heats up, it would be great if this trend continues over the spring and summer months.  I have been fishing the shallows once again, you have to work the tides right to get the fish and crabs but there is some quality around. They have been feeding on the lead up to full moon on Sunday. The water temp at Capri today was 26.6 which will see Jacks and Whiting in an aggressive mood. There has also been big Bream, School Flathead, solid Luderick and Tarwhine biting around Wavebreak Island.
Gavin from Sea Probe Fishing Charters reports 50 fathoms have been producing some good size Kingfish and Ajs on the jigs and live baits and still few Snapper and reef fish being caught also. The 36 fathom reefs still producing Trag, Snapper, Tusk Fish ,Cod also Dolphin Fish around the fads. On the 24's some good size Jewfish were caught along with Trag, Reef Flathead and Tailor.
Hope you all have a good week and stay healthy and safe. If you have any great catches or photos you would like to share, please email us and let us know how you went.
Stay up to date with all fishing regulations in Queensland https://www.daf.qld.gov.au/business-priorities/fisheries
Fisho Tackle and Coomera Houseboat Holidays now have Hire Tinnies follow the link to view http://www.coomerahouseboats.com.au/our-fleet-type/hire-tinnies/
Seabreeze is a great website to access a local forecast http://www.seabreeze.com.au/graphs/
If you have any great catches to report or fishing photos please email them to  brett@fishotackle.com.au    Good luck with the Fishing.  Brett