Hi Everyone, hope you have all had a good week, the weather has been a bit average with only a small weather window last Wednesday before the Southerly wind kicked back in on the Gold and Tweed Coast making it hard going. The weekend is looking pretty wild at this stage with strong Southerly winds and a big swell pumping will make sheltered rivers the best option is you want to wet a line. It might be a good weekend to do a bit of maintenance on the fishing gear and sort out the tackle boxes ready for the next trip. Let's check out what's been on the bite this week.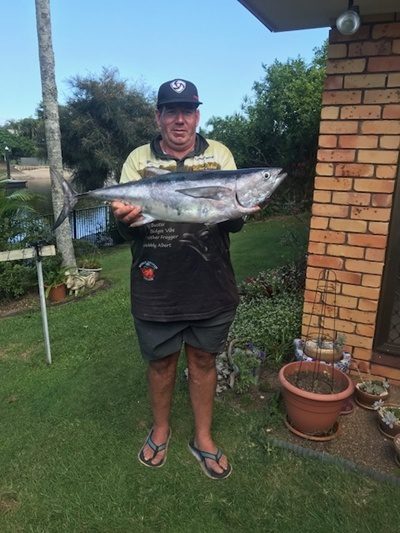 Given the pending forecast for the weekend ahead sticking to sheltered rivers and canals will be the best bet if you are keen to get out for a fish, the Tweed River, Currumbin Creek, Tallebudgera Creek, Nerang River, Coomera River, Pimpama River and the Logan River will all offer a bit of shelter from the Southerly winds and are a good option to find a feed. This time of year, offers diverse fishing with the water temp cooling and plenty of bait fish and prawns in the system for predators to feed on. Some of the species you can expect to find are Bream, Tarwhine, Whiting, Flathead, Tailor, Jewfish, the odd Mangrove Jack still showing up and Trevally. Target areas like snags, rock bars and deeper holes, for the lure fishos soft plastics and vibes are a great option to work around bait schools and deeper holes for Jewfish. Flathead will also respond very well to lures, the shallow tops of sandbanks at high tide will be productive during the day and the edges and drop offs off the sandbanks is usually where Flathead will lay in wait to ambush bait as it exits the banks as the tide falls. Good sized Whiting can be caught all Winter long and are a tasty species to target, blood worms followed by beach worms and yabbies are the best bait. Moving around and varying your casts into different depths of water will be the best indication as to where to locate feeding schools of Whiting. A running tide is the key, the more tidal movement the better as it tends to stir up the bottom which helps the Whiting feed. Bream would have to be one of the most common target species in our waterways and are usually hanging around in good numbers this time of year as we head towards the winter breeding season. Structure is the key to success with Bream, they will tend to school up around snags, rocks, bridges and pontoons pretty much anywhere that will offer some form of shelter and a food source. Burly is a good idea it will attract Bream into the area you are fishing and a steady trail will keep them feeding for longer. This time of year, bigger fish are more common to be caught at night time with more school sized fish being active during daylight hours. Some great baits to use are Mullet Gut, Mullet Fillet, Bonito Fillet, White Pilchards, Prawns and Yabbies.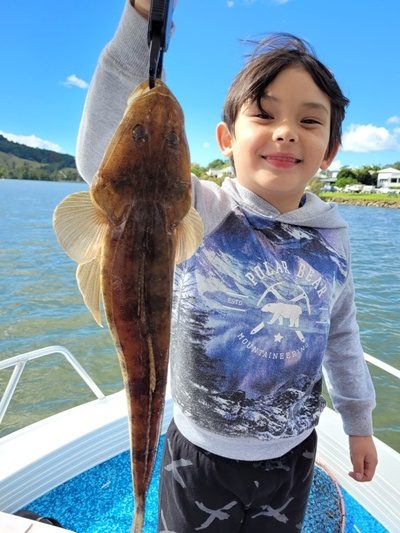 Fishos will have to wait for the swell to drop and the wind to ease before thinking about heading offshore on the Tweed and Gold Coast with the local bars producing dangerous conditions for boaties.
Brad from Brad Smith Fishing Charters reports well once again we had some mixed weather this week matched with some great fishing. Jigging a mixture of Samaki and Ecogear ZX 40 vibes did the damage on some quality Bream and Flathead.  As it was last week the bait is still balling up in the bottom of the deep holes in the river and a well worked lure along the bottom of these holes has guaranteed success. Be a bit careful when fishing the deep holes as we have been catching the odd venomous little fish on the vibes that at first glance look like a type of cod. I first thought they were another painful fish called bullrouts but a quick reference to the Grants Guide of fishes has identified them to be Soldier Fish and should not be touched and carefully removed with your pointy nosed pliers. It has always been said in our industry if you don't know what the fish is do not touch it and definitely don't try and eat it.
Clint from Brad Smith Fishing Charters reports another week of good fishing. As Smithy wisely pointed out, watch out for those nasty Soldier Fish. They have been around lately in Nerang river too. The Squid have come through with a bang this week in the Broadwater, we have caught over 50 of the tasty critters some days. They are widespread wherever there are a mix of sandy holes and weed beds. Since I've started using the new Ecogear Dartmax 3.0 squid jigs the catch rate has exploded. This is no doubt due to how quick they sink, which suits the flow and depth of the Gold Coast Broadwater perfectly. Some trips in the river have produced lots of Bream and nice Flathead, with the odd Trevally in between. In the Broadwater amongst the Squid there has been Tuskfish, Flounder, Flathead, Whiting, Squire and Tarwhine. Hopefully, the Blue Swimmer Crabs pick up in numbers leading up to full moon next week. The water will be super clear on the run-in tides, it often pays to keep moving North in the Broadwater with the tide then South as the tide runs out.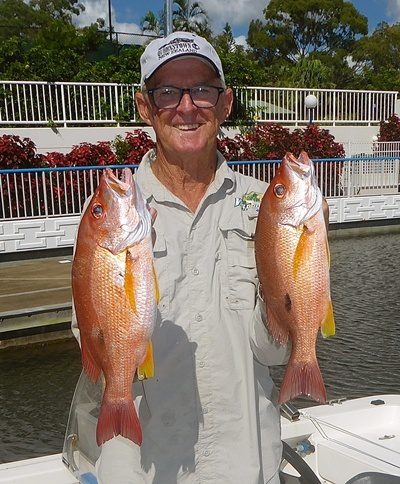 If you have any great catches or photos you would like to share, please email us and let us know how you went. brett@coomerahouseboats.com.au or brett@fishotackle.com.au
Stay up to date with all fishing regulations in Queensland https://www.daf.qld.gov.au/business-priorities/fisheries
Fisho Tackle and Coomera Houseboat Holidays now have Hire Tinnies follow the link to view http://www.coomerahouseboats.com.au/our-fleet-type/hire-tinnies/
Seabreeze is a great website to access a local forecast http://www.seabreeze.com.au/graphs/
Good luck with the Fishing.
Brett