Hi Everyone, hope you have all had a good week, it's been very cool and a bit wet this week on the Gold and Tweed Coast, the good news for the weekend ahead is we will see very light winds and a small swell giving us great conditions for heading out fishing. With a great forecast on the way let's check out what's been on the bite this week.
Flathead seem to love the cooler weather and have started to show up in numbers with Fishos landing plenty of good fish throughout the Gold and Tweed Coast waters. I headed out for a look with my daughters last Sunday around the Jumpinpin area, we had a good day catching and releasing 22 Flathead and kept one fish for dinner. I was using a mixture of Zman 4' Strekz curl tails soft plastics and Zerek fish trap soft vibes which seemed to work a treat. There are plenty of small fish around ready to nail a lure and a few larger quality sized fish as well. You may need to move around a bit until you can find an area worth targeting, in the deeper water keep an eye on the sounder until you can locate enough bait and cast you lures and work the vibes until you get a hit. On the run out tide you can work the entrances of drains, if you see pelicans feeding in that area it is a great sign there is bait present and Flathead will be there cashing an easy feed. Whether you are casting, or trolling keep in mind that Flathead are an ambush predator that will tend to lay in wait with their head facing into the tide waiting for the bait fish to swim past, when you cast or troll try to target your casts up current or troll with the current for best hook up results. Jumpinpin is a great area to target Flathead, try around Jacobs Well, Neverfails, Whalleys Gutter, Tiger Mullet Channel, Cabbage Tree Point, Canaipa Passage and the mouth of the Logan River. In the Broadwater, some good spots are Tipplers Passage, Aldershots, Brown Island, Paradise Point, Crab Island, Wave Break Island and the Nerang River. Drifting baits is also a great way to target Flathead, just remember to use a bit of trace line as their mouths are very abrasive and when they thrash their heads from side to side, they will wear through your line very quickly and bust off.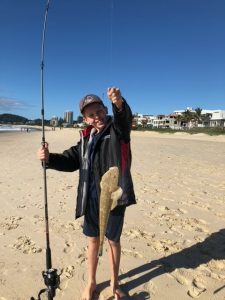 Reports of Tailor around Jumpinpin and the Broadwater has seen fishos landing a few nice fish, size of the fish has varied from small choppers up to some quality larger fish showing up. Find the bait or birds and you will be in with a good shot and scoring a fish. There has also been some smaller Queenfish in the same areas which are great fun fish to land. Clean water has held the best fish, I recommend targeting areas closer the open ocean entrances like Jumpinpin Bar and the Gold Coast Seaway. The last 2 hours of the run-in tide will be the optimum time to target, trolling hard body lures until you can find the right signs is a good way to cover ground. Once you locate the fish you can then try casting surface lures, shallow divers or metal slugs at them.
With a good forecast on the way for the weekend heading offshore will be on the cards for anglers, the cold weather should help with the Snapper bite. Fishos have reported some good catches of Snapper, Cobia, Jewfish, Moses, Trag Jew and Tuskfish from the local 18 and 24 fathoms reefs off the Gold Coast. The 36 and 50 fathoms areas will also be fishing well for Samson, Amberjack, Snapper, Cobia and Tuskies.
Brad from Brad Smith Fishing Charters reports the fishing on the Tweed slowed down slightly this week with slower tidal flow on the back of last weeks full moon. Regardless we still caught some nice fish with jigging the deep holes with vibes being the best technique. The species we caught included some nice quality Flatties as well as Bream and a bunch of small Jewies. In fact, we caught over 10 jewies on one charter and not one of the fish were over 50cm but this is a good sign of a healthy river to see these juveniles in such good numbers. I predict some really good fishing for this oncoming week with the tides picking up again on the lead up to the new moon.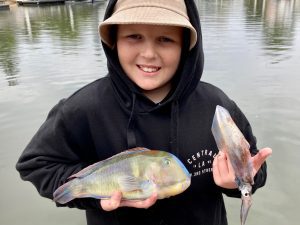 Clint from Brad Smith Fishing Charters reports this week was unusual on the Broadwater, with the fishing quite shut down, but some good Squid around. The water in the Broadwater has been a murky green colour which seems to be cold water coming in from offshore. This sudden change can put some fish off, so we have had some days when catching Squid with jigs was the most productive tactic. The fish we have been catching, mostly on Ecogear ZX40's smeared in Smithy's UV prawn Sax scent, have been on the small side with Flathead, Whiting, Flounder, Bream, Tarwhine the most common. The fishing will pick up this coming week as we get closer to new moon, and the water temperature and colour stabilises. We should see some nice Tuskies and bigger Flathead, Flounder, Tailor, and Whiting then. Arrow Squid have been the main target, and are best targeted on the last half of run in tides through until the first half of the run out. I've been finding the Ecogear Dartmax 3.0 squid jigs most successful because of their slightly faster sink rate. It pays to give them a quick spray of Ecogear Egimax scent spray once a day too. Don't spray too much on or it deters the squid. The RUI 3.0 jigs work nicely too in the Gold Coast Broadwater. Squid are a lot of fun to catch and even better to eat. I find it very addictive when they suddenly latch on to squid jigs then lunge to try and escape. Fight the bigger ones gently with a light drag or they will get off the hooks. Yesterday we started to catch some big Tiger Squid which is very good to see. They seem to like weed bed areas and rock walls, and a slow wind and pause retrieve. Best areas to fish and Squid have been the Western channel next to Wavebreak Island, Labrador, Lands end area, and Runaway Bay to Hollywell. Find sandy areas with undulating bottom and the Squid and Fish will be there. Squid move around a lot hunting food, so it pays to cover ground to find them.
Gavin from Sea Probe Fishing Charters reports Plenty of Snapper, Tusk Fish, Pearl Perch, Moses Perch, Yellowtail Kingfish, Amberjack and Maroi Cod biting all along the 50 and 36 fathoms using Wa Pillies, Mullet and jigs for the kingys.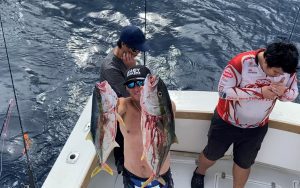 If you have any great catches or photos you would like to share, please email us and let us know how you went. brett@coomerahouseboats.com.au or brett@fishotackle.com.au
Stay up to date with all fishing regulations in Queensland https://www.daf.qld.gov.au/business-priorities/fisheries
Fisho Tackle and Coomera Houseboat Holidays now have Hire Tinnies follow the link to view http://www.coomerahouseboats.com.au/our-fleet-type/hire-tinnies/
Seabreeze is a great website to access a local forecast http://www.seabreeze.com.au/graphs/
Good luck with the Fishing.
Brett