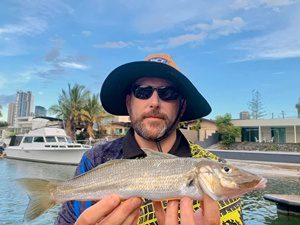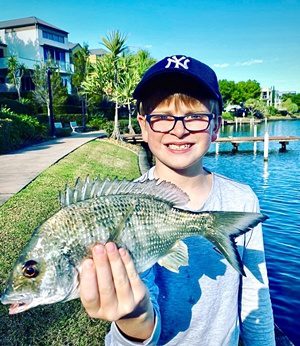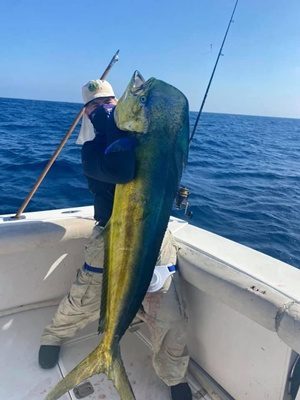 Hi Everyone, hope you have all had a good week, after an extra warm weekend followed by some stronger Southerly Winds on the Gold and Tweed Coast the good news is the weekend is looking fantastic. Light winds and small swell on the way giving us some great fishing conditions. Let's see what's been on the bite.
Locals have reported some great fishing in the Gold Coast Seaway the past week with some good catches of Jew Fish and Mangrove Jack being landed by lucky anglers willing to put in the time and effort. Live baits like Yakkas, Pike and Herring have been working well fished around the North Wall and Pipeline area. As the tide flows very quickly, timing is key to success with the best time to try your luck being an hour before and an hour after a tide change. A bit heavier outfit is recommended around 20 to 30 lb braid and 30 to 40lb leader is a good starting point, it you get busted off just upsize the leader a bit. If things are a bit quiet just have a drift around until you come across bait or fish to target. You also have a good change of some nice by catch like Snapper, Cod, Trevally, Flathead, Tailor and Sweetlips which are all great fun to land.
With the wind and swell tipped to ease this weekend heading offshore is a good option with a few different species to target as the water temp warms up. The closer 18 to 24 fathom reefs will still be holding big Snapper, Jewfish, Moses Perch, Tusk Fish, the odd Cobia and Trag Jew if you are keen to chase a feed of reef fish. You may also come across a few Mackerel this time of year, so it is always worth keeping some wire in the tackle box and some metal slugs onboard just in case. Further out the 36 fathoms have been producing some nice Dolphin fish around the fads lately, I recommend having a few options to throw at them such as live baits, WA Pilchards, Soft Plastics, Stick Baits and Surface Poppers will hopefully get the job done. Trolling lures will also be worth a go around the 36 or 50 fathoms reefs with some great Dolphin Fish around at the moment, again if you can find the warmer water you may also be in with a chance of an early season Black Marlin or Wahoo. When trolling keep an eye on the sounder for temperature breaks which can be a sign that bait and fish may be in the area. Also I recommend to keep an eye on the sky for bird activity and also the water for any splashes or surface action that may mean fish feeding on bait.
There has been plenty of nice Whiting, Bream and a few good Flathead on offer around Jumpinpin and the Broadwater for anglers both land based and out in the boat. Try the Nerang River, Marine Stadium, Broadwater foreshore from Charis Seafoods north to Howard Street, Crab Island, Pimpama River, Jacobs Well, Tiger Mullet Channel, Pandanus Island, Cabbage Tree Point and the Logan River. Live yabbies are great bait and will work well on all the above species, for Whiting and Bream worms are also fantastic bait. Bream and Flathead will also bite on White Pilchards, Prawns and Mullet Fillet.
Brad from Brad Smith Fishing Charters Reports on the water this week was once again it's all about  fishing the flats and having fun with some good quality Whiting, a few Bream and the odd Flattie rising up from the bottom to smash the mmd splash prawns and bassday suga pen surface poppers. It was also exciting to find a new ridge line in the middle of the river that I have motored over all my life which I experimented with at the bottom of the tide and did not get a lot of fish but my client Robbo got some serious quality whiting on surface lures. To round up the week one of the deep holes had some good bait schools holding and deep-water jigging with the samaki vibelicous vibes produced a couple of Jewies.
Clint from Brad Smith Fishing Charters reports this week It's been great to get my customers onto some good bags of Whiting and some big ones once again this week. Although the tides haven't been ideal with big draining ones during the day, we have worked hard to find where the fish are holding. Using ultra-light tackle with Atomic Arrowz 1-5 lb rods, and Shimano Sienna 1000 reels spooled with 3 lb line is so much fun while wading the sand banks in shallow water. Often ankle to knee deep water is where the big Whiting, School Flathead and Bream are. I always look for where the stingrays are feeding, and the fish are usually nearby. The rays are a friendly bunch however care is needed to not stand on one. Always approach them from front so they can see you and slowly move off. Yabbies are the best bait around the banks, while MMD splash prawns and Pro Lure ST72 lures are great for surface luring and cranking.
I had a look around Crab island to try the vibes but the Northerly wind had blown in the dreaded snot weed again. It's best to concentrate fishing at the Southern Broadwater and the edges of banks at the moment.
Gavin from Sea Probe Fishing Charters reports 50 fathoms is still fishing well with some good size Amber Jack and Yellow Tail Kingfish hitting live baits. Try fishing the 36 fathoms line for a feed of Snapper, Trag Jew, Tusk fish and some top quality Dolphin have been holding up on the fads. The 18 and 24 fathoms reefs are producing a few nice Jewfish, Snapper and mixed reefies.
Hope you all have a good week and stay healthy and safe. If you have any great catches or photos you would like to share, please email us and let us know how you went.
Stay up to date with all fishing regulations in Queensland https://www.daf.qld.gov.au/business-priorities/fisheries
Fisho Tackle and Coomera Houseboat Holidays now have Hire Tinnies follow the link to view http://www.coomerahouseboats.com.au/our-fleet-type/hire-tinnies/
Seabreeze is a great website to access a local forecast http://www.seabreeze.com.au/graphs/
If you have any great catches to report or fishing photos please email them to  brett@fishotackle.com.au
Good luck with the Fishing.
Brett