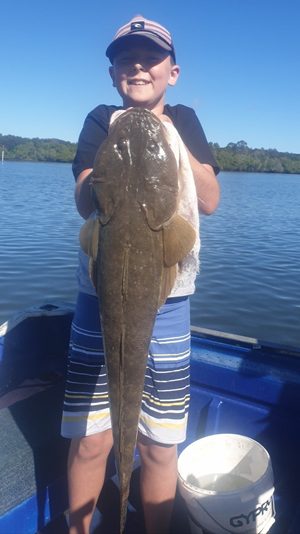 WITH a sense of spring in the air and a few opportunities for the offshore crew, there is certainly a feel of better things to come. The offshore days were limited due to winds and swell, but those who went out fished North Reef, Sunshine Reef and the bigger boats even managed some trips to Double Island.
The local reefs are still providing anglers with pelagic fish not commonly found this late in the year. Tuna, and school and spanish mackerel have been reported all along the coast. Although not in big numbers like in summer, they are still big enough to keep for a feed. Most fish are taking pilchard floaters. Remember to fish light with 30-40lb leaders. Mackerel can cut through 80lb, but you still want to aim to fish as light as you can for the best presentation. If you need wire then come in and ask how we haywire twist single strand wire without any tools.
Other fish are sizable jewfish on North Reef and beyond. Cobia are appearing in better numbers. These smaller fish will take everything you can throw at them, from bait to lures. An underrated lure has to be a soft vibe like the bigger Zerek Fish Traps. These have huge vibration, a baitfish profile and flutter on the fall. If you hop these close to the bottom then reef fish climb all over them, with no need to upgrade the treble hooks. If chasing the big stuff then check out the BKK Raptor Z hooks, as these are super strong. These also work very well for snapper and now that they are on the menu again, it's a great time to give one a try.
Surf fishing has seen a good mix of whiting and bream to keep those anglers using light 3-4kg outfits happy. After dark the chances of tailor and jewfish become more possible, and many good fish have been landed on our fresh cryovac mullet. This is best used on a simple snell hooked rigs and 40-50lb mono leaders.
The river has been a little quieter with the cold snap that blew through earlier in the week. Flatties are always found in the lower estuary, as are a few trevally, including a few chunky goldens which will take lures and live baits. For live baits, be sure you have the cleanest water possible and keep it aerated for best results. Check out our range of cast nets, live bait buckets and aerators. If you need help throwing a cast net just ask!
This cold snap may well see the tailor push in, especially as we approach the new moon in a few days. These higher tides often carry baitfish into the estuary and the bigger fish will follow. During the new moon phase the early morning bite will be stronger, so have a small bite leader attached to your standard leader. Look at DFC leader for a strong fluorocarbon that allows for simple mono to mono leader connections.
Jacks are also turning up. These fish are more likely to hit a live bait, and fishing around the many bridges and pontoons will give you best chance of hooking one. Smaller jewfish will also be found around the ski run toward the ferry crossing and the various drop-offs along this stretch. With squidgies back on the shelf, be sure to grab some bloodworm Prawns, and load them up with scent and slow wind them for best results.
If chasing bass this weekend, you are going to need your sounder running sidescan. If you have the new Humminbird units, which we also stock, don't forget to turn your frequency down from 1KW or Mega. These units emits a strong pulse that is too much for shallow water fish, causing them to move away. Once you find them, turn your unit to 455kHz and they will stick around. The previously schooled up fish found in the main basin at Borumba have moved away. The schools are more scattered and with the strong winds 3/8oz jigheads and small 3" paddle tail soft plastics will get the job done. Ensure your offering stays close to the bottom. Have a look at Nories Inlet Shads for the perfect baitfish profile.
Lake MacDonald is also showing the bass have moved away from the lower part of the lake and are now more scattered. Again, be sure to move slowly while in sidescan mode and have smaller sounders set to 10-15m sidescanning range if you aren't to see them on your screen.
For all the latest information, log onto www.fishingnoosa.com.au for up to date bar and fishing reports, don't forget to drop into Davo's Tackle World, Davo's Boating and Outdoors in Noosa and Davo's Northshore Bait & Tackle in Marcoola for all the right equipment, bait and advice to get you catching. Be sure to follow us on Facebook and remember, tight lines and bent spines!