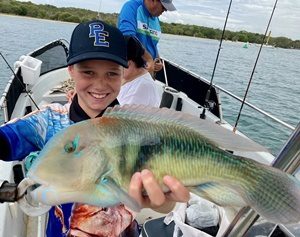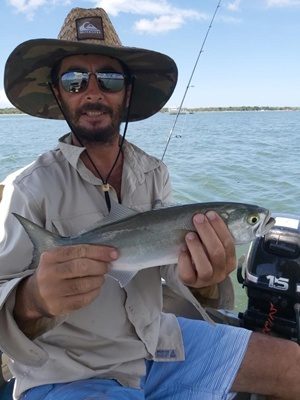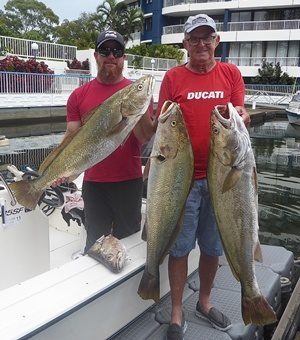 Hi Everyone, hope you have all had a good week, unfortunately rain, wind and swell will be on the menu for the Gold and Tweed Coast well into the middle of next week seeing pretty average conditions to get out on the water. If the rain eases over the weekend and you're keen to get out I recommend trying your luck for a feed of Mud Crabs. Let's have a look at a few options for the weekend ahead.
One target species that loves the rain is the good old Mud Crab, given the amount of rain we have had this week it makes then the perfect choice to target a tasty feed this weekend. Fresh bait is recommended, try using either whole mullet, fish frames from your last catch or raw chicken will all do the trick. I always recommend using a bait bag, it makes baiting the pots a lot easier and also stops little fish, eels and hopefully Mud Crabs from stealing you bait but will allow you longer to attract the Mud Crabs you are targeting. Try scattering a few test pots around your local rivers until you find an area holding better numbers of crab, some good spots to look are the Tweed River, Tallebudgera Creek, Currumbin Creek, Nerang River, the main Coomera River and both North or South Arms, Pimpama River, Tipplers Passage, The Never Fails, Cabbage Tree Point and the Logan River. Just make sure you are up to date with the rules and regs before heading out https://www.daf.qld.gov.au/business-priorities/fisheries/recreational/recreational-fishing-rules/crabs-lobsters
The Gold Coast Seaway has been producing some cracking catches of Jew Fish, Mangrove Jack and Trevally fishing the North Wall and Pipeline on the last hour of the run in and the first hour of the run-out tide, live baits have been working best. When we see a large swell offshore it tends to stir up the feed and the Seaway will fish well seeing quite a range of species on offer. You will often land a great mixed bag of Spangled Emperor, Squire, Grassy Sweetlip, Painted Sweetlip, Moses, Tusk Fish and Bream. Just keep an eye out for larger swells rolling through the area.  Fishing between the pipeline and the East Side of Wave Break Island is popular spot drifting over the rubble with baits, lures or soft plastics can be extremely rewarding.
When the weather eases and the swell drop hitting the local reefs will be a good option with a great mixture of reef species and pelagic species on offer. Unfortunately, the Tax Man (Sharks) have been around in larger than normal numbers taking their fair of unfortunate anglers prized catches. The local 18 and 24 fathoms reefs have produced a good mixture of Snapper, large Jewfish, Tusk Fish, Trag Jew, Moses and plenty of great sized Spanish Mackerel. The 36 fathoms reefs will also fish well current depending producing Snapper, Tusk Fish, Cobia, Samson, Amber Jack and the fads are still holding plenty of Dolphin Fish.
Coomera Houseboat Holidays customers have scored a mixed feed of Bream Flathead and Whiting from the Sandbanks and channels around Wave Break Island, Crab Island, Coomera River, The Never Fails, Curtis Anchorage, North Bedrooms, Tiger Mullet Channel, Jacobs Well around the shoals, Logan River and Canaipa Passage. Bream really love the fresh water flush and should be around in good numbers, using a bit of burly is great idea to fire them up and keep them around the area you are targeting. Yabbies are great all-round bait, the kids will have fun pumping them. I'd also recommend Worms, Prawns, White Pilchards and Mullet Fillet to catch a feed.
Gavin from Sea Probe Fishing Charters reports this week the Black Marlin have been very quiet, the bait has disappeared along the outer reefs but still worth having a troll or sounding around for the bait balls. Out on the shelf there has been a few Blue marlin showing up in depths from 300m to 1000m trolling 8 to 15 inch lures work best. On the 50 fathoms for reef fishing the current has been a bit strong at times to fish it but when it has died off for us there has been great catches of Snapper, Kings, Ajs and Samson Fish. In close Mackerel have been still biting 18 and 24 fathoms.
If you have any great catches or photos you would like to share, please email us and let us know how you went. brett@coomerahouseboats.com.au or brett@fishotackle.com.au
Stay up to date with all fishing regulations in Queensland https://www.daf.qld.gov.au/business-priorities/fisheries
Fisho Tackle and Coomera Houseboat Holidays now have Hire Tinnies follow the link to view http://www.coomerahouseboats.com.au/our-fleet-type/hire-tinnies/
Seabreeze is a great website to access a local forecast http://www.seabreeze.com.au/graphs/
If you have any great catches to report or fishing photos please email them to  brett@fishotackle.com.au
Good luck with the Fishing.
Brett