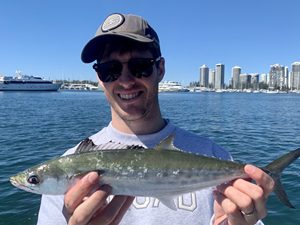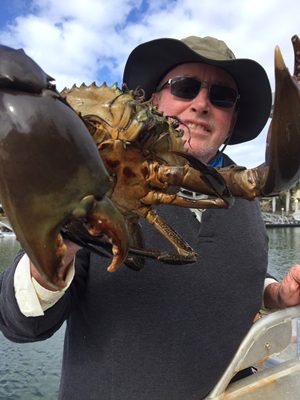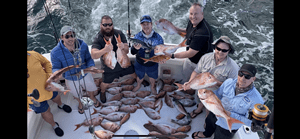 Hi Everyone, hope you have all had a good week, as we head into Spring it is nice to see some warmer days on the Tweed and Gold Coast. September will see some different fishing options with some warmer water species starting to make a comeback. If you are planning to take Dad out for a fish this Sunday to celebrate Father's Day let's see what's been on the bite.
Offshore has seen the Snapper bite continue with some good catches coming from the 50's, 36's 24's and 18 fathom reefs off both the Tweed and Gold Coast. Bait schools are holding around the reefs attracting predators like Snapper, Cobia and Jew Fish. Picking the current has been a bit difficult with conditions changing regularly, picking the right size sinker to suit the current is very important. Burley is the key to attracting predators, just a consistent amount but not too much to fill them up. A mixed bag of Yellow Tail Kingfish, Amberjack, Pearl Perch, Moses, Tusk Fish, Trag and Jewfish have made up the bulk of other species being caught.
Inshore Spring conditions will see a transition from cooler to warmer water which in turn should see a return some of our favourite estuary target species like Mangrove Jack, Estuary Cod, Trevally and the good old Bull Shark. It will be worth having a hunt around the Coomera River, Paradise Point and the Nerang River with some live baits.
Large schools of baitfish in the Broadwater have been attracting heaps of little School Mackerel the last few weeks, Ben White reported he had a great session catching heaps of these fun fish in the Gold Coast Seaway this week.
Heaps of bait fish is also great news as we head towards the prime time to target Flathead from now until October around the Broadwater and Jumpinpin. Some rain would be good to flush the weed away making Flatty fishing a bit easier for anglers.
Brad from Brad Smith Fishing Charters reports it is fantastic that the strong west to northwest winds have dropped out and the barometer is on the rise. This great weather pattern will really help our catch rate over the coming week ahead. The couple of cooler nights and mornings that we have had over the last few days has dropped the water temperature, so the shallow water has been fishing the best. The shallow water heats up quicker with the sun and the fish seem to move into the warmer pockets of water. A combination of both trolling and casting our lures has produced Flatties, Bream and the odd Whiting and Giant Trevally. Now that we are moving into spring and then summer it will not be long before we start throwing around our surface poppers on all our trips.
Clint from Brad Smith Fishing Charters reports this week there has been a lot of School Mackerel in the main Southport channel, with some bigger ones amongst them biting and busting off lines. They are a lot of fun to catch on light tackle, and love whitebait and small metal lures. Samaki Torpedo V2 20 gram slugs are a great lure to throw for them and Tailor too, as they imitate baitfish perfectly. Just throw out into the tide, let it sink to the bottom then crank as fast as you can. The strikes are very exciting. We have also been catching some tasty keepers for the plate, with Flathead schooling up more as well as big Flounder, Winter Whiting, and a few Squid. Best lures have been Ecogear ZX43 in 402, 404, 440 colours, Pro Lure paddle grub in uv motor oil, and Samaki Vibelicious 70mm in uv squid and whitebait patterns. Best fishing areas have been Ephraim reef, west side of Crab island, and Southport. The snot weed is still bad at times along the Northern channels.
Gavin form Sea Probe Fishing Charters reports 50 fathoms were on and off over the last week 1 day catching a heap of snapper then the next day a little bit quiet but then the next day firing with Kingys, Ajs and Snapper mostly caught on Live bait , pillies and squid. On the 36s snapper Tuskies and Trag Jew just coming off the full moon were on the chew. The 24 fathoms saw catches of Cobia, Big Snapper and Silver Jew try live baits and plastics.
Hope you all have a good week and stay healthy and safe. If you have any great catches or photos you would like to share, please email us and let us know how you went.
Stay up to date with all fishing regulations in Queensland https://www.daf.qld.gov.au/business-priorities/fisheries
Fisho Tackle and Coomera Houseboat Holidays now have Hire Tinnies follow the link to view http://www.coomerahouseboats.com.au/our-fleet-type/hire-tinnies/
Seabreeze is a great website to access a local forecast http://www.seabreeze.com.au/graphs/
If you have any great catches to report or fishing photos please email them to  brett@fishotackle.com.au
Good luck with the Fishing.
Brett