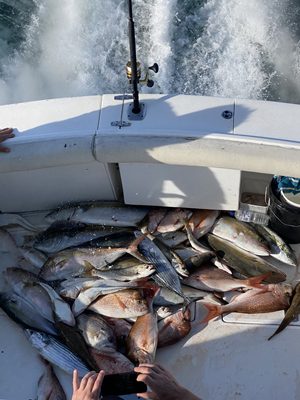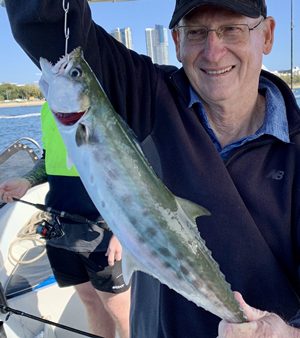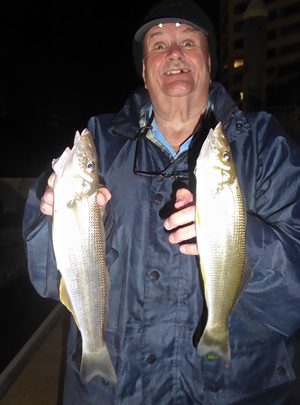 Hi Everyone, hope you have all had a good week, the weather has started to warm up this week on the Tweed and Gold Coast along with the water temp. September will see a transition of seasons giving everyone a great variety of species to target both inshore and offshore. Looks like a bit of rain on the way for the weekend, hopefully we get enough to stir things up in the local waterways. let us check out what's been happening this week.
I was lucky enough to get an invite out to fish with my mate Wayne Young last weekend, we headed offshore at 5.15am and sounded around until we found a good show of bait and fish on the 18 fathom line. Getting an early start is important as the bite time on the close reefs can be over pretty early around the full moon. We started a consistent burley trail, our method for fishing is float lining a mixture of baits including WA Pillies, Squid, Yakka's and Bonito fillets. Things were a bit quiet to start with, but we ended up with a feed of Snapper and Moses and a few mixed bits and pieces. We  found a pair of good-sized Mac Tuna keeping us tied up for a while and we also got blasted by a few unstoppable sea monsters. The current was quite fishable, other anglers reported a few nice Tusk Fish, Trag Jew, Tailor and the odd Cobia.
Reports of big Flathead showing up in the deeper water closer to the ocean entrances signals a start to breeding season on the Tweed and Gold Coast. The Tweed Bar Mouth, Gold Coast seaway and Jumpinpin Bar areas will be prime fishing grounds over the next couple of months with big female fish attracting large numbers of male fish to these areas. In Queensland, the minimum size limit is 40cm and the maximum limit is 75cm with most anglers opting to release most fish 60cm and over back to fight another day. All the male fish will usually be around the 55cm mark or under making them the best option if you're chasing a feed. https://www.qld.gov.au/recreation/activities/boating-fishing/rec-fishing/rules/limits-tidal#flathead if you're keen to fish the deep water larger soft plastics rigged on heavy jig heads around 1 ounce, big soft or metal vibes make a great option to target big Flatties in the deep.
Whiting are still around in good number up the Nerang River with local fisho Pete (see photo in report) scoring a great feed from a recent trip. Moving around until you locate the fish is the key to success, good quality bait like live worms or yabbies will increase your chances of landing a quality feed. The Coomera River both North and South arms, Pimpama River, Logan River and the Sandbanks throughout Tiger Mullet Channel will all be worth a look for a Whiting.
Brad from Brad Smith Fishing Charters reports as we called it last week this week saw some great weather with light winds a rising barometer and pleasantly warm sunshine. The fishing was very consistent and we mixed up our techniques doing some trolling, drift casting and deep water jigging with slam pro lure 36, Ecogear zx40s, Samaki vibelicous and Ecogear vx43s which all shared some fortune used in the right locations. The main species caught were Flathead, Bream, Giant and Big Eye Trevally and the odd big Whiting which is a sign that the water is starting to warm up now that we are in spring.
Clint from Brad Smith Fishing Charters reports another week of Mackerel madness in the Southern Broadwater, and great fishing in general. As Smithy will tell you, being an ex-commercial Mackerel fisherman, the Mackerel are most active in the lead up to full moon. Their activity will taper off over coming days but there are still big schools of them and they are awesome fun on light tackle. Small metal slugs around 20 grams in weight and White Pillies have been working best. At the peak we were catching 50+ a day and dropping 30+. Not a good idea to use zx's around the Southern Broadwater at the moment unless you like bite offs. There has also been heaps of Bream, Tailor and Yakka around the Mackerel. The shallow areas around Crab island has been fishing well too for solid Tusk Fish, Flathead, Flounder, Squid, Tarwhine, and Bream.
Gavin from Sea Probe Fishing Charters reports on the 50 fathoms line there are still good catches of Kingfish, Amberjack. Snapper have died off a lot due to the water rapidly warming up, there has been a few dolphin fish around on the 36 fathoms fads also Striped Tuna on the 24s stripe tuna , Snapper, Trag Jew and Tusk fish have been biting.
Hope you all have a good week and stay healthy and safe. If you have any great catches or photos you would like to share, please email us and let us know how you went.
Stay up to date with all fishing regulations in Queensland https://www.daf.qld.gov.au/business-priorities/fisheries
Fisho Tackle and Coomera Houseboat Holidays now have Hire Tinnies follow the link to view http://www.coomerahouseboats.com.au/our-fleet-type/hire-tinnies/
Seabreeze is a great website to access a local forecast http://www.seabreeze.com.au/graphs/
If you have any great catches to report or fishing photos please email them to  brett@fishotackle.com.au
Good luck with the Fishing.
Brett