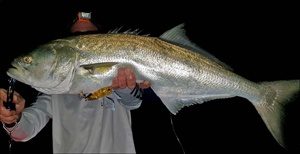 Well things are definitely starting to heat up on the land and offshore. The start of the pelagic season is becoming more apparent with mackerel and tuna starting to appear. We are also seeing wahoo and Mahi making for a positive outlook ahead.
Offshore Spanish are on most people's radar and even though they aren't here in bulk numbers they are definitely about. One of the best areas for Spanish is the area around Halls Reef. This usually holds good concentrations of bait and as such the Spanish are soon to follow. You can also pick up spotty mackerel and tuna. The pilchard floater is a great option in close as currents have been very strong out wide and when combined with the winds this makes fishing very hard. If you are looking for strong gang hooks take a look at the Elkat gangs which are built tough. Use a small length of superflex wire to help against getting bitten off and let your baits find the fish. If you are looking to troll then try a couple of medium sized lures like a Halco laser pro or Nomad DTX and follow a reef contour, thermocline or current break if stuck where to troll.
Other species of reefies include sweetlip, snapper, tuskies and trout. Running around 40-60lb leader is a must especially if on Sunshine Reef as this is rough ground. Sharks are present here so be sure to get your fish up fast if you think it's a keeper.
Off the beaches there is a good run of whiting around the river mouth with some medium sized flathead and bream in the mix. Try using the smallest of weight and let the current take your bait along under control so you feel bites. This is a great way to fish an unfamiliar area as the current will often help find the fish as it spirals and eddies along with your bait.
The Noosa River has a nice mixed bag of trevally, whiting, jacks, flathead and bream. For bait anglers try using a whole frogmouth pilchard or whitebait and stay around the dog beach area. This has plenty of cover for fish and if you can get them out you can land a big one. Keep braided lines to no more than 12lb with 10-12lb leader unless running live baits. Jacks require heavier gear and will often bust you off on 30lb so don't be afraid to go heavy. Take a look at the new Shimano series rods as this range has something for everyone. Away from the dog beach you can try around Munna Point and the bridge which holds whiting, flathead, bream and trevally. You can even fish lighter as the lack of rain sees the river super clear. If new to lure fishing the new Nomad Vertrex in the smaller swim 75mm is going to be perfect for flatties and trevally. These easy to use lures pack a lot of vibration and are sure to be a hit. Use these in the deeper holes and drop off around the sand bags and the river mouth for a big flathead or two.
Freshwater has seen some very fat bass and yellow belly coming from Borumba. Lake MacDonald has also been fishing well especially in the lead up to the hotter weather. During this time surface lures are going to be the best approach before the sun is overhead. Working the weed edges and overhanging trees should see you land some big fish. Once the sun has risen then its time to break out the small Keitech easy shiners and work any schools of fish and deeper drop offs.
Now for all the  latest information log onto www.fishingnoosa.com.au for up to date bar and fishing reports, don't forget to drop into Davo's Tackle World, Davo's Boating and Outdoors in Noosa and  Davo's Northshore Bait & Tackle in Marcoola for all the right equipment, bait and advice to get you catching. Be sure to follow us on Facebook and remember Tight Lines and Bent Spines!