What a mixed bag of weather we have seen this week. From crazy winds, swell, no swell, rain and clear skies, light westerly winds and a great day for all. SE QLD sure has the ability to throw a few curve balls when it comes to weather so trying different styles or locations can keep you fishing rather than wishing.
Offshore saw a big race to get the last snapper and pearl perch before the seasonal closure came into effect. Many anglers caught smaller fish around Sunshine, Halls, North Reef and Chardon's with a few bigger, older fish upwards of 85cm. These fish were smashing slow presented soft plastics and bigger baits.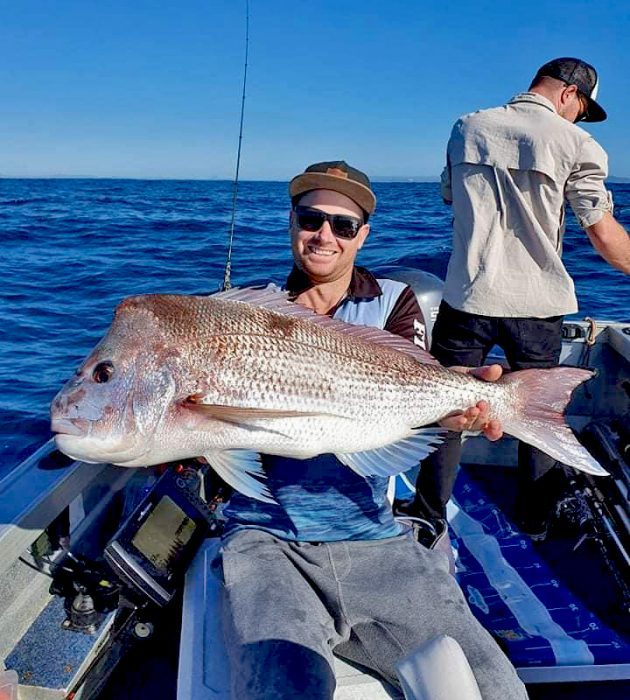 Should you catch a pearl perch or snapper it must be returned. Now is a great time to purchase a release weight so you can do your bit to protect the spawning fish and make the closure a success.
Other species to target through winter are big cobia, jewfish, amberjack and sweetlip as well as deep water tuna and the occasional mackerel in the warmer waters offshore. If looking for another method then give soft plastics a go but speed up the retrieval. Try not fishing the bottom so closely and try swimming the plastic up off the reef bottom. Cobia are a sucker for the style of fishing as are amberjack. If using baits then drop paternoster rigs back to one hook. Should you hook snapper at least you are only catching one. Try to note what they look like on your sounder so you don't continue to catch them.
Surf fishing is showing signs of better fish turning up. There are more sporadic reports of tailor from the various river mouths but mainly inside the estuaries. Woods Bay is a great spot for tailor as they can ball baitfish up against the edges before decimating them. Dart continue to range from small to impressive 40cm+ sized fish. The winter bream are also showing up as you head south from Noosa around Castaways and Peregian. With many owners of Alvey reels on the coast the new range of MJF rods are taking them back to a time when super lightweight glass rods were in favour. The Inskip model is proving popular with bream and whiting anglers and are constructed using Schneider blanks and stainless Alps reel seats and guides. These are best suited to 6kg lines and smaller reels for a combo you can fish all day long.
The estuary appears to be loaded with smaller flathead right now. The size ranges from 40-70cm and these fish are hungry! Following the bigger tides a lot of baitfish got washed into the river which brings the predators out. Take a drift along the stretch from Noosa Marina to the Dog Beach. Here you will find many undulating drop offs, holes and flats. Soft vibes work very well especially if the drift is quite fast as they can be cast ahead of your drift easily. The new Nomad Vertrex swim is catching some great fish including trevally and queenfish too. There are also good numbers of smaller golden trevally which have to be one of the prettiest fish in the river with super bright yellows and blacks against a silver body. These fish love chunk baits like prawn, mullet and pilchard. Fish these lightly weighted and let it drift along in the current near structure or deep holes.
Freshwater will see an influx of anglers to Borumba next weekend for the annual Fish Headz Noosa campout. With over 90 anglers on the water the competition is all about bass so expect a review next week. Until then if hunting for a fish try working the edges as the warmer weather this week will have warmed the weed which traps the heat. Try small suspending jerkbaits like the Atomic Jerk Minnow 90mm which sits at 1 meter. This is perfect for those fish enjoying the warmer edges. When working this lure be sure to pause it for longer than usual as fish may not be super aggressive and take longer to respond to a prey item. Don't forget your SIPS permit when fishing the dams and lakes as the monies generated goes toward re-stocking and providing great numbers of fish for all to enjoy.
Now for all the  latest information log onto www.fishingnoosa.com.au for up to date bar and fishing reports, don't forget to drop into Tackle World Noosa, Noosa Boating and Outdoors and Northshore Bait & Tackle in Marcoola for all the right equipment, bait and advice to get you catching. Be sure to follow us on Facebook and remember Tight Lines and Bent Spines!