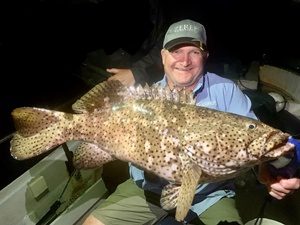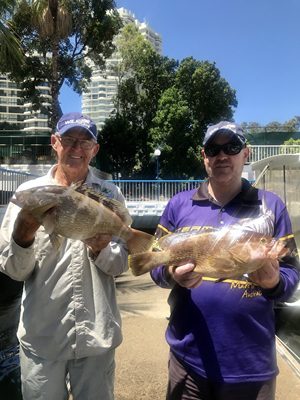 Hi Everyone, hope you have all had a good week, the weather certainly turned it on last weekend with close to perfect conditions last Saturday for fishing, even Sunday was still nice as well. Very similar conditions during this week as last week with a hot strong Northerly wind followed by a Southerly change and a chance of a storm before settling down with another nice weekend on the way for fishing on the Tweed and Gold Coast. Let's have a look at what's been happening.
I was lucky enough to get an invite from Wayne Young last Saturday to head offshore, with an awesome forecast on the way I was looking forward to an early start. With the sun rising earlier every day we hit the water at 4am and headed out through the Gold Coast Seaway to get the dawn bite. We fished around the 24 and 18 fathom reefs, there was plenty of bait around most areas we looked at, the early bite was a bit slow with plenty of small Snapper, Pearl Perch and Trevally on the bite. We then changed tactics and tried to look for an area with less bait off the main reef and found some better quality fish sitting on more isolated structure and straight away we scored some nice Maori Cod and better sized Squire. My daughter Bec ended up with the fish of the trip hooking onto a quality Snapper making getting up early a bit more fun. We ended up getting busted up and dropping a couple of nice ones but that is all part of fishing giving you incentive to get out there again to try your luck. We used a mixture of WA Pilchards, Large Squid, Fresh Trevally Flesh and butterflied Slimy Mackerel for bait coupled with a solid burley trail ended up doing the trick nicely. Float lining is the best method to present your baits, my rig of choice is 3 x gang of 5/0 7766 Mustad Tarpon Hooks ganged with swivels between the hooks and a small ball sinker, just adjust your sinker weight to suit the current strength on the day and hopefully you will come up trumps with some nice fish.
Local Fishos reported some good numbers of Flathead in and around the Gold Coast Seaway entrance, a single large breeding female fish can attract big numbers of smaller male fish around that good eating size of 45 to 55cm. If you manage to catch and release a big Flathead keep working that area as there is a good chance of larger numbers of hungry Flathead lying in wait nearby. I like to mix up methods when targeting Flathead in deeper water, half ounce Blades or soft plastics around 4 inches long are the perfect allrounder to use. Jumpinpin Bar area will also be worth a go, Kalinga Bank, Crusoe Island, Pandanus Island and the Bedrooms should all be holding fish.
Jumpinpin is producing good numbers of quality Whiting at the moment with Fishos scoring some great feeds of these tasty fish. Yabbies have been the best bait for fishing the sandbanks and flats around Pandanus Island, Northern Bedrooms, Green Bank and Tipplers Island. Closer to Jacobs Well, Cabbage Tree Point and The Logan River Bloodworms will make a much better bait and will usually attract the larger elbow slappers to bite.
Brad from Brad Smith Fishing Charters Reports once again, we battled through some very hot and extremely windy days but the fishing was fantastic. The good thing about a big natural river like the Tweed is that it offers a lot of variety, and places that provide good fishing and shelter from the prevailing wind directions.  The surface fishing with bassday sugerpen and mmd splash prawns was dynamic and as a guide it is so rewarding to watch my clients excitement as they watch the Whiting , Bream and Flathead rise from the bottom to take the surface lures. I know that I write about the surface fishing every week, but it is the in thing all through our summer months. My friend and regular client Robbo who came surface fishing with me last week booked again and asked if we could go further up the river and deep-water jig for the day and that also produced some good results. We sounded the holes looking for some bait and fish marking on the sounder which were hard to find but once we found a drop the action was great. Jigging ZX40 and Samaki vibelicous vibes through the bait in around the 10-metre line through the holes produced a bunch of school sized Flatties, Giant Trevally and nice Jew Fish.
Clint from Brad Smith Fishing Charters reports some nice variety caught on my charters this week with Mangrove Jacks, Estuary Cod, monster Whiting, Flathead and more . It was great to see some big Jacks again since the off season, there is nothing quite like them for an adrenalin thrill in estuary fishing I reckon. The Estuary Cod that Lex caught and released on Tuesday night put up a hell of a fight too, it weighed 7 kg. The rest of the week we chased and found some big Sand Whiting and there were plenty of Flathead mixed in with them as well as Flounder and Bream. We have some good tides over the coming days for the monster Whiting, and with some wind they will be on the chew. Forget the almanac, if fish are hungry, they will eat, simple as that. The best areas to fish have been the banks near the Broadwater caravan park and Wavebreak island, especially during the middle two hours of tidal flow. Yabbies are the best bait and MMD splash prawns the best lures, especially in honeybee, and banana bender colours on calm, clear days and Sunburnt jelly in cloudier and/ or windier conditions.
On the 50 fathoms there has been real big Dolphin fish, Kingys, Ajs and Samson fish, the current has been up the last week that changes a few things. On the 36s there has been Dolphin Fish, Snapper Trag Jew, Pearlies, Tuskies and Moses Perch
Hope you all have a good week and stay healthy and safe. If you have any great catches or photos you would like to share, please email us and let us know how you went.
Stay up to date with all fishing regulations in Queensland https://www.daf.qld.gov.au/business-priorities/fisheries
Fisho Tackle and Coomera Houseboat Holidays now have Hire Tinnies follow the link to view http://www.coomerahouseboats.com.au/our-fleet-type/hire-tinnies/
Seabreeze is a great website to access a local forecast http://www.seabreeze.com.au/graphs/
If you have any great catches to report or fishing photos please email them to  brett@fishotackle.com.au
Good luck with the Fishing.
Brett