Hi Everyone, hope you have all had a good week, we have had a bit of a windy and wet week at times on the Gold and Tweed Coast and the weekend is not looking much better at this stage with the Southerly winds looking like increasing at the time of writing my report. Sheltered waters will be the go for anyone keen to hit the water and try your luck this weekend. Let's have a look at what's been happening on the fishing front this week.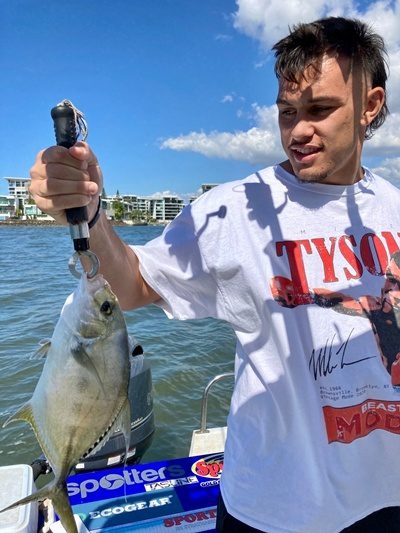 Sand Crabs have been around in good numbers for those keen to throw the pots in, the water has cleared up well and with a cooler water temp the Sandies have been on the chew. You will find Sand Crabs throughout the Broadwater and Jumpinpin areas, they tend to hang around the edges of the main channels and also weed beds on the drop offs from Sandbanks, these are good areas to try your luck and set the pots. When putting the pots out it pays to drop pots in different depths of water until you can get a gauge on where the better numbers are hanging out to target. Fresh bait is best, whole millet or fish frames make great bait, I recommend using a bait bag of some description to stop little fish and eels from destroying the bait before it gets to attract the crabs to the pot. When Sand Crabbing you can check your pots fairly regularly, it pays not to leave your pots unattended as some people can't seem to help themselves and think it's ok to check other people pots. I will take a fishing rod and fish around the general area and try to catch a feed of fish to go with a nice feed of Sandies. Make sure you know the rules before giving it a go https://www.daf.qld.gov.au/business-priorities/fisheries/recreational/recreational-fishing-rules/crabs-lobsters
Reports of some good quality Tailor on patrol in the Broadwater and Jumpinpin the past week is great news if you enjoy chasing these fun sports fish. As the bait schools build during the cooler months Tailor schools should increase in size and numbers and are great fun to target when the bite is on. To locate Tailor start looking for birds working bait pushed to the surface or locate bait sitting deeper on the sounder. I tend to find the best time to target Tailor is early morning and late afternoon and the last 2 hours of the run in tide as the water is at its best quality. Trolling a mixture of deep and shallow diving lures is a great way to target fish, once you get a bite you may be able to switch to surface styles lures or metal slugs depending on how aggressive the fish are. We tend to land a few fish while Flathead fishing but they can be very hard on the soft plastics and vibe lures bite off and very common. Some good spots to try will be the Gold Coast Seaway entrance and main channels leading south towards the Nerang River mouth and North of the Seaway towards Currigee and Paradise Point will hold some good schools at times. Also try around the Jumpinpin Bar mouth and South towards the Jacobs Well turn of, Crusoe Island, Kalinga Bank and Canaipa Passage.
Bread and Butter species like Bream, Whiting and Flathead are a great target choice at the moment, live yabbies will make great bait for all the above species. Bream will be found right throughout the Gold Coast and Tweed waterways making them a verry accessible target from the shore or on the water. Whiting will be found around the most sandbanks and sandy shorelines on high tide and in the channels surrounding the bank as the tide falls, Flathead will also be found in the same areas. Worms and Yabbies are the best bait for Whiting whilst Flathead will take most bait presented like White Pilchards, Prawns, Mullet Fillet, Yabbies to name a few and will also respond to well to soft plastics, hard body lures and vibes.
Brad from Brad Smith Fishing Charters reports good conditions made it ideal for deep water jigging with a heap of fish caught in the 8 to 14 metre holes in the Tweed River. As always take the time to find where the bait is holding with your sounder before you start jigging for the best results. Flathead took the main stage again this week in fact we caught over 30 fish today of varying size and all were released. Other species caught this week were a heap of Bream and a couple of Giant Trevally.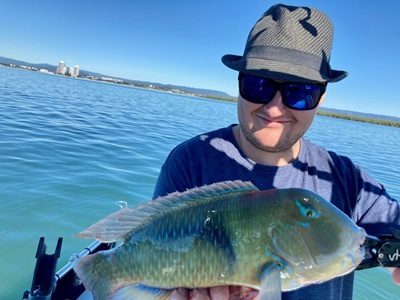 Clint from Brad Smith Fishing Charters reports the Gold Coast Broadwater is still fishing well for Tuskfish, Flathead, Flounder, Tarwhine, Bream, Sand Whiting, and Winter Whiting. The Arrow Squid are still not around in numbers, but I suspect they'll come flooding in as the water clears further and gets colder this coming week. We have had some glassed-out days which does make fishing slower in the shallows. Like last week, pumping yabbies in the morning can make a difference to your catch rate on the calm days. On charters I keep working the zx blades all day to draw in the fish which then snap up the yabbies offered by my guests.
Gavin from Sea Probe Fishing Charters reports the fishing on the 50 fathoms and 36 fathoms have been very good with a mixed bag of reef fish including Snapper, Pearl Perch, Parrot Fish, Pig Fish, Moses Perch and also Trag Jew all caught on Mullet, Pillies and Squid. Also, in close on the 24s and 18s there has been cobia starting to show up in decent numbers.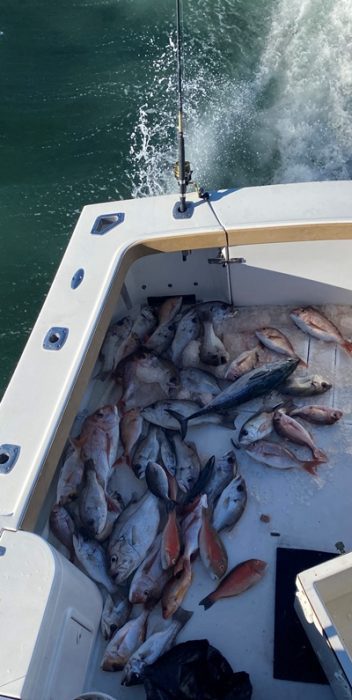 If you have any great catches or photos you would like to share, please email us and let us know how you went. brett@coomerahouseboats.com.au or brett@fishotackle.com.au
Stay up to date with all fishing regulations in Queensland https://www.daf.qld.gov.au/business-priorities/fisheries
Fisho Tackle and Coomera Houseboat Holidays now have Hire Tinnies follow the link to view http://www.coomerahouseboats.com.au/our-fleet-type/hire-tinnies/
Seabreeze is a great website to access a local forecast http://www.seabreeze.com.au/graphs/
Good luck with the Fishing.
Brett