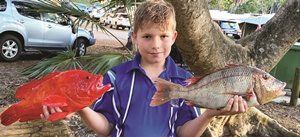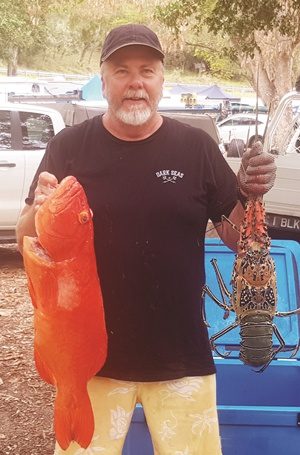 AROUND 130km north of Bundaberg, the twin towns of Agnes Water and Seventeen Seventy provide a range of great fishing and recreational opportunities. The small township of Agnes Water provides access to a patrolled surf beach for swimmers and board riders, a long beach with beachworms to catch and gutters to fish and a small shopping precinct.
And Seventeen Seventy provides excellent access to a large estuary system, to offshore waters and the islands of the Bunker Group. Over the recent school holiday period, I spent time enjoying this area and, although the weather was not kind for offshore fishing for much of my stay, I was able to head offshore on two occasions.
Unfortunately, I had other commitments on the other occasions when weather conditions were favourable but I know – living close to the area – that there will be more opportunities in the near future.
Agnes Water
The main Agnes Water Beach is bordered by two rocky headlands, with the surfing and swimming area usually located close to the southern end.  This provides a very long stretch of beach to the north, where beachworms can be caught and where there are often neat low tide gutters to target bread and butter species such as whiting, bream, tarwhine and flathead.
Pipis are available for bait occasionally too. This stretch of beach is an ideal area to introduce young anglers to beach fishing, especially when conditions are good, as the small low tide gutters are easily accessed. Other benefits include no snags and plenty of beach area for the kids to play on if they become bored with fishing.
With such a long stretch of beach available, it is not unusual to see a beach cart being used as a 'base' for fishing equipment and refreshments as anglers make their way along the expanse, moving from one gutter to the next. The best gear for this area is a light action surf rod and an Alvey or spinning reel spooled with 6-10lb monofilament line rigged with a regular trace of around 30-50cm in length.
If you 're unable to source your own beachworms or pipis, include yabbies – which can be pumped from Round Hill Creek – or purchase bait from the tackle shop at Agnes Water, such as prawns and beach worms.
Round Hill Creek estuary
Round Hill Creek provides a range of fishing options for the shore-based angler and small boat owner, with plenty of rocky shoreline to target as well as sandy stretches of beach and bank. If you have access to a boat or choose to hire one, there are many sand and mud banks with drop-offs and other features that provide plenty of fishing options.
The best baits are those you can source yourself such as yabbies. A range of bait choices can be provided by the Agnes Water 1770 Bait and Tackle shop, along with – and best of all – advice and tips for fishing the local area.
I usually purchase my bait here and have always found it to be fresh and of high quality, particularly the IQF pillies I use offshore. The option to drop the pots in and try for a mud crab is also available in the estuary, though my son had two pots taken over two days in the recent holidays. They were located up small mangrove alleyways, so they wouldn't drift.
One was a fairly dodgy pot, while the other was new – most likely taken by a person who believed they deserved the crabs more than Lachy. They say 'a secret can only be kept by two people if one is dead', so I believe that the people who behave like this are 'known', and that this behaviour is 'acceptable' to those who know.
It is interesting conduct and I guess simply reflects their upbringing or needs.  I was taught – and teach my children – 'if it's not yours, don't touch it' and 'if I need or want it, I work for it'.
Ocean access at Seventeen Seventy
Round Hill Creek gives access to the waters offshore and includes the Bunker Group of islands around 60km offshore. Take care at the mouth when planning to cross the bar, and always log on with Volunteer Marine Rescue Round Hill. There are many options and starting marks available for those new to the area.
Again, Agnes Water 1770 Bait and Tackle is a great starting point for information and supplies, right down to the latest marks for bait jigging off the entrance of the bar. Offshore fishing options begin outside the bar, with trolling along the rocky headland providing mackerel and other pelagic action.
Between the mainland and the Bunker Group is a large expanse of water that does fish well if you locate good bottom features, or head to one of the many starter mark locations such as the Banana Gutter. For those heading further offshore, the islands and reefs of the Bunker Group are the pick.
As always, I can be contacted via Bush 'n Beach website, by email at fishnboat@bigpond.com or via post at PO Box 5812 Bundaberg West Queensland 4670. Until next month…
To read more about Agnes Water, click here!