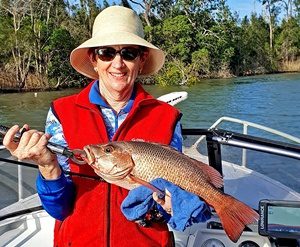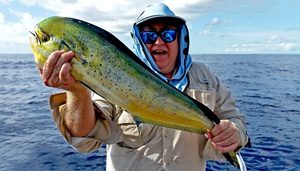 This week saw some hot action for many anglers as we pushed toward a Friday new moon. With offshore continuing to blow the focus has been on mangrove jacks and flathead in the estuary. The BIG flatties have been around although a little quieter. Mangrove jacks are becoming more popular and this week we have seen some cracking fish landed with as many lost. Offshore a few bigger charter boats made the crossing with the bar holding a solid ground swell. Experienced boaties also made the crossing without any complications. Be sure to log on with coastguard if new to the area so they can monitor your inward or outbound bar crossing.
Those anglers lucky enough to make the crossing caught many different species with snapper still on the chew. Other fish were gold banned snapper, cobia, tusk fish, longtail tuna and jewfish coming from Double Island. In closer Sunshine Reef has small snapper and sweetlip which are great fun on lighter 7ft estuary combo's. Small reefies will really put your angling skills to the test on lighter gear while using soft plastics and lightly weighted pilchard baits. For a great combo be sure to check out the new Abu Garcia Slaty fighter. This comes rigged with a full spool of braid on a graphite built reel and rod making this a team favourite.
Surf fishing continues to produce whiting, dart and tailor from those heading to Fraser. Weed can be problematic but there are definite patches of clear water and the humble slug or chrome lure cast out and wound back has accounted for many fish. Check out the Arma 30 gram slugs for a must have beach fishing lure. With the bigger tides still hanging around be sure to check out the lower tides and fish an hour either side for best results.
As mentioned the river is holding big flathead and mangrove jacks. Both of these fish can be targeted on the same combo but you may find you will have to increase your leader strength and length for jacks. Jacks inhibit rocky, snag ridden parts of the river, whereas flathead will be found along sandy bottoms near rocks. In an ideal world 12-15lb is the lightest you should attempt to land a jack on. Check out our wide range of 4 strand braids which are very user friendly and do very well around the rocks. If after jacks then try fishing around the downed trees of the dog beach and the rocks of the river mouth. Flathead can be found throughout the estuary and they love sandy drop offs. A great starting point would be around the river mouth as there are many channels and pools that provide flatties the perfect ambush point.
As things warm up the high tides often bring bait into the river and with it come the trevally and queenfish to name a few. Try any of the small surface lures we stock like the Bassday Sugapen 95 which is a trevally weapon. Cast this out early morning and skip it along the surface for best results and explosive takes! These also work well for whiting and don't be fooled into thinking they are too small. Elsewhere the middle reaches of the river have small soapy jewfish which have been hitting small prawn style and curly tail soft plastics on 1/6 jigheads and lighter 8lb leader. The waters are clear with the lack of rain so drop down in leader thickness to get the best bite. While you are up here be sure to throw a few soft vibes as these are also great fish catching options, especially if new to lure fishing.
Freshwater is still picking up as is the edge bite. The local dams are holding a decent amount of water making the edge bite great first light and in the evenings if the wind isn't too strong. During the day try running tail spinners and Jackson iga jig spin lures through any schooled up fish. Be sure to crimp the barbs on these as they are small and the bass hit these with a lot of aggression. Elsewhere the saratoga are breeding and should be left alone as these mouth brooders are self-sustaining in both lake MacDonald and Borumba. Should you catch one be sure to release it where it was caught and keep it in the water as much as possible. Lastly be sure you have an up to date SIPS permit before using these areas. For more info be sure to ask us on your next visit.
Now for all the  latest information log onto www.fishingnoosa.com.au for up to date bar and fishing reports, don't forget to drop into Davo's Tackle World, Davo's Boating and Outdoors in Noosa and  Davo's Northshore Bait & Tackle in Marcoola for all the right equipment, bait and advice to get you catching. Be sure to follow us on Facebook and remember Tight Lines and Bent Spines!