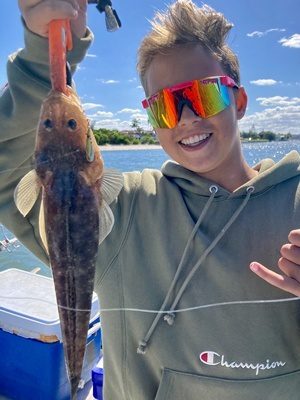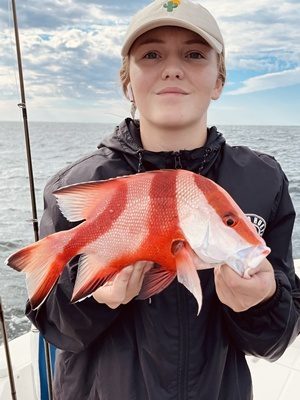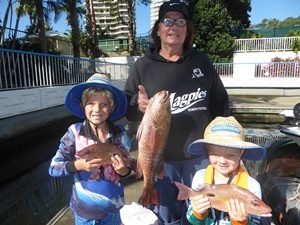 Hi Everyone, hope you have all had a good week, it was nice to see the forecast for last weekend was way better than predicted with very little rain on Saturday and much lighter winds on Sunday on the Gold and Tweed Coasts making heading outdoors much nicer for those keen to wet a line. At this stage it looks like a bit of Southerly wind is on the way for this weekend, it will pay to keep an eye on the forecast as it looks like we may get a small weather window to head offshore early Saturday before the wind picks up. Make sure you have the latest forecast before heading out on the water. Let's see what's been on the chew lately.
It's great to see the local rivers starting to clear up after the rain with a return of most normal target species being landed by keen fishos. Whiting have started feeding again in better numbers with some good catches reported, I also managed to catch and release 30 nice Whiting fishing last weekend in the Pirtek Fishing Challenge with the kids. Try your luck in the Coomera River, Nerang River, Pimpama River, Logan River, Tweed River, Tallebudgera Creek and Currumbin Creek. Make sure you cover all depths of water when fishing until you can find the best spots to target, you can do this by fishing several rods and casting some in the shallows and some in the deeper channel until you can find where the fish are feeding best. I did find that we encountered plenty of Bream, Tarwhine, and Grunter which are great fun for the kids to land in between Whiting. A light estuary combo is best, match this with a long 6ln fluorocarbon leader, size 4 sinker and a size 6 short shank baitholder hook if you are using worms for bait or a size 4 long shank baitholder if you are using yabbies should do the trick.
Offshore the local reefs have fished well with some good catches coming in from the local 24 and 18 fathom reefs this week. Local fisho Wayne Young did well last weekend putting his sister Pam onto a quality Reef Mangrove Jack and some nice Moses Perch (see photo in report). Ben White also had a great day on the water landing a couple of big hard fighting Cobia (see photo in report) which is a great sign as we head into the colder months. As the water cools and the current drops heading out wider will be the go and target the 36 to 50 fathom grounds, you should find some good Snapper, Samson, Amberjacks, Yellow Tail Kingfish, Pearl Perch and Tuskies on offer. A mixture of jigs and live baits and dead baits will work well in the deeper water, I do prefer to float line when using bait.
Chasing a feed of Sand Crabs will be worth a go as the water clears up, try targeting the edges of the weed beds and the drop offs on the edges on the main channels for a feed. Fresh fish frames and whole mullet will make great bait. When setting your pots it will pay to stay in the area and have a fish so you can keep an eye on your pots as some people can't seem to do the right thing and will help themselves to your hard earnt feed.
Brad from Brad Smith Fishing Charters reports well finally we have had a week of good weather with the sun shining and very light winds prevailing. The story of the week has been bio masses of Bream destroying our lures with constant double hook ups all day. We have been catching up to 50 Bream a session and it hasn't mattered whether or not we were trolling slams or Pontoon 21s or drifting with Samaki vibes it has been about getting constant double hook ups. Most of the Bream have been small to average in size, there were some nice quality ones in amongst the huge numbers of them. I have also been watching the commercial Mud Crabbers lifting in their pots and the pots are bursting at the sides full of Bream it is hard to believe how many bream can fit in one crab pot. We also managed to catch a few Flatties with a couple of nice quality ones coming on board. The tides are good for the coming week so I will be sounding around the deep holes and hopefully might pick up a few big Jewies.
Clint from Brad Smith Fishing Charters reports the Broadwater fished ok this week with lots of medium sized fish. The water has cleared heaps, almost to the point where the run out tide fishes better. This coming week the almanac looks poor which should mean good fishing haha. The past week has been all about sounding around to find the bait then dropping lures and yabbies straight below. It's been good to see lots of healthy Tusk Fish as well as plenty of Flathead, Whiting, other fish, and a few crabs. Neap tides are around this coming week which will give us a chance to fish the seaway for Jew, and the middle of the deepest channels for longer periods with yabbies, Ecogear ZX40 and 43 blades, Pro Lure blades, and Samaki Vibelicious soft vibes.
For everyone that fished in the Pirtek Fishing Challenge I hope you had a great time, the results will be available on the website Saturday 1/5/2021. Good Luck https://pirtekfishingchallenge.com.au
If you have any great catches or photos you would like to share, please email us and let us know how you went. brett@coomerahouseboats.com.au or brett@fishotackle.com.au
Stay up to date with all fishing regulations in Queensland https://www.daf.qld.gov.au/business-priorities/fisheries
Fisho Tackle and Coomera Houseboat Holidays now have Hire Tinnies follow the link to view http://www.coomerahouseboats.com.au/our-fleet-type/hire-tinnies/
Seabreeze is a great website to access a local forecast http://www.seabreeze.com.au/graphs/
Good luck with the Fishing.
Brett