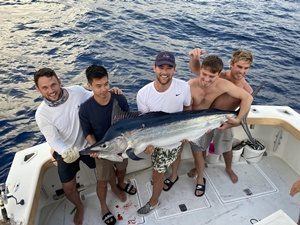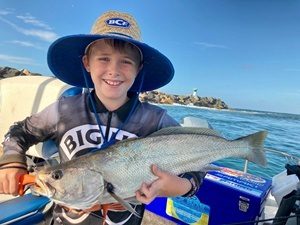 Hi Everyone, hope you have all had a good week, we have had a run of stella weather on the Gold and Tweed Coats lately seeing some of the best fishing weather anglers have seen for a long time, hopefully you managed to take advantage and got out for a fish. At the time of writing the report it looks like we will see the South Easterly winds and swell kick in for the weekend, but it will not hang around too long fingers crossed. Let's see what's been on the chew lately.
I was lucky enough to take advantage of the great weather last Saturday and head out with Wayne Young and Bec for a fish offshore on the Gold Coast. We were greeted with light winds, small swell and very little current giving us some of the best fishing conditions offshore I have seen for a long time. The plan was to hit the water at 5am and fish the 18 fathom reefs east of the Seaway for a feed of reef fish. After sounding around for a bit we found a nice show of fish worth anchoring on, the first thing I try to do is get the burley trail started to give us the best opportunity to keep the fish we are targeting in the strike zone and also attract any fish in the area in for a look. Wayne had the first bait in the water and he was rewarded getting hit on the drop with a great quality Snapper around the 3kg mark hitting the surface, Bec was next in line with her first drop producing a hard fighting Jew Fish hitting a was presented WA Pilchard floated down on a set of ganged 5/0 Mustad Tarpon hooks. From there we had plenty of action landing good numbers of Snapper, some Pearl Perch, Maori Cod and even a juvenile Red Emperor. Bec then landed an even bigger Jew Fish after a 5 minute battle, it tried to give her the run around but she did very well on 20lb braid. Keeping the burley trail going did the job extending the bite window going for close to 2 hrs, we even used old prawn shells which quite a few fish spat up when landed. A school of Spanish Mackerel then moved in and we ended up loosing a few too many rigs to the toothy critters, Bec did well tempting one to strike on a metal slug jigged off the bottom, after a fairly long fight on a big Mac unfortunately she pulled the hooks. Once the wind eases and the swell drops it will be worth go on the local reefs for a mixed bag of fish.
A few nice Bream and Whiting have been showing up in the Broadwater and Nerang River this week, try fishing the edges of the sandbanks around the southern end of the Broadwater using live yabbies pumped of the sandbanks. Whiting and Bream tend to move around a bit at times, you will catch a few then they go quiet for a while. If you have not caught any fish for about half an hour just move around and try another spot close by and see how you go. I recommend 6lb fluro carbon leader, and either a 4 – 5 ball sinker to keep the bait in the bite zone, worms and yabbies are the best bait. Also try Paradise Point and Runaway Bay esplanades land based as these areas can produce a great feed. Around the Pin it's worth a look around Pandanus Island, Tiger Mullet Channel and Jacobs Well Shoals.
The recent rain has been great for everyone after a feed of Mud Crabs with the local rivers producing a nice feed for those keen to get the pots in the water. The Coomera River, Pimpama River, Jacobs Well, Cabbage Tree Point, Canaipa Passage, Logan River, Tweed River, Tallebudgera Creek and the Currumbin Creek all worth a look if you live local. Try using a bait bag if you haven't before as it helps to some the pickers and vermin from stealing your bait this in turn this gives you a much better chance to  entice a nice Mud Crab into your pots.
Brad from Brad Smith Fishing Charters reports it has been a challenging week for both Clint and myself with the huge volumes of freshwater from the consistent rain squalls since Xmas. On the Tweed I have worked the lower reaches of the river on the big run in tides to take advantage of the oceanic water pushing back the dirty water purging down the river. With a combination of trolling Pontoon 21 lures and Slams as well as jigging the ever-reliable Samaki vibelicous and Pro Lure blades we caught a heap of fish. The main species were a lot of small Bream but in amongst them were some great quality Flatties and some ripper Grunters which are also known as Javelin Fish. Hopefully this week I can get back in the swing of things and bump of a few off of my favourite critters on lures, the mighty Mangrove Jacks.
Clint from Brad Smith Fishing Charters reports a variety of charters this week, and a variety of fish caught. We fished everywhere from the shallow banks to 20 metres deep in the seaway. The banks have been quieter of late, with the bigger whiting and school Flathead absent. The reef and channels in the Broadwater are holding a lot of fish, but they aren't big. This will change when the water cools. On Thursday I did a charter with Shane and his son Brody. It was a big day and we caught plenty of livies at first on Ecogear ZX40 blades. We then fished the seaway area, catching one nice school Jew, dropping others including more Jew, a big Tailor, and a Bull Shark which put up a big fight before biting through 100 lb leader. The full moon was on Saturday and the big tides made it tricky but we caught over 60 fish for the day and 20 species, on zx's, Yabbies, and Beach Worms. In such hot conditions deeper water 5-7 metres is the go. Best areas were Crab island, Lands End, and near Seaworld.
Gavin from Sea Probe Fishing Charters reports Marlin out wide have been on and off in the last week we had great session in 50m of water landing 5 Marlin out of 11 bites all on lures and live baits also Dolphin fish around the fads have been on and off as well. On the 50 fathoms a few Snapper, Kingys and few Pearlys have started showing up. In close 24s,18s, Mermaid, Palm Beach and the Gravel Patch Spottie and Spanish Mackerel have been taking pillies, live baits and hard body lures.
If you have any great catches or photos you would like to share, please email us and let us know how you went. brett@coomerahouseboats.com.au or brett@fishotackle.com.au
Stay up to date with all fishing regulations in Queensland https://www.daf.qld.gov.au/business-priorities/fisheries
Fisho Tackle and Coomera Houseboat Holidays now have Hire Tinnies follow the link to view http://www.coomerahouseboats.com.au/our-fleet-type/hire-tinnies/
Seabreeze is a great website to access a local forecast http://www.seabreeze.com.au/graphs/
If you have any great catches to report or fishing photos please email them to  brett@fishotackle.com.au
Good luck with the Fishing.
Brett