As expected the wonderful weather we had last week/weekend faded away to blustery mid-week conditions and a rising swell. Prior to this change the bite was definitely on, especially as we pushed toward the new moon. It was a little quiet post moon but anglers in the know reported good fish and a nice mixed bag. The ocean temps are still sitting above 23C so the tuna and mackerel will still be around after things settle down with next week looking great.
On the reefs anglers are noticing an influx of snapper with some fish hitting 80cm and over. Snapper in our waters can be caught year round and you need not travel out to the super deep waters to find them. Jew Shoal is always a great spot to find them up to mid 60cm, especially around the edges as these fish will patrol the edges. Low light and after the sun set is a golden time to fish this spot and being so close to the Noosa Bar makes for a quick return trip home. You can also pick up cobia and mackerel here while you drift about. Rigging techniques need to be considered in shallower waters and the 2 hook snood rig gives the best presentation. A great hook for this are the BKK red Octopus hooks in bulk packs.
Sunshine Reef featured some cracking trout, sweetlip, snapper and tuna on it too. Now is a great time to learn how to use soft plastics with winter time perfect for this method of fishing. With so many styles and types available feel free to come in and ask us how it's done. We can show you what's working and tell you how to work it. From lines, leaders and outfits we have all you need to get started.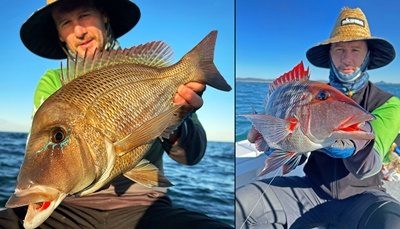 Once the weather calms down why not try heading north toward Double Island. This area can be snapper, jewfish and Spanish central. There are a few small patches of ground that can hold decent fish at the right time of year and being closer to shore saves you from going out wide with protection from NW winds. This is also a great area in the shallower sub 20 meter mark to troll big baits on TT troll rigs and lures like Nomad DTX's over the next few weeks while the Spanish are around until next year.
Surf fishing continues to go through a change with regular reports of under size school jewfish coming from various gutters along the coast. Although too small to legally keep it goes to show that the big fish are sure to be close. Fresh bait is the name of the game so be sure to see if we have fresh mullet. As previously mentioned the BKK hook rig will also work wonders on jewies. Keep leaders around 40-50lb to give you some protection around rocks and teeth. GT's are also featuring around the headlands and river mouths and you may also find some larger than average bream showing up as temperatures cool.
With the waters clearing up from previous rains the river continues to provide a mixed bag of species.  Much like previous week's it's mainly flathead, bream, whiting, school jewies and trevally. You can target these with bait and lures and trying something new if you continue to do the same style always helps to lift your game. Rather than fish for anything why not single out a species that is consistent right now and learn about it. The humble flathead is a classic and toward the end of the year you will see fish in the river reaching that magic meter mark. These fish aren't that easy to find but if you know about them and where they like to sit you could end up catching one. We carry a wide range of species specific lures from hard bodies, plastics, blades and rigs for bait anglers. Of course we all know the best approaches to catching them.
Freshwater has seen a dip in activity from the cold spell and it's still very much a case of using sounders to find the fish and work the schools with anything from an Ecogear ZX blade to a Jackall TN60. There is a minimal edge bite and this will probably be best during those hotter days where the winds aren't as strong and the heat is trapped in the weed lines. As always ensure you have a SIPS permit before fishing the lakes and dams. These can be purchased online and get sent to your phone in a matter of seconds making it an easy process.
Now for all the  latest information log onto www.fishingnoosa.com.au for up to date bar and fishing reports, don't forget to drop into Tackle World Noosa, Noosa Boating and Outdoors and Northshore Bait & Tackle in Marcoola for all the right equipment, bait and advice to get you catching. Be sure to follow us on Facebook and remember Tight Lines and Bent Spines!