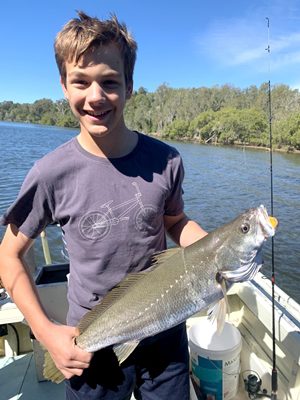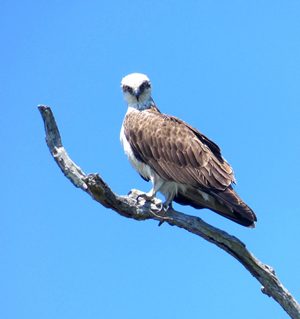 THE doldrums of winter are behind us, but spring brings its own difficulties. Northerly wind, offshore currents and clear river water make things challenging. For river anglers the answer is simple – that is to fish upstream. I know I bang on about it all the time, but it's because I firmly believe your best bet is above Tumbulgum in the Tweed River.
I regularly drive Tweed Valley Way and naturally my eyes wander to the river whenever possible. During spring, I continually see the same boat between Stotts Island and Murwillumbah, and it has Brad Smith Fishing Charters written on the side of it. He's up there for a reason!
Prawns will be coming down the river and eating the detritus at the bottom of deep holes. Well known deep holes are below the bridges at Tumbulgum and Murwillumbah, but there are plenty of others too. Use your sounder to locate prawns and then get lures down among them because where there are prawns there are predators.
Currently plenty of herring schools are travelling upriver and these are favourite tucker for flathead and trevally. With them are shoals of tiger mullet, which are a mainstay for many species. Our resident sea eagles rely on mullet for raising their chicks. Sea eagle chicks start with the sea mullet and when they leave the river for their annual sea run, tiger mullet school up and see them through the second half of their chick stage.
Watching the eagles will tell you where schools of mullet are. An eagle sitting high up in a tree preening itself or with its back to the sun is just resting. However, an eagle sitting midway up a tree will most likely be scanning the water where the school is. Sooner or later, when it spots a weak or distracted mullet, it will make its bombing raid. If you are after big giant trevally or bull shark, fish where tiger mullet are because these big predators also love to eat this species.
Offshore this month can be hit and miss as the East Australian Current gains momentum. Trying to pick a day where there's little wind can be hard in spring. Inshore a few snapper have been caught and while not in great numbers, enough to make the effort worthwhile on most occasions. The odd jewfish is still getting around, but no big schools from reports I've received.
Around Black Rock and the Plonk Hole you should be able to scratch up a feed of moses perch, small snapper, maori cod and tuskfish. If you can manage to get out a bit wider, there should be good tuskfish angling to be had on the 32s. Probably the best thing you can do for a feed this month is to take the dillies out and grab a feed of spanner crabs, and from now through to Christmas is the best time for these tasty crustaceans. Out from Brunswick Heads or the Tweed region around depths of 45-50m should see action.
Make sure you take a good weight or anchor and a decent float in case the tide is running hard.