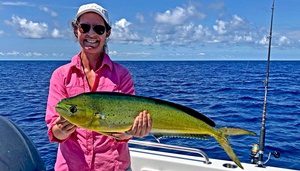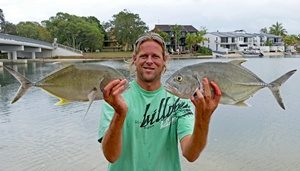 This week we have seen a change of season coming. For the first time in a long time the seasonal rains are fast approaching. This makes now a great time to start fishing as fish tend to feed hard before and after the rains arrival. With the rain we usually see the rivers along the coast have a much needed flush. Depending on how much rain falls, the bait that is currently extended throughout the system will become more congregated. In turn, this will see the predatory fish in hot pursuit so jack anglers take note. Mud crabs will also be on the move so be ready with pots and take a look at our ready to go crab pot specials.
Offshore was a great week and mahi mahi were on the menu as well as snapper in good numbers. Both species will take floaters, lures and jigs and on light spin gear. They provide excellent acrobatic displays once hooked so break out the 15-20lb gear. Small stickbaits work really well and the larger 120mm and 90mm Sugapens are worth trying as are small slugs in the 20-30 gram range. Once hooked other fish will often follow so always aim for a double hook up! Double Island was popular as was North Reef with conditions allowing for trips out wider than previous weeks.
With the rain forecast it would pay to fish in close around jew shoal and Sunshine Reef as the rivers get flushed out the local reefs will see a lot of baitfish and food getting washed out. Prawn style soft plastics will get smashed by reef fish so use the Chasebaits flick prawn, Atomic Prong and Squidgies prawn paddle tail 80mm on 3/8th jigheads. Another great way to fish during dirty water is to look for the clean water line as fish often feed in and out of this as that is also a sign of a temperature break. Mackerel and other pelagics can often be found along these lines.
Surf fishing has seen a few cases of reef fish coming from the deeper drop off's and holes around the headlands and other points down the coast. Although not too big these sweetlip and small snapper still provide great fun. Night time fishing has seen a few jewfish lost and other baits getting picked up by sharks. Always fish with heavier leader around 50-60lb and use a quality mono like Platypus which is Australian made.
The river saw a great run of fish with anything from trevally, queenfish, tailor, jacks, flathead, whiting and bream getting caught. Most of the focus was in the lower estuary with anglers running braid in the 6-10lb range having the most success. Now is the time where surface fishing is starting to wake up and anything that resembles a prawn will get smashed. Take a look at the MMD splash prawn as this suits our river perfectly. Ask us how to work this lure and where to fish it for the best success. There is a larger model which will see anglers with heavier combos do well on mangrove jack along the rock edges and pontoons toward the marina. On the flats of the frying pan flathead will hit surface lures and out in the open and around the point of woods bay you can expect to see queenfish take these down with ferocious top water explosions sure to get the heart pounding!
If lure fishing isn't your thing then grab a pack of hardy heads and fish these on a twin hook rig in the current around the river mouth rocks and dog beach for trevally and flatties. Whiting anglers should look around the mouth, Gympie terrace and the dog beach. Don't forget we sell live beach worms if you struggle to get them yourself.
Lastly the freshwater will see a welcomed raise in dam levels. Borumba is around 80% capacity and Lake MacDonald is close to 90%. This will see the bass exploring into previously high and dry areas in search of food. Try small grubs, tail spinners, shallow diving lures, spinnerbaits and weedless rigged plastics for a great mix of options. Keep leaders to 6-10lb depending on the structure and fish with stealth as movement in shallow water travels a lot further leading to spooked fish.
Now for all the  latest information log onto www.fishingnoosa.com.au for up to date bar and fishing reports, don't forget to drop into Davo's Tackle World, Davo's Boating and Outdoors in Noosa and  Davo's Northshore Bait & Tackle in Marcoola for all the right equipment, bait and advice to get you catching. Be sure to follow us on Facebook and remember Tight Lines and Bent Spines!