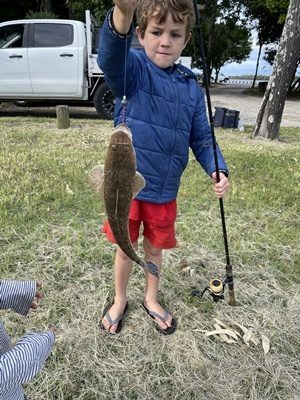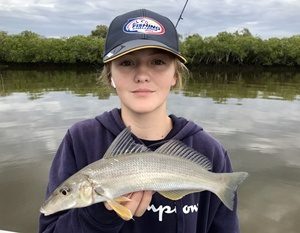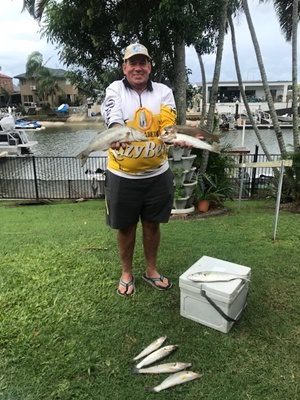 Hi Everyone, hope you have all had a good week, the weather was wet and windy at times over the Labour Day Long weekend, but we still saw plenty of Sunshine on the Gold and Tweed Coast making fishing a nice option for those keen to try their luck. It looks like the showers will finally clear and we are in for a pretty nice weekend on the way with both Saturday and Sunday looking good to get out amongst the action. Let's check out what's been on the chew this week.
Local Fishos have reported some good quality early season Bream have been showing up after all the rain has given the local rivers a massive flush out last month. There are still plenty of small ones around at the moment but as we head closer to Winter larger Bream will start to school up in big numbers in preparation to spawn throughout the Winter months. I recommend using a light estuary outfit spooled with 9lb mono line attached to a long 8-10lb fluorocarbon leader depending on the type of snags you are fishing; a size 3 or 4 ball sinker and a size 2 or 4 bait holder hook should do the trick. Some great spots to try for a feed is around Short Island, Tiger Mullet Channel, Crusoe Island, Kalinga Bank, Logan River, Jacobs Well, Coomera River, Nerang River, Paradise Point, Wave Break Island and the Gold Coast Seaway. Mullet Fillet, Bonito Fillet, White Pilchards, Mullet Gut and Yabbies are great bait. A good burly trail is important when chasing Bream, try using a pellet type option from Wilson Fishing or Stimulate will do the job. As we step closer to winter, all the early signs for a great Bream season are here which is good news for anglers keen to try their luck.
Some nice Tailor have come from the surf gutters along South Stradbroke Island the past couple of weeks which is great news as we head closer to prime Tailor season during the cooler months ahead. Once the Westerly winds turn up it will be a great time to hit your local surf beach gutters for a look. The swell is tipped to drop for the weekend, a beach fishing session at your local would be a good idea. We have been landing some extra big Greenback Tailor for the past few weeks offshore on the local reefs, these schools will tend to move closer to the mainland and into the gutters to feed. Try using a set of 3 x ganged 4/0 hooks with a 20lb mono trace and start with a 5 ball sinker, this will have to be adjusted according to the sweep in the gutter. Whole WA Pilchards will make great bait along with Mullet Fillet. If the Tailor are thick you may need to change to a wire trace to stop bite offs but try mono first as they can be quite picky sometimes and you bait will present muck more naturally. I have had reports of a few smaller Tailor being landed in the main Broadwater and Jumpinpin channels on the last of the run-in tide, try towing some smaller hard body lures around and if you see birds diving or some top water action try throwing metal slugs for a result.
Brad from Brad Smith Fishing Charters reports once again Flathead have dominated the catch with trolling working well as jigging the deep holes with Samaki vibes and Ecogear ZX40's. The deep holes have also produced a couple of small school Jewies and the odd Giant Trevally. The trevally have really hung around this season as usually they start to slow down by now with the water temperature starting to drop and then they come back on the chew around October. As always, Bream have been in great numbers, but the quality has been mainly average but at the end of the day it is always good to have a bend in the rods and a fish on the lures.
Clint from Brad Smith Fishing Charters reports some fantastic fishing this week in the Gold Coast Broadwater and Nerang river with the best days producing 70 plus fish per session. Live yabbies have been absolutely slaying heaps of fish, along with the ever-reliable Ecogear ZX40 and Samaki vibes, always with Sax scent goldprawn smeared over them. The fishing was best around the full moon, I took the big fella Tino from the Gold Coast Titans/ Queensland Maroon, and his brother Iszac who is a promising footy player himself, Tino's partner Jordan, and her Dad Cam who is visiting from NZ. What a great day it turned out to be with everyone catching plenty of fish. On the windier days we headed upstream, where it was hard to get past the widespread, rampaging, aggressive Bream with some big fat ones amongst them. There are some decent Flathead around when you can avoid the Bream hitting lures. You could literally catch 200 Bream a day if you wanted to. We released them all as it is the start of their breeding season. Neap tides will be good to fish the seaway and Jumpinpin mouth area this week, especially after the rain. Expect good Jewies, Bream, Snapper, Tailor, Flathead and the odd Jack and Kingfish. Also, good tides for Arrow Squid in the deeper channels on the run in. I'll be teasing them up with ZX40's then dropping the new Ecogear Dartmax squid jigs amongst them.
Well done to everyone that entered and fished this year's Pirtek Fishing Challenge I hope you had a great time, and congratulations to my daughter Rebecca Clarke on winning 3rd place Junior Whiting this year. You can view the results at  https://pirtekfishingchallenge.com.au
If you have any great catches or photos you would like to share, please email us and let us know how you went. brett@coomerahouseboats.com.au or brett@fishotackle.com.au
Stay up to date with all fishing regulations in Queensland https://www.daf.qld.gov.au/business-priorities/fisheries
Fisho Tackle and Coomera Houseboat Holidays now have Hire Tinnies follow the link to view http://www.coomerahouseboats.com.au/our-fleet-type/hire-tinnies/
Seabreeze is a great website to access a local forecast http://www.seabreeze.com.au/graphs/
Good luck with the Fishing.
Brett