BUNDABERG OFFSHORE
The weather for over the weekend is not looking too bad, with Sunday being the best of both days. We have been getting good reports of reef species such as coral trout, red emperor, and a lot of grassy sweetlip being caught offshore from Bundy. Remember to always check the weather report for updates before heading out.
BUNDABERG INSHORE
For all the smaller boats, the weekend is a great opportunity to get out and chase a few squire/snapper. The inshore reefs like the 2 mile off Bargara, Cochrane Artificial Reef off Elliott Heads and the 4 mile off Coonar Beach have been producing the goods too. Good baits to be using include whole squid or floating down a whole pilchard on a set of gang hooks. Burleying up with small pieces of pilchard in your current line can also be a game changer to bring the fish to you.
** Snapper closure commences from 15th July 2021 through to 15th August 2021 **
THE BURNETT RIVER
There have been good reports of bream, flathead, blue salmon and still a few mangrove jack being caught in this system. The right type of bait you use can be crucial when targeting a species like bream. Try prawns, mullet, chook gut and yabbies. When chasing flathead you can use sprat, mullet, pilchards and large prawns. When chasing mangrove jack, live bait can make a difference. Using sprat and prawns are usually best. When targeting blue salmon try using prawns or sprat. When trying lures; vibes and poppers – doing so at night is best.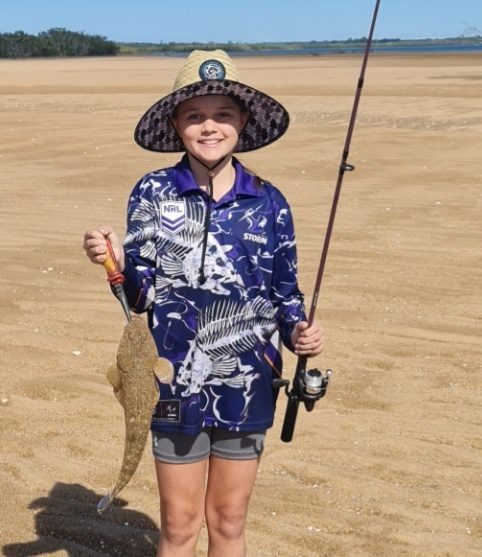 THE KOLAN RIVER AND BAFFLE CREEK
The Kolan and Baffle have been producing some good size flathead and grunter. Using 3" to 5" soft plastics, hopped around the flats will pick up a feed of flatties and moving out in the main channels; drifting and casting small vibes will get you a feed of grunter. When using bait, live bait is the best bait with yabbies, prawns and sprat being the pick.
LAKE GREGORY
Winter-time is one of the best times to target bass. Targeting bass on surface early in the morning or try using spinnerbaits and jerkbaits on the edges as the sun comes up. Moving out and finding schooled fish by casting out soft plastics or blades over the top and sinking to the bottom with a slow retrieve will put fish in the boat.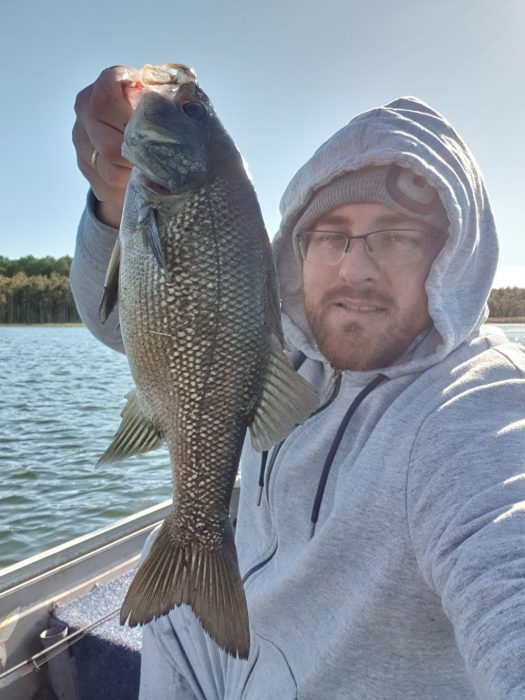 LAKE MONDURAN
Fishing Lake Monduran during winter can be tough but very rewarding when you get that bite!  All that time and 10,000 casts you've put in makes it all worthwhile.  It's like they say – do the miles to get the smiles!  Reports are still coming through with good sized fish being caught. Casting into shallow bays and off shallow points where that warmer water is being pushed. Casting shallow suspending lures like B52's and Jackall Squirrels into these areas and have them suspend for a period of time, will up your chances of catching a fish of a lifetime. Perseverance, patience and persistence is key!
A note from Robert Prosser  (Fisheries Technician, Fisheries Queensland)
Department of Agriculture and Fisheries
SCHOOL MACKERAL FRAMES
In 2020 we started biological monitoring of school mackerel and received 92 frames donated for length, sex and age information. Although this is a good start, we would like a few more in 2021 to increase the quality of our monitoring data for this species. If you catch school mackerel when you get out again keep the frames for us and call or email Rob to pick them up.
*Tackle World Bundaberg are also a nominated drop off spot for your frames. Just bring them instore and we will pass them on to Robert.
SNAPPER & PEARL PERCH
A reminder that snapper and pearl perch will be a no-take species for all fishers from 12.01am on 15 July, reopening at 12.01am on 16 August 2021. This applies to all commercial, charter and recreational fishers.  Please check the following link for more information and keep a watch out on the Fisheries Queensland Facebook page for additional posts Snapper and Pearl Perch