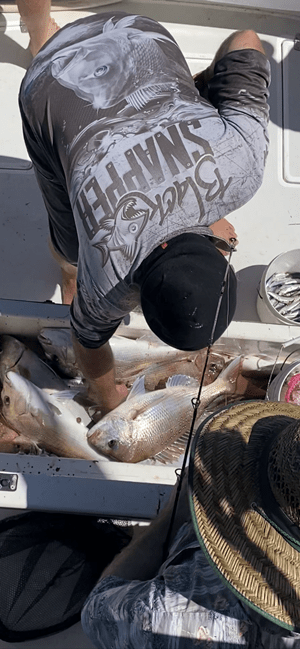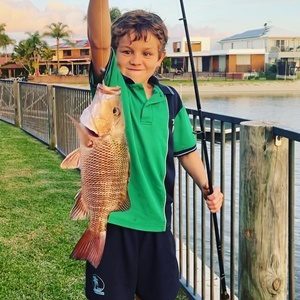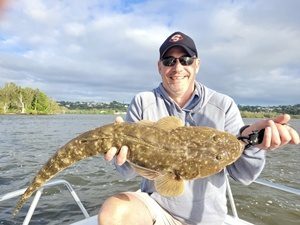 Hi Everyone, hope you have all had a good week, unfortunately we had a wild and wet Easter Break with relentless rain and wind. Good Friday was the pick of the days to head out on the Tweed and Gold Coast. The good news is that the weekend is looking great with light winds and an easing swell should bring a smile to Fishos faces keen to hit the water and try your luck. Let's check out what the best options are after all the rain.
Given the amount of rain that has fallen and combined with our last massive fresh water flush the water quality with be again very average for the next couple of weeks throughout our local waterways. With a good forecast on the way for the weekend at the time of writing my report heading offshore will be the best option to chase a mixed bag of reef species off the Tweed and Gold Coast. The water quality will still be very average on the close Mackerel Reefs of Mermaid and Palm Beach making chasing these toothy critters difficult until the system has time to get back to normal. Start looking around the 18 and 24 fathom reefs where you should find Snapper, big Jew Fish, Trag Jew, Moses, Tuskies, Maori Cod and the odd Cobia. Get the burley trail going and try float lining a mixture of baits including WA Pilchards, Squid, Mullet Fillet and Live Yakkas will do the trick if you can find a show to anchor on. Current depending try your luck venturing out wider to the 36 and 50 fathom reefs for similar target species including the arm stretching Yellow Tail Kingfish, Samson, Amberjack or some extra tasty Pearl Perch. Live baits will work best on these species.
For the inshore Fishos keen to try your luck Bream will again be a top target choice due to their resilience to fresh water, they just seem to feed hard after any amount of rain we receive. Bream can be found in just about all waterways around the Tweed and Gold Coast either land based or out in the boat making them very accessible to everyone. Either man made or natural structure will be a good spot to target the humble Bream as they tend to school up in these areas as they will usually attract small bait fish and jelly prawns with are a natural bait source for the target species above. I recommend using a fairly long 8lb fluro carbon leader around the snags to give you a chance if there are some bigger fish around, a size 2 – 4 bait holder hook and a size 3 to 4 ball sinker tied to a main line of around 9lb mono is a pretty good all round tackle choice. Best baits are something that will hold on after getting picked at by numerous smaller fish until something bigger can come along and crunch your bait, the bigger older fish can be quite wary and often let the little ones have first crack. My first choice of bait is Mullet Fillet, then Bonito Fillet followed by Mullet Gut, Prawns, Squid, White Pilchards and Yabbies. Try the Mouths of the Tweed River, Currumbin Creek, Tallebudgera Creek, Nerang River, Gold Coast Seaway Rock Walls, Runaway Bay Canal entrances, Rock Walls at Paradise Point and the South Ars of the Coomera River, Jacobs Well, Jumpinpin Bar Entrance along Kalinga Bank and the Powerlines.
Mud Crabs will again be another go to after the recent rains, local Fishos did very leading up to and over Easter scoring some good feeds. The extra deluge will keep on flushing the Crabs out of the upper reaches of the rivers and push them out into the main channels. Finding them after the rain can be a bit difficult, again it's a matter of hunting around, soak your pots around the river mouths and also along the deeper channels in search of Crabs that are on the move. Tweed River, Tallebudgera Creek, Currumbin Creek, Nerang River, Mouth of the Coomera and Pimpama Rivers, Never Fails Islands, Jacobs Well, Canaipa Passage, Russell Island and the Logan River Mouth will again be the go-to spots to start your hunt depending where you live on the Coast.
Brad from Brad Smith Fishing Charters reports the upper reaches of the Tweed River are still very muddy and unfishable but hopefully if the rain holds off the fish will start moving back up the system following the increase in salinity coming in from the ocean. By careful planning and taking advantage of the big run-in tides that we have had around the full moon we have had some really good fishing. I have been motoring down towards the mouth of the river and fishing the distinct current line where the clean ocean water is pushing back the dirty flood water. These types of areas are a major feeding zone for fish and even the birds are bombing the water along the current line taking advantage of the abundance of baitfish pinned to the area. The birds have been the giveaway for me where the current line is while travelling down the river. The main species that have been smashing our lures are Bream with big numbers of small Bream flopping on to the deck of the boat but in amongst them have been some crackers either side of the 40cm mark. These big Bream are great sport on small lures and light gear with the best lures being the zx 40, Slam 47 and Samaki vibelicous. Trolling and deep jigging the same area has also produced some nice Flatties and the odd Grunter as well as a few Big Eye Trevally.
Clint from Brad Smith Fishing Charters reports after a break and some postponed charters due to bad weather I did my first charter last Friday in three weeks. I headed out with regular customers Jonathan and his Dad Colin, and with the wind blowing SE 20-25 knots early we ventured upstream to the middle reach of Nerang river. As soon as the tide started running in the fish turned on wherever we found bait patches on the fish finder, we had a ball catching over 30 fish on lures and yabbies, with Flathead up to 60cm, lots of Bream, Grunter and Whiting. Best lures were Ecogear ZX40 in 418, 440, 447 and best bait was live yabbies. Usually after Easter the weather settles and we start to see beautiful days and my favourite time of the year to fish with quality Flathead, Squid, Flounder, Tuskfish, Blue Swimmer Crabs, and many other species on offer.
Gavin from Sea Probe Fishing Charters reports after another period bad weather again hopefully the fish are still firing where we left off when we get back out there. Try for Kingys, Amberjack, Samson fish and Snapper all along the 50 fathom line using live bait, jigs, pilchards, squid and mullet. Also worth a try is the fads for Dolly's with pilchards and live bait and 18 and 24 fathoms for the Jew and Cobia will start showing up in the next couple of months
If you have any great catches or photos you would like to share, please email us and let us know how you went. brett@coomerahouseboats.com.au or brett@fishotackle.com.au
Stay up to date with all fishing regulations in Queensland https://www.daf.qld.gov.au/business-priorities/fisheries
Fisho Tackle and Coomera Houseboat Holidays now have Hire Tinnies follow the link to view http://www.coomerahouseboats.com.au/our-fleet-type/hire-tinnies/
Seabreeze is a great website to access a local forecast http://www.seabreeze.com.au/graphs/
Good luck with the Fishing.
Brett