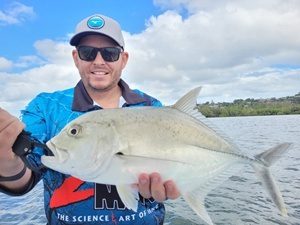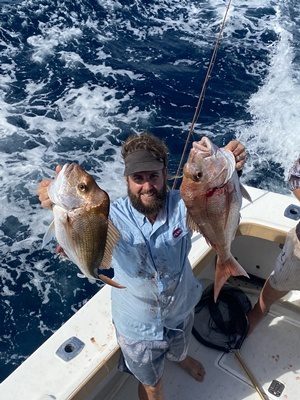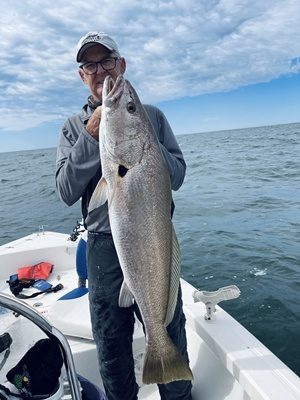 Hi Everyone, hope you have all had a good week, what a difference a week makes to the weather. Plenty of sunshine and light winds made for a great weekend and cooler change mid-week gave everyone a chance to dry out and get on the water to have some fun on the Gold and Tweed Coast. It looks like we will see the return of showers for the weekend. Let's check have a look at what's been happening.
With a great weather forecast on offer last Sunday I was lucky enough to get an invite from Wayne "Youngy" Young to head offshore on the Gold Coast for a look after all the rain last week. Conditions were fairly good early before the southerly wind change pushed through a bit earlier than forecast making conditions a little tuff with wind against current. The dawn bite was a bit slow with only a couple of Snapper showing up, there were plenty of smaller fish around ready to destroy the baits. Once the wind came through and just before the tide change the burly had done its job and some quality fishing started to hit the deck, we ended up landing a great mixed bag of Jewfish, Maori Cod, Snapper, Moses Perch, Pearl Perch, Tailor and even a juvenile Red Emperor which was a welcome surprise. This is the 4th Red Emperor we have landed on the 24-fathom reef in the past month, it would be great to catch an adult one on the Gold Coast. Wayne scored the fish of the day landing a quality Jew Fish 113cm long and around 14kg in weight on a fairly light set up outfit. The weather forecast is looking ok so far for this weekend with light winds predicted early before blowing up later in the morning making a early start for a go if you're keen. Best baits were WA Pilchards, large Squid, Bonito Fillets and live Yakkas.
As our waterways start to slowly clean up after the massive fresh water flush targeting bread and butter species like Bream, Whiting and Flathead are all a great target option for a feed on the Tweed and Gold Coast. These species can be targeted by everyone weather you are land based or if you have a boat or Kayak and can venture out. A few locations worth looking at land based are Tweed River, Currumbin Creek, Tallebudgera Creek, Jacobs Well, Cabbage Tree Point Beach, Coomera River Highway Bridge, Santa Barbara, Jabiru Island, Paradise Point Jetty, Lands End Biggera Waters, Grand Hotel Jetty, Marine Stadium and the Nerang River. On the water try around Currigee, Paradise Point, Wave Break Island, Nerang River, Tiger Mullet Channel, Jacobs Well and the Tweed River. I recommend using burley when targeting Bream, a pellet burley like Stimulate or Wilson Pellets will work well. The best bait for Whiting is Worms or Yabbies, for Bream and Flathead try Prawns, White Pilchards, WA Pilchards, Mullet Fillet or Yabbies.
Brad from Brad Smith Fishing Charters reports this time last week the water was just starting to come good with the fish comprising of some nice Flatties, Giant Trevally and Mangrove Jack smashing the lures but since the rain came back and turned the river into a mess once more. With the sun out we headed down towards the mouth of the river and managed to find a bit clearer water on the last two hours of the run-in tide and caught a few Bream and Flatties but once the tide turned the muddy water flowed down and the bite went off completely. The good news for this week's report is that the rain has gone, and the tides are gaining every day giving us more time to keep the bite period going. Enjoy the sunshine over the weekend and fish the run-in tide near the mouth of the river and you should catch some fish but please be careful as there are trees and debris floating around everywhere.
Clint from Brad Smith Fishing Charters reports it looks like the end of wet season now, and more stable weather ahead in the next week. We are flat out with charters and looking forward to it. My charters have added on options of crabbing and Go Pro 9 filming of the day. The water temperature in the Nerang river is averaging 23 degrees, I ran a charter yesterday with Rod and Ryley and although the water was muddy on the run-out tide, we caught about 25 fish and some nice Blue Swimmer Crabs. Included in the catch were Flathead, Bream, Whiting, Flounder, Trevally and the usual Tarwhine. Best areas to fish were Runaway Bay and the reef just inside the seaway and East of Wavebreak in 9-10 metre depth. Yabbies, prawns, and whitebait work well. Dirty water lures are getting the most bites, and these include Samaki Vibelicious 70mm forktails in Ginger squid and Motor Oil UV colours, and Ecogear.
Gavin from Sea Probe Fishing Charters reports try for Yellow Tail Kingfish, Amberjack, Samson Fish and Snapper all along the 50-fathom line try using live bait, jigs, pilchards, squid and mullet. The 36-fathom line has produced good quality Snapper, Pearl Perch, Trag Jew and Tush Fish. It is also worth a try on the fads for Dolly's with pilchards and live bait. The 18 and 24 fathoms reefs are worth a look for Jew Fish and cobia will start showing up in the next couple of months.
Good luck to everyone fishing the Pirtek Fishing Challenge which is held this weekend on 17th and 18th of April. It is a fantastic event and all money raised goes towards prostate cancer research. Check out the link for more details and how to enter https://pirtekfishingchallenge.com.au  There are some awesome prizes on offer, and everyone gets a hat and brag matt, also this year all the junior entries receive a free packet of soft plastic lures which is a great bonus.
If you have any great catches or photos you would like to share, please email us and let us know how you went. brett@coomerahouseboats.com.au or brett@fishotackle.com.au
Stay up to date with all fishing regulations in Queensland https://www.daf.qld.gov.au/business-priorities/fisheries
Fisho Tackle and Coomera Houseboat Holidays now have Hire Tinnies follow the link to view http://www.coomerahouseboats.com.au/our-fleet-type/hire-tinnies/
Seabreeze is a great website to access a local forecast http://www.seabreeze.com.au/graphs/
Good luck with the Fishing.
Brett