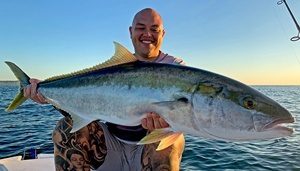 After a wet and wild Easter it was only a matter of time before conditions started to improve. With the lack of rains and a spring tide the rivers have started to clear up a little and offshore along with it. Although not yet clean, it doesn't take much for fish to acclimatize and start feeding again.
After the rains as previously mentioned sweetlip, snapper and coral trout have been on the feed. The most obvious ground has been Sunshine reef which always produces good fish after the rains. Anglers have been dropping paternoster rigs for tuskies and sweetlip. These fish will happily take mullet and pilchard baits with sweetlip taking a liking to whole endeavour prawns which we stock.
Coral trout have been hitting live and even pilchard floater baits on 4/0-5/0 gang hooks. Traditionally fished hard on the bottom your hook and sinker should be close together. This helps prevent trout running into the reef and gives you a better direct connection to the fish. Look at Black Magic fluorocarbon for the toughest of leader lines which is what you need around the rocks of Sunshine reef.
On the top longtail and Mac tuna are present with most fish sitting around 4-10kg in size. These fish provide excellent fun on 20lb spin outfits. Take a look at the new Samaki gen 3 Zing series and pair it with the new Shimano Stradic Saltwater reel for a great all-rounder combo this winter. Mackerel are still present but are tending to favour waters around Double Island, presumably because the waters are cleaner. Sharks are however a problem and anglers are reporting losing greater than 50% of their fish. This calls for heavier gear and if on the troll the Shimano Backbone elite 15kg paired with a Shimano Torium 30 if using braid is the prefect medium heavy troll outfit. This reel is a high speed retrieve which could mean the difference between landing a whole fish or a head.
Surf fishing is yet to really fire up but a few tailor have been reported south of Noosa. Whiting are also feeding in the newly formed gutters and have a love for live beach worm. Smaller bream and dart are also present with the occasional standout fish. As the evening and daytime temperatures are dropping now is the time to start thinking about jewfish. The gear required will also work well off the rocks with rods around 10ft 6 and a suitable spin reel around a 6000 shimano or 5500 Penn. While waiting for these fish you can take this combo off the rocks for mackerel and tuna which are coming closer and in casting distance. Look at Varivas casting PE for a great casting braid aimed at distance casting. Pair this with a suitable lure like a Shimano Rockslide and you are on your way to landing a big one.
The Noosa River is still adjusting from the rains and school holidays which sees boat traffic ramp up during this time. With the holidays now over the fishing should start to improve especially as less rain is forecast for the week ahead. The lower estuary is still the most featured area with flathead, bream and whiting on the bite. Drifting live baits and soft plastics is one of the best ways to catch bigger fish especially around Weyba, the dog beach and along the stretch of the marina. Look at the various options in the Gulp soft plastic range if new to this style of fishing as they are strongly scented and work well while you are learning the correct technique to fish them. If you are land based try to fish around the top or bottom of the tide and fish around the turn of a tide as this is often a feeding time for many species.
Freshwater is still yet to really fire with the big fish. Right now smaller bass around 35- 40cm are the most common size, but the big ones may take some work finding. The lower basin of Borumba is more popular due to the hazardous timbers beyond the ski zone making Borumba flat and smaller bays a great starting point. Fishing hard on the bottom and trolling small hardbodies is working well. Look at the new range from Berkley with the small breamz a great starting point at a great price.
Now for all the  latest information log onto www.fishingnoosa.com.au for up to date bar and fishing reports, don't forget to drop into Tackle World Noosa, Noosa Boating and Outdoors and Northshore Bait & Tackle in Marcoola for all the right equipment, bait and advice to get you catching. Be sure to follow us on Facebook and remember Tight Lines and Bent Spines!