We certainly felt the cold snap this week with inland temps getting below 1C! For those of us on the coast we got down to around 6C and with westerly winds made for cool daytime temps. A plus side of this is that there has been increased activity for the tailor anglers. The bigger currents and higher tides saw baitfish getting pushed in and with that the predators soon followed.
Offshore has been quieter, but those who know how to not target snapper and pearl perch have been finding deep water jewfish to well over a metre and smaller 5-6KG cobia on the prowl. These fish love big flesh baits like mullet and the cleaner waters around North Reef, Chardons Reef and Sunshine wide have been the popular spots.
For those in shallower waters then Sunshine Reef always holds great sweetlip and tuskies. This area holds large amounts of squire size snapper so be sure you carry a release weight or use another way to get these smaller fish back down to the depths. Come in and check out our release weights and how they work to make your life easier and help look after the snapper fishery this season.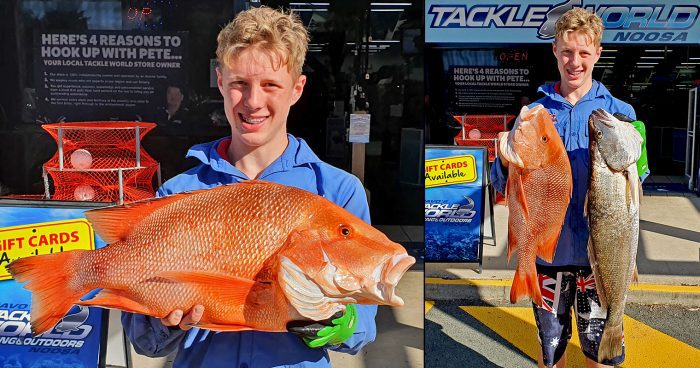 Keep an eye out if fishing the inshore shallower reefs like Halls or Jew Shoal as reports of baitfish getting smashed show that there could still be smaller tuna around.  If you have lighter 15lb setups then light 10 gram chrome slugs on similar poundage leader makes for a lot of fun on these smaller fish, most likely mac tuna.
Surf fishing has been producing a few tailor. This week the cold snap and build up to the full moon saw beach fishing become more popular. The period after the sunset is often the best time of day to chase these fish. Fishing into the night is also popular as the full moon provides more than enough light for tailor to feed. Running two or three hook true turn gangs and a slab or fresh dead bait works wonders.
Freshwater saw an inundation of anglers to Borumba on the weekend for the annual Fish Headz Noosa comp. With over 90 anglers on the water was certainly an interesting time. Most bass are reported to be deep so blades, spoons and spinnerbaits are going to be the go. The Hot Bite Spectre assists have been flying off the shelf so be sure to give these a try as they have a habit of catching deep and mid water fish.
The Noosa River has produced some great fish this week with the cooler cleaner waters. Around the lower estuary especially Munna point and Munna bridge quality golden trevally and GT have been caught on prawn profile plastics and smaller grub style plastics in the 2-3.5" size range. Jigheads in 1/6th-1/8th #2/0 hook give the best presentation in conjunction with a lighter 6-8lb leader. Baits to use include whole whitebait and small pilchards rigged on 1/0 and 2/0 gang hooks.
In the ski run a few school sized jewfish have shown up and have been caught on a range of soft vibes and 3-4" sized plastics on 1/8th size jigheads. With soft vibes try using big lifts and short pauses to get the best action. Samaki Vibelicious come rigged with quality decoy hooks and a great action which is sure to call in the fish.
Flathead have been on the bite around the river mouth and dog beach and up around the entrance of Lake Weyba. These bigger fish love a well presented soft plastic on 1/4oz jig head and a 3-4 inch paddle tail. Soft plastics to use include Keitech Easy Shiner and Zman Streakz curly tail in opening night colour both in 4 inch size.
Now for all the  latest information log onto www.fishingnoosa.com.au for up to date bar and fishing reports, don't forget to drop into Tackle World Noosa, Noosa Boating and Outdoors and Northshore Bait & Tackle in Marcoola for all the right equipment, bait and advice to get you catching. Be sure to follow us on Facebook and remember Tight Lines and Bent Spines!