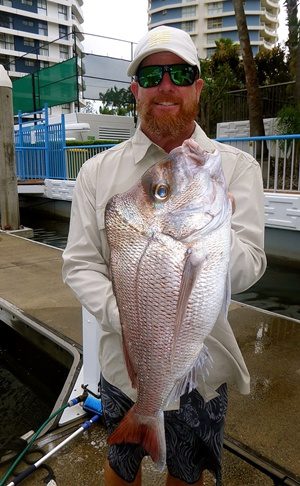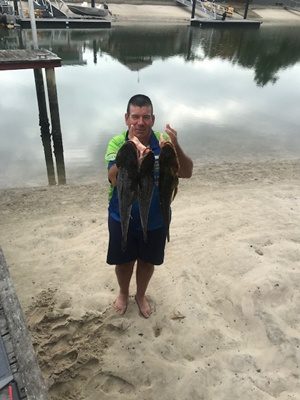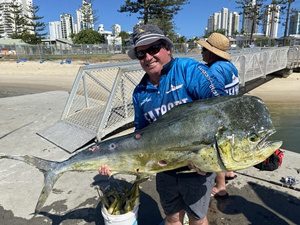 Hi Everyone, hope you have all had a good week, stinking hot conditions over the past weekend on the Tweed and Gold Coast best suited getting out on the water to try and score a bit of a sea breeze and try your luck at catching a fish. It looks like we are in for a change of conditions with a howling South Easterly on the way which will see a drop in temperature and a big increase in swell for this weekend making more sheltered inshore waters the place to try your luck. Let's check out what's been happening this week.
School Holidays are finally here, and it is a great time to get the kids out of the house and have some good old-fashioned fun and go fishing. We have plenty of fishing locations on the Gold and Tweed Coasts for kids to try their luck either land based or out in a boat if you are lucky enough to own one. Some good spots to try are the Coomera Waters boat ramp or Highway Bridge, Grand Hotel Labrador, Broadwater Parklands, Southport Bridge, Marine Stadium, Paradise Point, Hope Island, Nerang River Tweed River and Tallebudgera or Currumbin Creek. A basic kiddies combo or light estuary outfit with a running sinker rig will do the job on bread and butter species like Bream, Tarwhine, Whiting, Flathead and Trevally just to name a few. Yabbies make great bait and are also fun for the kids to pump, they can be accessed on selected beaches on the Gold Coast on the run out tide, try fishing the same areas you catch your bait in as the tide rises and fish will most likely be feeding in these areas. Prawns, Worms and White Pilchards also make good bait.
With some wind on the way trying your luck up the rivers for a Whiting will be a great option, good numbers of fish have been caught consistently over the past few months and as Summer kicks off they should start biting well especially around the moon phases with larger tides. The Nerang River is a great spot to try when it is blowing with may sandbanks and corners to get some respite from the wind. The best bait is Bloodworms up the River followed by Beach Worms then Yabbies. Fishing gear of choice would normally comprise of a 7ft -11ft  light estuary rod rigged with either 6 -9lb mono, 6 lb fluro carbon trace and either a 4 – 5 ball sinker with a hook designed for the bait of choice, for worms a sized 6 short shank baitholder hook is best. You may have to move a few times to find the schools of Whiting actively feeding, I would normally try for about 30min, if the fish are quiet just move onto the next spot until you get consistent hook-ups. Other spots that produce quality Whiting are the Coomera River North and South Arms, Pimpama River, Logan River, Tallebudgera Creek, Currumbin Creek and the Tweed River.
Wayne Young and Brett Van Latham (see photo in report) had a good trip earlier in the week before the wind and swell kicked in scoring a great feed of good sized Snapper Float Lining on the inside of the 24 fathom reef off the Gold Coast. You can still catch a feed of Snapper during the summer as long the current isn't running to hard to get your bait down in the shows of fish. Once the swell settles down it will be worth a look.
Brad from Brad Smith Fishing Charters reports it was great to get back on the water for the back end of this week after being off the water, after some serious skin cancer operations in hospital. Spending a lifetime on the water fishing and surfing finally caught up with me so remember to be sun smart especially coming into what has already been an extremely hot start to the oncoming summer season. My clients once again frothed this week with the rush of catching a heap of quality Whiting, a few Bream, and the odd Flattie on surface lures.  This has been a sensational top water season with the good news being the season goes right through to April so don't fret about missing out on getting an opportunity to come out and try it. A few tips for anyone wanting to try it themselves is to look for very shallow water and you need some wind blowing to break up the surface tension of the water. Fish are very reluctant to rise when the conditions are glassy so what might seem great for us does not suit them. Although we have not done much deep water jigging, we still managed to produce the odd Flattie, Bream and Whiting on Samaki soft vibes.
Clint from Brad Smith Fishing Charters reports we are into December! That means the summer fish are in full swing. Like Brad's Tweed report, the big Whiting are feeding hard, and we are getting 40cm+ horses just about daily, a lot of School Flathead and Bream were about this week on the sand flats. A tip for the flats: Find the stingrays and you will find the big fish. Just be incredibly careful not to stand on them while wading! A general rule of thumb do not stand on anything dark. This week there are some small tides at night which are not much use generally, but the morning ones are still productive for the sand flats. The next heat wave will certainly suit Mangrove Jacks if you can be in the right place at the right time. Any storms will get them fired up big time. Monster Whiting will best on middle of the run-in tides. Yabbies are the best bait for them in the Broadwater. Blood worms are best for up the rivers.
Gavin from Sea Probe Fishing Charters reports fishing a few Black Marlin have been turning up in 35m to 90metres of water, try trolling skirted lures. On the 50 fathoms has been hit and miss with Dolly's Kingys ,Ajs and Samson fish being caught, the current has been up and down the last week so it changes constantly. Out on the 36s there has been Dolphin Fish, Snapper, Trag Jew, Pearlies, Tuskies and Moses Perch.  24s has produced Jewfish, Trag Jew, Snapper, Flathead and Tuskies.
Hope you all have a good week and stay healthy and safe. If you have any great catches or photos you would like to share, please email us and let us know how you went.
Stay up to date with all fishing regulations in Queensland https://www.daf.qld.gov.au/business-priorities/fisheries
Fisho Tackle and Coomera Houseboat Holidays now have Hire Tinnies follow the link to view http://www.coomerahouseboats.com.au/our-fleet-type/hire-tinnies/
Seabreeze is a great website to access a local forecast http://www.seabreeze.com.au/graphs/
If you have any great catches to report or fishing photos please email them to  brett@fishotackle.com.au
Good luck with the Fishing.
Brett