Many keen kingie fishos might be surprised at just how old (or young!) their catches could be.
Samples donated to the Research Angler Program (RAP) have shown the age of a just legal fish (65cm) can range from one to four years.
This is because growth rates are variable; however, most fish sampled grow relatively quickly and reach 65cm between the ages of two and three years old.
But some fish can grow very big very fast!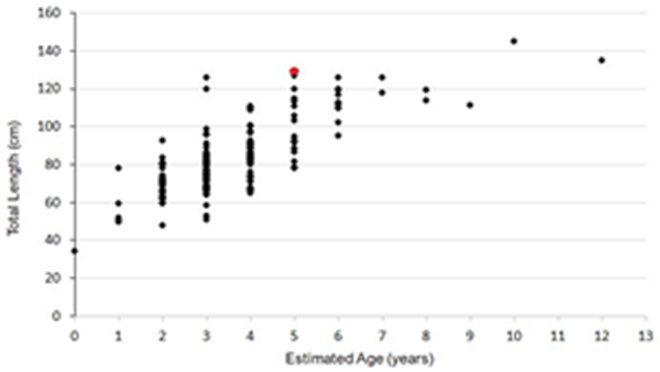 Keen RAP participant Kurt recently donated the frame from his 130cm kingfish. The trophy-sized fish was estimated to be five years old (shown on the attached graph). This fish is the fastest-growing five-year-old kingie we have had donated to the program and shows that in optimal conditions kingies can indeed grow at a very fast rate.
Results such as this show how donating frames from your kingie catches to the RAP can give us important information to help manage these great sportfish. Kurt also scored himself one of our monthly prizes of a $50 gift voucher at our drop-off location at Ritchie's Bait and Tackle.
If you're interested in learning more about kingfish growth rates, be sure to check out the latest edition of the RAP report where we investigate these fast-maturing fish.
The RAP report is produced from information provided by everyday fishos like you. Your fishing successes helps us to learn about fish growth and movements.
If you're interested in contributing to this citizen science program and are lucky enough to catch a mulloway, kingfish, snapper, dusky flathead, tailor, black bream, and Spanish or spotted mackerel of any legal size, donate your fish frame at any participating tackle shop.
Like Kurt, you could win a $50 tackle voucher or a RAP fishing shirt, plus find out interesting information about your fish ages and biology.
Head to
https://bit.ly/2jDuviN
for more information on how to get involved in the RAP, plus locations of your closest drop-off point.
The RAP is another great example of your fishing fees at work!