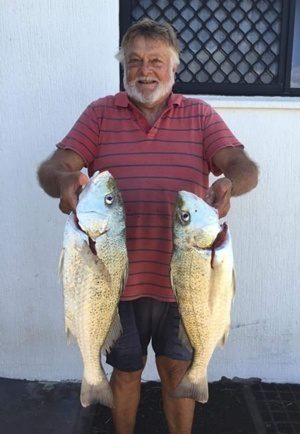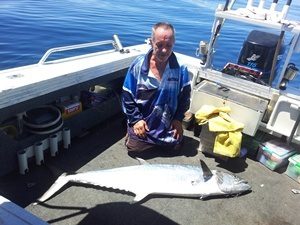 BUNDABERG INSHORE
The weather this weekend looks like it's going to give us a good opportunity to get out over the weekend with both Saturday and Sunday morning looking good. Sunday morning would be the pick of the 2 days. There has been plenty of mackerel and tuna getting around. Methods for catching the mackerel has been float lining un-weighted pilchards and gar fish back behind the boat.  Also trolling hard bodies behind the boat. Always try and have a few different lure depths. There has been a lot of fish caught around the leads at the mouth of the Burnett river and the Bargara 2 mile. With the dirty water around now, the mackerel don't like it so try to find the clean water.  As always, remember to check the weather before heading out.
BURNETT RIVER
With the recent rain in the region the rivers have being firing due to the fresh water washing new food sources into the river and creeks. There has been some ripper mud crabs in good numbers being caught lately.  The rock bars are producing plenty of bream due to the weather cooling down. There are still some quality grunter being caught, the odd mangrove jack and barramundi. At this time of the year, we see lots of fish coming off the sand flats.  Most people like to drift with yabbies, worms and prawns. They have been catching whiting, bream, flathead and grunter.
KOLAN RIVER AND BAFFLE CREEK
There has been good reports of prawns being caught in both of these systems with the deeper holes producing most of the prawns.  The anglers that have been putting the pots in have been seeing good numbers of crabs as well.  The flathead, whiting, bream and grunter have started to chew. The anglers have been drifting over the sand bars and fishing the deeper holes. With the colder weather on its way, we should start seeing the salmon showing up around the gravel beds and rock bars. There has been the odd barramundi and jack still being caught too.
LAKE MONDURAN
With the Lake Monduran Humminbird Fishing Classic being held this weekend, there's still a few spots left, so get in quick.
We have been seeing some quality fish caught with the water temps now down to around 26 degrees. The fish are starting to get a bit more active in the shallows. They are still catching them in the deep water using the 140 Molix Shads; the Jackall Squirrel and the Barra Classic have been working a treat for the few anglers that like to troll.  With the lead up to the full moon this week, the barramundi should be active in the early morning and the late afternoon.  Using the 140 Molix Shad, the best method has been just a slow retrieve back to the boat.  The colour that has been doing the damage through the day is the black and gold and the white at night.