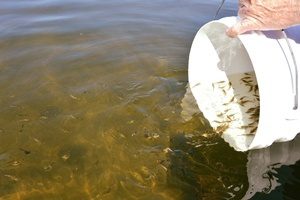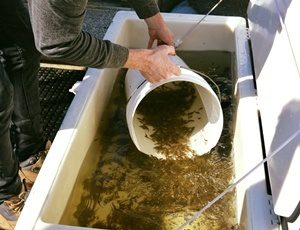 Thousands more juvenile dusky flathead have now been stocked into the St Georges Basin Recreational Fishing Haven, bringing the total number of these highly popular sportfish released by DPI on the NSW South Coast over the past month or so to 75,000!
The most recent stocking event saw 22,000 flathead fingerlings released into the Basin, following on from successful stockings in the Basin, Conjola and Burrill RFHs.
These fish will be monitored by DPI researchers with the help of volunteer citizen scientists. This work is designed to evaluate the growth of the fish, their movements and impact of fish releases on the recreational fishery.
We're hoping to stock more estuaries along the NSW coast with dusky flathead as the production of these highly popular sportfish expands.
And we'd like to say a big thank you to all those involved in this exciting project, which will provide a huge boost to recreational fishing opportunities on the NSW South Coast.
These stocking events are a great example of your fishing fees at work! Contributing funds were also provided under the NSW Marine Estate Management Strategy.