These last few week's we have really seen and felt a change in the season. We now have cold evening temps below 10 degrees and mid 20 degree daytime temps. This has seen the sea temps drop to low 20 degrees and with that the tuna have pretty much gone from the local waters. Big Spanish mackerel continue to patrol the shallow reef areas in search of baitfish. This makes trolling a viable option with a whole bonito and a Citer chin guard which ensures the bait tracks straight and looks natural.
With the weather gods smiling down many anglers went out wide to find the deeper reefs and the snapper that are holding there. The Banks are proving one of the better options with snapper over 80cm and pearlies around 60cm showing up. There are also some unstoppable amberjack which provide a heap of fun if you enjoy pain! Take a look at the new range of Shimano Ocea jigger reels if looking to jig for bigger fish. Be sure you match this with Ocea braid and a PE4-6 or 6-8 rod and hold on.
North Reef has been popular as has Double Island Point with the bigger boats. Drifting the rubble grounds and following contour lines is a great way to find big patches of condensed bait. Once found you could be catching anything from an amberjack to a trevally with a host of others in between. Jewfish are tending to show up and will take anything from jigs, plastics and baits. If you want to target one on a plastic then try Gulp Nemesis. The swimming action coupled with the scent is a great trigger any big fish can't refuse. They will also take big strips of mullet making the Mustad Octo/circle in size 7/0 a great hook for a corner of the mouth hook up.
Closer in the fishing was a little harder, but a few Spanish have been caught along with smaller snapper to 60cm around Sunshine Reef. There are a few sharks about and depending on their mood they like the occasional snapper. Be sure you are fishing with 25-30lb mono or braid so you can apply a little more pressure. For a hard wearing mono take a look at Schneider which has been the standard of many charter boats for many years because it is very tough and great on the reefs. Coral trout are still about and there are reports of yakkas in big numbers. Nothing appeals to a trout more than a live bait so make sure you check the shallower reefs of halls and load up with some livies.
The evening next week features high tides after dark which works well for land based jewie anglers. Come in and grab some premium mullet fillets and have a shot at a silver ghost this winter. Daytime fishing continues to produce dart, bream, GT and a few tailor are starting to filter through.
Inside the Noosa River we are seeing some chunky tailor and GT that must have followed the bait during the evening high tides following last week's new moon. Both of these fish lend themselves to lure fishing and make a great target for surface fishing and soft plastic fishing. The larger 90mm Bassday Sugapen will work well for both species especially during the morning high tides. Flatties along the drop offs, Frying Pan, river mouth and current line are still around the smaller mid 50cm size. There is the occasional larger fish getting caught and at 75cm and over they must be released with many anglers releasing fish at 65cm to help protect the fishery.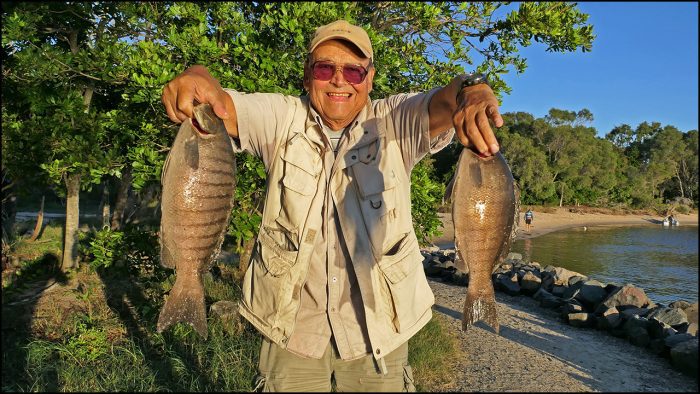 Upriver the cleaner saltier water will see small schools of jewies and GT hitting up the baitfish. With the clarity of the river improving weekly the salinity of the river will start to increase as you head up toward the between the lakes stretch. This can be an excellent area to slow troll and drift while flicking lures. Watch line and leader thickness and keep to that 8-12lb mark. This will ensure that presentation stays optimal while working your lure. Pair this with a Keitech plastic for the best action. The smaller 3 inch Easy Shiner has accounted for many great fish over the years as it resembles a baitfish typical of the river.
Freshwater fishing remains constant with smaller fish schooling up. Over the next month you can expect to find big concentrations of fish hanging around the main basin's and dam walls. As mentioned in previous weeks these fish still go through their natural response to breed but can't because of the walls in their way. Winter time is a great time to fish jigs on bass and the Hot Bite spoons work very well. Once you find out which retrieve works best enjoy.
Now for all the  latest information log onto www.fishingnoosa.com.au for up to date bar and fishing reports, don't forget to drop into Tackle World Noosa, Noosa Boating and Outdoors and Northshore Bait & Tackle in Marcoola for all the right equipment, bait and advice to get you catching. Be sure to follow us on Facebook and remember Tight Lines and Bent Spines!