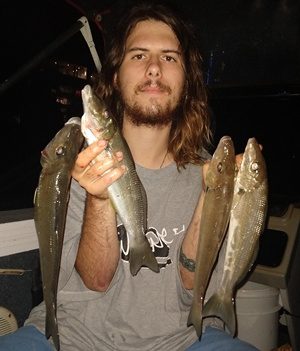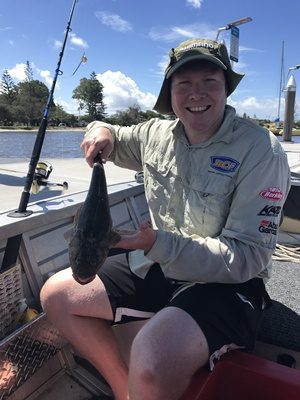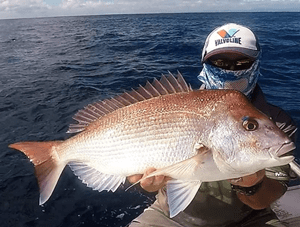 Hi Everyone, hope you have all had a good week, wild windy wet conditions for the Gold and Tweed Coast last weekend and early in the week put a hold on outdoor activities until conditions settled down. Massive swell, strong winds, high tides and rain runoff has stirred up the fishing conditions considerably for the next week or so. The good news is the run off will do wonders for the coming months and should get the Mud Crabs on the move just in time for Christmas. Let's have a look at some options for the weekend.
For more tips fishing the run-off, click here!
After hundreds of mm of rain has fallen on the Gold and Tweed coast knowing what to target and where will need a bit of thought if you are keen to come up trumps. A good flush out of rain will usually get the Mud Crabs on the move and with Christmas around the corner I would recommend getting the pots in the water as soon as possible as there should be a great feed on offer. I would generally start looking more towards the river mouths around either the Tweed, Tallebudgera, Currumbin, Coomera, Pimpama and Logan Rivers as the crabs will tend to be pushed out of the feeder creeks and be looking for a bit more salty water. You will probably have to move your pots around until you can find a bit more of a concentration of Muddies to target, when setting the pots make sure you spread them out over a few different depths of water. Fresh bait is the key, I prefer to use fish frames I keep after a trip. Mullet Fillet or raw chicken will also work well. I recommend changing the baits regularly for best results as crabs would prefer fresh than smelly old rotten bait.
When looking for fish to target I would again start to look around the river mouths, deeper main channels and ocean entrances for some tell tails signs. A tide line is where the fresh water meets salt water and will make quite a distinct line of different colours of water. These areas are prime spots to target predators ambushing bait fish that have been washed out of the rivers. Some of the common species you can expect to find in these areas will be Trevally, Jewfish, Tailor, Tarpon but you just never know what might turn up. Live bait like herring, pike or mullet will work well, I also really like using metal vibe lures around the half ounce weight as they make a vibration that mimics a wounded bait fish are irresistible to most species in the system.
Bream love a fresh water flush and will be chewing their heads off in most areas you would normally target them like jetties, bridges and rock walls. These are a great fish for kids to target as we have a bunch of land-based areas to choose from around the coast.
Once the swell finally settles trolling for a Black Marlin will be a great option as the strong winds have pushed in a heap of warm water closer to the coast, water temp jumped from 21.9 to 25.5 degrees which is prime temp to hold pelagic species like Marlin, Wahoo and Dolphin fish. The fads on 36,s will be worth a go the along with the 50 fathom line. Sullies and the Cottons off the Pin will fish well if holding bait and also the local 24 fathom and 18 fathom grounds will produce there fair share of fish during a season. Trolling small to mid-sized skirted lures such as Pakula's is a great way to cover ground and they work a treat accounting for plenty of hook ups during a season.
Brad from Brad Smith Fishing Charters reports we once again attacked the shallows and caught good numbers of Whiting and Bream with some monster sized fish hammering our surface lures. The tides were also perfect this week as we started and finished our trips around tide changes which is the best times to deep water jig some Samaki vibelicous vibes in the deep holes. Bouncing the vibes along the bottom in the 10 to 12 metre line in the holes produced some school sized Flatties the odd big Bream and some good sized Jewies. The thing I like the most about the Tweed apart from the lack of boat and jetski traffic is that you can be fishing in one foot of water across the flats and then move only 50 to 100 metres and be fishing in deep holes that are 10 to 14 metres deep. I went back out for a couple of hours after finishing a trip and banged this quality Jewfish on a Samaki vibelicious vibe
Clint from Brad Smith Fishing Charters reports I had a new Yamaha 90 hp 4 stroke motor fitted at Stones Corner marine in Brisbane. I picked it up on Wednesday and was impressed by the highly professional and super helpful approach by James and the team. Completely stoked with the motor, they do not come better than Yamaha, and I highly recommend these premium motors and the dealership at Stones Corner. Last weekend I had Bruce and his son Mitch on board, and we had a great day and some memorable catches. Mitch caught and released his first ever flathead, and first fish on a lure, a lovely 76cm girl on a Daiwa Bait junkie 3.2 inch lure. Bruce then caught the biggest whiting of the day, a beautiful 41cm model.
Hope you all have a good week and stay healthy and safe. If you have any great catches or photos you would like to share, please email us and let us know how you went.
Stay up to date with all fishing regulations in Queensland https://www.daf.qld.gov.au/business-priorities/fisheries
Fisho Tackle and Coomera Houseboat Holidays now have Hire Tinnies follow the link to view http://www.coomerahouseboats.com.au/our-fleet-type/hire-tinnies/
Seabreeze is a great website to access a local forecast http://www.seabreeze.com.au/graphs/
If you have any great catches to report or fishing photos please email them to  brett@fishotackle.com.au
Good luck with the Fishing.
Brett