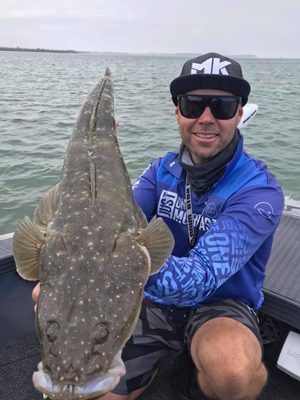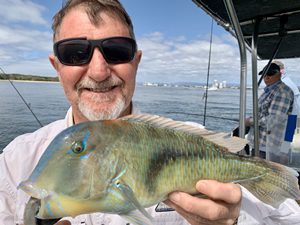 Hi Everyone, hope you have all had a good week, we have had bit of a mixed bag of sunshine and showers on the Tweed and Gold Coast. Fairly good conditions for everyone lucky enough get out for a fish this week seeing mostly lighter winds to contend with. As School Holidays kick off this weekend let's have a look at what's been on the chew.
As School Holidays kicks off why not take the kids out for a fish and get away from the hustle and bustle and technology that can take over day to day life. Fishing is a great way to unwind and re connect with our children, we have plenty of Land based  options on the Tweed River, Tallebudgera Creek, Currumbin Creek, Nerang River, Southern end of the Broadwater around Marine Stadium, Broadwater Parklands, Marine Parade Labrador, Paradise Point, Coomera River and Jacobs Well to have a fish of the beach or from a jetty. A basic estuary outfit or handline will do the job, I recommend using Prawns, Worms, White Pilchards or Yabbies all make great bait. Pumping Yabbies is great fun for the kids to be involved in and they make great fresh bait. Fishing from the shore you will have a chance of landing Bream, Flathead, Whiting, Trevally, Flounder, Tarwhine or Tailor just to name a few.
Customers have reported some good catches of Flathead again this week, local anglers Brett and Jason (see photo in report) managed to land some top quality fish from around the Jumpinpin and Coomera River working lures and also using yabbies for bait. Large fish from 80+cm have been caught in the Pin Bar mouth and surrounding area and also in the Gold Coast Seaway. If you manage to land a large fish just keep on fishing the area as there should be plenty of males in the 45cm to 50cm range hanging around, these guys make a nice feed.  When you catch a big Flathead fish remember to handle them with care as they are the future of fishing, a quick photo and then release your prized catch.  The legal size limit in Qld is min 40cm Max 75cm. It looks like the snot weed has started to break up a bit making fishing just a tad easier which is great news. Finding fish can be a bit difficult sometimes, I recommend if you are bait fishing try drifting your baits along the shoreline, deeper gutters around the edges of sandbanks at low tide or over the top of sandbanks on high tide until you find an area holding numbers of Flathead to target. The same method applies if you prefer to troll lures or throw a few soft plastics around. When you finally catch a fish, I would recommend to work that area for a while as Flathead will usually be schooling in better numbers this time of year.
Brad from Brad Smith Fishing Charters reports I have had a very busy week of fishing manoeuvring my charters between the Tweed and Gold coast. Flathead, Bream, Trevally as well as the odd big Whiting have dominated the catches in the Tweed using a combination of trolling slam and Pro Lure d36 lures and jigging Ecogear zx40 and vx40 vibes in the deep holes. Up on the Goldie I have ventured out to the Broadwater on the calm days and have drifted along the shell grit grounds with ZX43 and Samaki vibes for a mixture of Flathead, Bream, Whiting, Tuskfish, Flounder, Tarwhine and Squid. On the windier days I have been sneaking down the protected canals around Broadbeach and mermaid waters and have caught a heap of Bream with some thumpers amongst them and a few Flatties and Trevally.
Clint from Brad Smith Fishing Charters reports another very busy week of charters with plenty of fish and squid boated daily making for some exciting fishing on our Broadwater trips. The snot weed has been clearing, enabling us to fish the northern section between the Seaway and Sovereign Island. Most reef and seagrass areas have been holding good numbers of big purple Tuskfish, with the three to seven metre depth zone fishing particularly well during the neap tides. Ecogear blades, yabbies and beach worms are the go to offerings with Winter Whiting, Sand Whiting, Dusky Flathead, Bar Tail Flathead, Flounder, Arrow Squid, Grass Emperor, Leatherjacket, Bream and Tarwhine all common catches. There are still some School Mackerel in the main channel near Seaworld, although not in the huge numbers they were during the full moon phase.
Gavin form Sea Probe Fishing Charters reports there are still Kingfish and Amberjack biting on the 50 fathom line with the odd Snapper, Pearlie and Tuskfish. On the 36s still Snapper and Trag Jew biting in the early morning. Also with the water warming try all the government fads for Dolphin fish
Hope you all have a good week and stay healthy and safe. If you have any great catches or photos you would like to share, please email us and let us know how you went.
Stay up to date with all fishing regulations in Queensland
https://www.daf.qld.gov.au/business-priorities/fisheries
Fisho Tackle and Coomera Houseboat Holidays now have Hire Tinnies follow the link to view http://www.coomerahouseboats.com.au/our-fleet-type/hire-tinnies/
Seabreeze is a great website to access a local forecast http://www.seabreeze.com.au/graphs/
If you have any great catches to report or fishing photos please email them to  brett@fishotackle.com.au
Good luck with the Fishing.
Brett