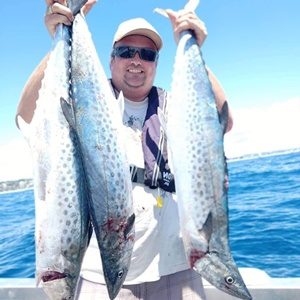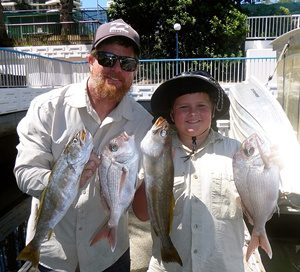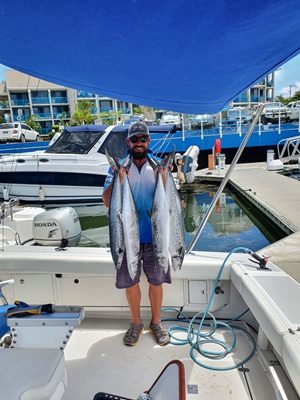 Hi Everyone, hope you have all had a good week, Australia Day looked like a busy one on the water with heaps of people enjoying the great weather we have been blessed with on the Gold and Tweed Coasts. Fishos that hit the water early saw some great action until the traffic picked up stirring everything up. Looks like we may see a bit of swell and a South Easterly change as we head towards the weekend. Let's see what's been on the chew.
The Gold Coast Seaway has been the place to be if you are keen to chase a Jewfish lately with consistent catches of school sized fish around 75cm to 90cm being landed by local fishos. Jewfish have been schooling up in big numbers here for the last couple of months and really come on the bite the last week. If you can combine an early start before all the traffic hits and a tide change you will be in with a great chance of landing the illusive Jewfish. Tidal flow is a big issue when attempting to fish the Seaway, if you can time your trip and hour before and after a tide change you should get a nice bite window to try your luck. Live baits like Pike, Mullet, Herring, Diver Whiting or Silver Biddies will do the job nicely rigged on a mono trace of up to 40lb fluorocarbon. For the lure fishos soft vibes, metal vibes and soft plastics should temp a bite fished into the school of Jew. Locating fish to target is to key to success, spend a bit of time sounding around and mark any bait or fish with the GPS and then concentrate your efforts in these areas until you are lucky enough for the fish to switch on and start biting. Some decent schools of Mangrove Jack have also been hanging around the Jewfish making a bit of a lucky dip.
Spotted Mackerel have also been on the chew around Mermaid Reef earlier in the week with reports of some good-sized Macs being landed. An early start is the key when chasing Mackerel, you will find the boats that do well are on the spot and get the burly trail on the go as soon as possible. The schools of fish will patrol the reef system, the positive of the burley trail is when the fish are near your boat you have a better chance of keeping them is the strike zone of you boat for much longer. Keep on casting metal slugs whilst soaking boats, this method teases the fish to the boat and is very affective to get the Macs excited and into feed mode and also produces a good number of hook ups.  Small WA pilchards or half larger WA pilchards are the great bait and also cubed into burley is very affective. Live baits will also work and can also temp a bigger Spanish Mackerel to have a crack. Palm Beach Reef and the Gravel Patch has also fished well the past few weeks.
Brad from Brad Smith Fishing Charters reports the river has become very muddy again after another dumping of rain in the catchment. We have been fishing the deeper holes in the mid sections with Samaki soft vibes and catching Flathead and large numbers of Bream. Until the water clears more try fishing the run-in tides leading up to full moon this week with vibes for Mulloway, Flathead, Bream, Whiting and Trevally from the golf club to Stotts.
Clint from Brad Smith Fishing Charters reports the water has continued to clear and warm up, which has suited Mangrove Jack fishing. We caught and released jacks up to 52cm this week. If the warm weather continues there should be a good bite leading up to full moon on Friday. The sand flats have been quieter than usual this week due to the tiny neap tides. We have been finding Whiting on vibes and yabbies in the deeper channels where there is more tidal flow. It was also good to see lots of Tuskfish, Flounder, Squid, Tarwhine and Flathead on the calm water reef areas in the Gold Coast Broadwater. The river was slow due to the neap tides. The bigger tides this week will help but hot water in the shallows is not ideal for some species like Flathead. There is unbelievable numbers of Bream everywhere in the canals. Have a go for them with MMD soft prawns.
If you have any great catches or photos you would like to share, please email us and let us know how you went.
Stay up to date with all fishing regulations in Queensland https://www.daf.qld.gov.au/business-priorities/fisheries
Fisho Tackle and Coomera Houseboat Holidays now have Hire Tinnies follow the link to view http://www.coomerahouseboats.com.au/our-fleet-type/hire-tinnies/
Seabreeze is a great website to access a local forecast http://www.seabreeze.com.au/graphs/
If you have any great catches to report or fishing photos please email them to  brett@fishotackle.com.au
Good luck with the Fishing.
Brett