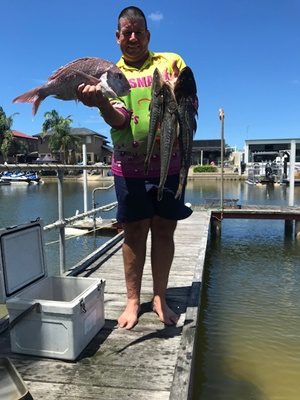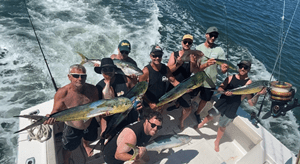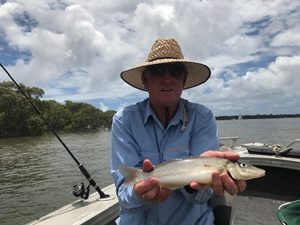 Hi Everyone, hope you have all had a good week and a nice start to the New Year. Last weekend and early this week were the pick for getting out and trying your luck as the weekend is looking windy with a blow moving in from the South East bringing in a bit of swell with it. Best to stick to the more sheltered inshore waters of the Tweed and Gold Coast until conditions settle down. The Broadwater and Jumpinpin have been super busy the past couple of weeks, some holiday traffic should start to ease this week. let's check out what's been happening on the fishing front.
Customers had a good run offshore before the South Easterly winds and swell kicked in managing to find a few nice Black Marlin and Dolphin Fish from the Tweed and Gold Coast this week. Off the Gold Coast some of the Marlin have been pretty big in close with some fish between 60kg to 120kg showing up amongst the smaller Blacks giving anglers a good run for their money. Boats are reporting multiple strikes and fish caught and released which is great news to see good numbers of Marlin moving through the Gold and Tweed Coast reefs. The fads on the 36 fathom reefs have been holding good sized Dolphin Fish as well and Black Marlin, also work the 36 fathom line, spot X and the 50 fathom line to find good fishing. Always be on the lookout for surface activity, birds working bait schools and the skipper keep an eye on the sounder for any signs of life, on a good quality sounder a single Marlin can be picked out around a bait school as a single big arch.
Reports of quality Mangrove Jack have been coming in this week, the warm water temp up the rivers is making them quite active especially after the rain has stirred up the bait fish. The Coomera River holds some top-quality fish, try the Highway Bridge, Regatta Waters boat ramp and rock bar, Railway Bridge for those with boat access.  Also next to our shop at the end of Shipper Drive, Santa Barbara boat ramp, Coomera Waters boats ramp and jetty or the Hope Island Bridges are all worth a go. Other good spots are Sovereign Island, bridges at Paradise Point, Runaway Bay canals and the Nerang River bridges, pontoons and rock walls. The Gold Coast Seaway has also been holding some big schools of Jacks waiting to head out to the offshore reefs to menace bait fish and anglers. The Jacks have been hanging around with schools of Jewfish which have been feeding well the past week. Live Mullet, Winter Whiting, Herring or Pike are great. Also throwing a mixture of Zman plastics and Zerek hard body lures have been working a treat for those that prefer to fish lures.
Brad from Brad Smith Fishing Charters reports I had my first trip back on the water yesterday after having a Xmas break with my family. My clients Steve and his son Jimmy were keen to focus on deep water jigging with hard and soft bodied vibes in a few of the many deep holes that can be found in the Tweed river. This suited me as it is a great technique, and the tides were perfect with two tide changes during the duration of the trip. The key to success when fishing the deep holes are tide changes and finding big schools of bait on the sounder that are holding close to the bottom. The result was fantastic with a variety of species coming up from the depths which included Bream, Whiting, Big Eye and Giant Trevally as well as a heap of Flatties and a nice Jewfish. We had a bit of bad luck with the trebles on the samiki vibe pulling free on a massive Jew right beside the boat and just out of net range but that is fishing. As I predicted the recent flood has really fired up the action and the fishing is looking great for the start of the 2021 season. Please use absolute caution on the river as there a still big logs floating around everywhere after the flood. We saw one boat hit a log at speed and tore the transducer off the back of his boat but the damage could have been much worse.
Clint from Brad Smith Fishing Charters reports it's been two weeks since the Gold Coast received drought breaking rain and the middle reaches of the Nerang river are fishing extremely well for an abundance of Flathead, Whiting, Bream, Trevally, and a crazy amount of Bream. All these fish are feeding on jelly prawns which have been flushed out of creeks and drains. River Prawns, Yabbies, Ecogear ZX blades, Samaki vibes, and Pontoon 21 crackjack 48 sp dr hardbodies are all proven to catch huge numbers of fish in these areas. I'll be fishing both the river and Broadwater at times this month depending on tides and weather. The Mangrove Jacks will start to become easier to find this month if we don't get more floods. The monster Whiting I've been targeting on Broadwater flats charters will be around still, and what a season it's been already with 24 of them now exceeding 40cm, and many over 35cm. The seaway will fish well on the smaller tides for Mulloway and Jacks, while the Broadwater reefs will start to fire for Tuskfish, Flathead and Whiting.
Gavin from Sea Probe Fishing Charters Reports Plenty of marlin along the 50 fathom line, try trolling live bait and lures. Still some nice dollies on the 36 and 50 fathom fads and good catches of Spottie Mackerel in close at palm beach and mermaid reef.
If you have any great catches or photos you would like to share, please email us and let us know how you went.
Stay up to date with all fishing regulations in Queensland https://www.daf.qld.gov.au/business-priorities/fisheries
Fisho Tackle and Coomera Houseboat Holidays now have Hire Tinnies follow the link to view http://www.coomerahouseboats.com.au/our-fleet-type/hire-tinnies/
Seabreeze is a great website to access a local forecast http://www.seabreeze.com.au/graphs/
If you have any great catches to report or fishing photos please email them to  brett@fishotackle.com.au
Good luck with the Fishing.
Brett