Hi everyone, hope you have all had a good week. It's nice to see the pattern of good weather continue on the Gold and Tweed coasts as we head towards the Christmas break. The next couple of weeks will be a very busy time on our local waterways with lots of locals and tourists keen to get out for a fish and to explore our coastline. Safety is very important – take your time and be patient with your fellow boaties and everyone will have a great time. Let's have a look at what's been biting this week.
We are very lucky on the Gold Coast with lots of land-based options offering the chance to target multiple species of fish. If you are looking to take the kids fishing during school holidays, I would recommend a nice sandy beach with facilities like toilets and a shop nearby. Some good spots to try are Paradise Point, Labrador Esplanade, Marine Stadium, Broadwater Parklands, Hope Island, Currumbin Creek, Tallebudgera Creek and Jacobs Well. These areas will produce some good catches of bread-and-butter species such as bream, whiting and flathead, which will put a smile on the kids' faces. A basic little estuary combo will work fine – I recommend a running sinker rig and a size 4 or 6 Gamakatsu Baitkeeper hook, which will take care of most of the species you will find. For bait options try prawns, squid, white pilchard, worms or yabbies.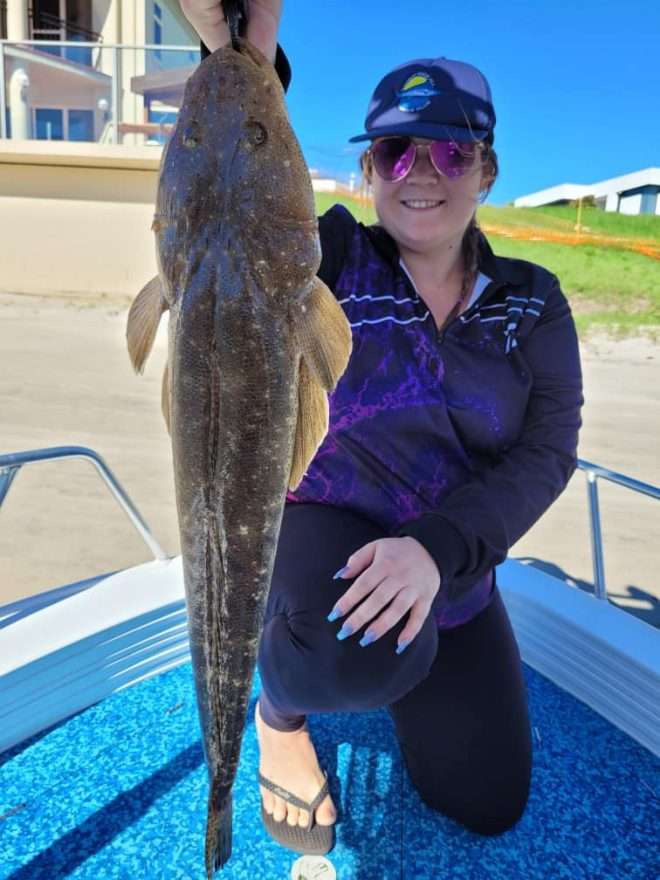 For anglers keen to catch a tasty feed, good sized whiting have been around in numbers this week – customers have been landing a nice feed with some good-sized elbow slappers on the chew. A few good spots to try are Canaipa Passage, Tiger Mullet Channel, Bedrooms, Coomera River both arms, Paradise Point, Wave Break Island, Pimpama River and the Nerang River. I recommend using live worms and yabbies as the best bait options. Another fun and popular method is casting small surface poppers and small surface walker stickbaits in the shallows – whiting are very aggressive feeders and will chase down your lure and smash it. Keep the lure on the move the whole time because if you stop winding, the fish will shy away and not hit the lure. I also recommend adding a set of stinger assist hooks to the back of the lure to help with the hook up rate.
Local fishos have been doing well scoring a few nice bull sharks this week in the Coomera River, the Broadwater main channels, Tiger Mullet Channel, Jacobs Well, Logan River and Nerang River systems. The recent hot humid weather pattern tends to stir the sharks up as they search for a feed. It does not matter whether you fish during the daytime or night-time, fishos have been getting plenty of hook-ups. I recommend using a nylon coated wire trace between 50-100lb, that should sort out most of the average-sized sharks you're likely to encounter. Rigged with a size 6/0-8/0 circle or J hook and a sinker to get it onto the bottom. Freshwater eel and pike eel are my number one choice of bait, followed by mullet or catfish, which make great bait. I also recommend using berley to increase your chances of finding your target species. Be very careful when landing a shark – even the smallest of pups have a mouth full of razor-sharp teeth to contend with.
Brad from Brad Smith Fishing Charters reports… Once again, I spent this week guiding between the Tweed River and the Broadwater. Working the areas where the edges of the clear water met the dirty water after last week's rain provided the best results. Fishing the fringes of discoloured water usually provide good results as these areas are where bait concentrations are holding. Deepwater jigging as well as trolling produced a mixture of flathead, bream, whiting, giant trevally, moses perch and snapper.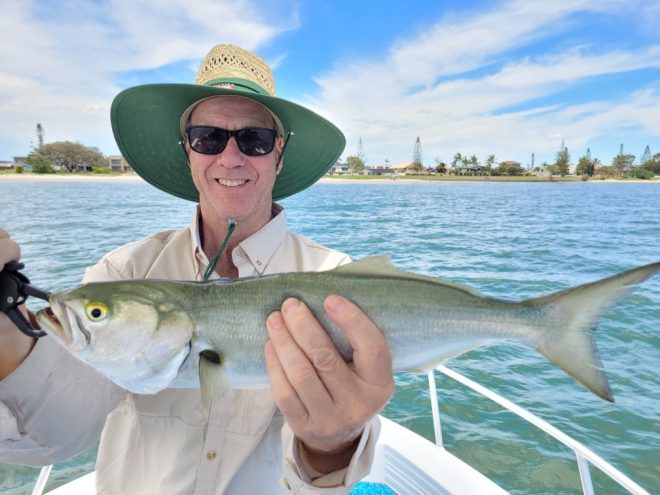 Clint from Brad Smith Fishing Charters reports there are a range of great fishing options now after the rain. Fishing has been very good everywhere, from the Gold Coast seaway to Carrara in the Nerang River. Bream in various sizes are in ludicrous numbers up the river in the brown run-out tide water. We fished the Benowa to Carrara region this week with Samaki Vibelicious soft vibes and yabbies, and it was not easy to avoid the large numbers of bream, though we caught some solid whiting, spotted grunter and flathead. It is peak season for big sand whiting in the Broadwater until February 2022, and there are large schools of these sporty fish on the flats. Fish around 27-40cm in size are common and the average size increases in the lead up to the full moon. The mud and sand crabs will be in abundance at night-time in Nerang river, the Broadwater and Jumpinpin.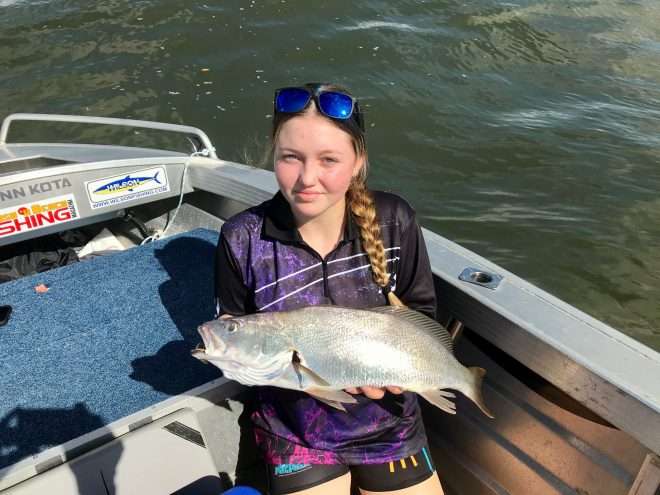 Gavin from Sea Probe Fishing Charters reports there have been plenty of dolphinfish around the fish aggregating devices still. Also good to see a few black marlin start to show up along the 50-fathom line –especially after the southerly wind, the water has cleaned up out there – with black marlin caught on lures and also by live baiting the usual spots. On the 24s plenty, of teraglin have been biting along with some nice snapper.
If you have any great catches or photos you would like to share, email us and let us know how you went – brett@coomerahouseboats.com.au or brett@fishotackle.com.au
Stay up to date with all fishing regulations in Queensland https://www.daf.qld.gov.au/business-priorities/fisheries
Fisho Tackle and Coomera Houseboat Holidays now have Hire Tinnies follow the link to view http://www.coomerahouseboats.com.au/our-fleet-type/hire-tinnies/
Seabreeze is a great website to access a local forecast http://www.seabreeze.com.au/graphs/ 
Good luck with the fishing and merry Christmas.
Brett