Hi Everyone, hope you have all had a good week, we have had a bit of everything weather wise on the Tweed and Gold Coast including strong winds, nice days then rain thrown in to top it off. We were lucky to see a couple of nice weather windows to head out for a fish and try your luck. It looks like a wet Saturday on the way with a fair bit of rain forecast, Sunday looks like the better day to head outdoors for a fish. Let's check out what's been on the chew lately.
The cool Westerly winds late last week were a blessing giving anglers the opportunity to hit the surf beach and try their luck for a Tailor before the strong Southerly kicked in. It has been great to see consistent catches of good-sized Tailor so far this winter. Some good spots to try have been Burleigh Heads, Narrow Neck, Main Beach, Marina Mirage north to the Pumping jetty and South Stradbroke Island all producing Tailor. The best tide to fish has been the incoming tide as the gutters start to fill with water the bait fish head in for shelter and the predatory Tailor have been hot on their heels ready to feed. Trying to time the tide with an early morning or late afternoon session will increase your chances of success as these are prime bite times to chase Tailor. Bait fishing is extremely popular, using a basic set of gang hooks, either wire or mono trace and a running or restricted sinker should do the trick. Best baits are WA Pilchards, Bonito Fillet and Mullet Fillet will all work. If the Tailor are very active and in feed mode you can cast either metal slugs, surface poppers or stick baits for great results, this form of fishing is exciting when you can watch the fish smash a lure. There have also been some great catches of Tailor coming from the Tweed River, Gold Coast Broadwater and Jumpinpin area at the moment.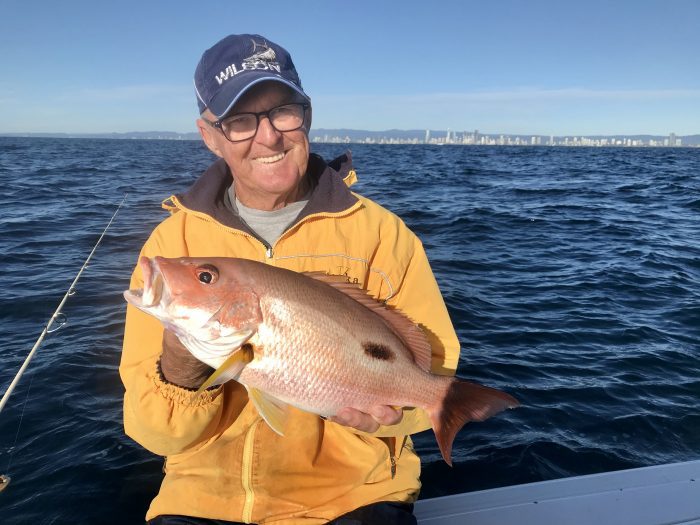 Fishos are reporting some good quality Flathead being caught at the moment, with the cooler weather set in I recommend starting to search the shallow water which will be slightly warmer at high tide on the top of sandbanks throughout the Broadwater and Jumpinpin is a good game plan. As the tide starts to fall, I would then start working the edges of the sandbanks, creek and drain mouths and the deeper gutters between sandbanks these areas should produce quality fish. Being mainly ambush predators Flathead will lay in wait ready to nail any bait fish that swims past and hopefully your lire or bait. Always keep an eye on the sounder for bait schools and signs of fish as you never know what might show up when you are fishing. Try throwing soft plastics, working metal vibe lures, soft vibes or trolling diving lures to cover ground. Drifting live or dead baits is a very affective way to fish and cover ground. Flathead will rarely  pass up an easy feed drifter past its nose. Some good spots to look are Wave Break Island, Nerang River, Paradise Point, Aldershots, Never Fail Islands, Jacobs Well, Cabbage Tree Point, Bedrooms, Kalinga Bank, Canaipa Passage, Mouth of the Logan River and Browns Bay.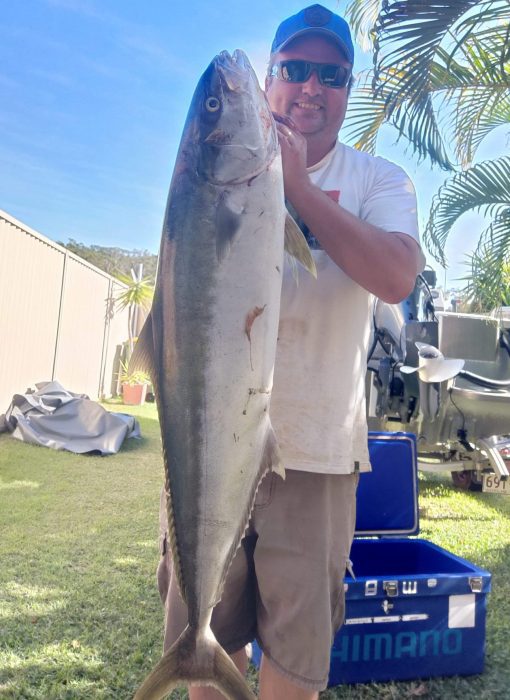 Brad from Brad Smith Fishing Charters this was an interesting week on the water with some fluctuating weather and tidal movements around the new moon. With a bit of transition and a constant awareness we managed to find huge schools of great quality Tailor. These fish are normally more reliable and easier to find in July but reports along the NSW coastline is that they have been moving from south to north quicker this season. This is due to the immense amount of rainfall we have had this year and most of the migration and spawning habits of our fish species have occurred earlier than normal. The Tailor have got favourite holding spots in the river every year and the tip to find them is to keep an eye out for where the birds are working which we call our eyes in the sky. Apart from catching massive amounts of Tailor in the last three days we caught some nice Flathead and of course some Bream that are consistent all through winter.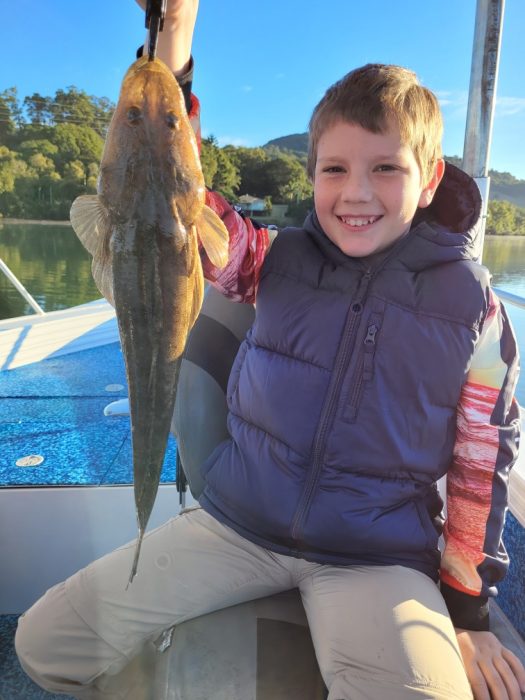 Clint from Brad Smith Fishing Charters reports this week yet again the Arrow Squid were in good numbers. The fish were down in size, but their activity and quality will spike in the lead up to full moon. Ecogear Dartmax 2.5 and 3.0 size squid jigs have been smashing the Arrow Squid. These lures have the ideal sink rate for the Gold Coast Broadwater and catch more than anything else. When the squid are in a shy mood, I'll leave a rod in a holder with the jig just drifting along just above the sand, while I jig a zx40. This often stirs up the squid and they then grab the squid jig. Even better, we catch plenty of Squid and a big variety of fish on the zx's themselves, all in the same areas. Friday 25 June is full moon, and there are king tides at night. No doubt this week leading up to it the fish will feed hard before they spawn. The only issue is how hard the wind blows, making it tricky to fish the Broadwater. There is good cover in Westerly breezes and often early morning is calm this time of year. Otherwise, Flathead and big Bream will be available in the river. Hotspots for big Bream will be the seaway reef, the main channel markers around Southport, TSS reef, and the Benowa holes. Live Yabbies will work amazing, as will Whitebait, Ecogear ZX40 and 43's, Samaki  70mm Vibelicious. If you want to try for good size Tailor troll some Slams in the seaway to South Currigee area, particularly early morning and late afternoon.
Gavin from Sea Probe Fishing Charters reports the 50 fathoms still holding Kingfish and Amberjack mostly taking live baits and jigs is the best option also some nice Snapper out there also just floating pilchards with 5 ball sinker. On the 36s still Snapper, Trag, Tuskies and Moses Perch on the 24s and 18s plenty of Silver Jew, Cobia and Snapper on live baits and plastics, There is also still the odd Marlin getting around out wider if you're looking to have a troll.
If you have any great catches or photos you would like to share, please email us and let us know how you went. brett@coomerahouseboats.com.au or brett@fishotackle.com.au
Stay up to date with all fishing regulations in Queensland https://www.daf.qld.gov.au/business-priorities/fisheries
Fisho Tackle and Coomera Houseboat Holidays now have Hire Tinnies follow the link to view http://www.coomerahouseboats.com.au/our-fleet-type/hire-tinnies/
Seabreeze is a great website to access a local forecast http://www.seabreeze.com.au/graphs/
Good luck with the Fishing.
Brett