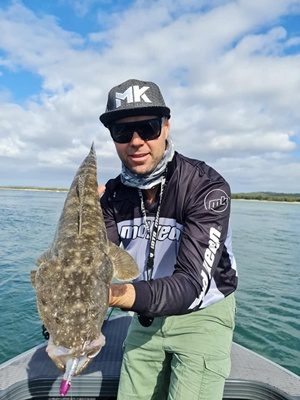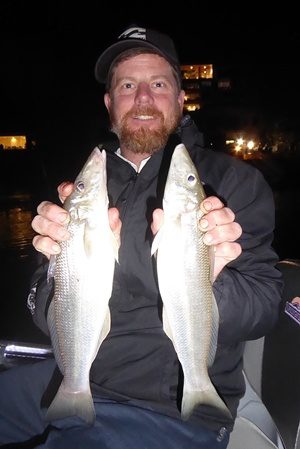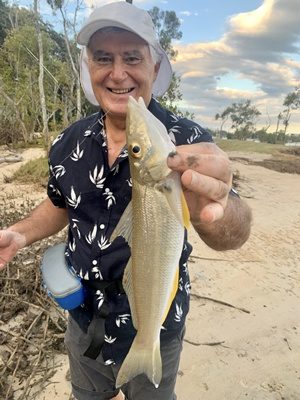 Hi Everyone, hope you have all had a good week, a Summertime feel on the Gold and Tweed Coast with a few good sized storms making their mark including some much needed rain to finally stir things up and give the snot weed a flush out. Anyone thinking about fishing this weekend will have to keep an eye on the forecast with some storms looking likely on Saturday at this stage. Let's see what's been happening this week.
The Gold Coast Seaway has been fishing well the past couple of weeks with good numbers of school sized Jewfish showing up for lucky local anglers putting in the hard yards. Live bait has been the best method to temp a Silver Slab to bite, live Yakkas, Pike, Garfish and Herring all make great Jew baits. The Seaway can be a hard place to fish at times with strong currents ripping through the entrance, try to time you trip to coincide with a tide change. Usually the best time to fish will be an hour before and an hour after the tide change which will also be a great bite time for predators. Try drifting around the North Wall and the pipeline until you can locate fish to target on the sounder. You will always have a chance at catching other more common species as bycatch such as Flathead, Trevally, Tailor and Bream.
Offshore fishing maybe worth a look from Sunday onwards after the swell and wind ease, just make sure you have the latest weather forecast before deciding on heading out in open water. The close reefs will be worth a go, Snapper along with a feed of Moses, Pearl Perch, Tuskfish, Trag Jew, Cobia and Jew Fish should be on offer. As the water warms up, we should start to see Spotted, School and Spanish Mackerel making an appearance on the Gold Coast. If you are fishing at anchor just remember to keep a burley trail going to increase your chances of catching a feed.
The Rivers will be getting a bit of a flush out this week, Bream love the fresh water and will be around in good numbers chasing the bait fish and prawns being flushed out. You should also come across a few nice Trevally in the same areas. The Nerang River, Coomera, Pimpama, Logan, Tallebudgera and Tweed River will all be worth a look for a feed. The River mouths should also see some good schools of Whiting on the move after the rain.
Brad from Brad Smith Fishing Charters Reports once again it has been a cracker of a week on the Tweed river. The surface fishing was on fire with the Whiting queuing up to smash our lures with most days averaging over 20 fish a day. We also caught some Bream and a couple of Flathead on surface as well.  Flathead are classic to watch as they rise from the bottom and use their big bucket mouths to inhale the surface lure. We also mixed it up a bit and did some trolling and deep-water jigging for some Flatties, Bream and Whiting and also managed to get a nice Jewfish so overall a great week of fishing.
Clint from Brad Smith Fishing Charters reports this week I went for a short family holiday Tallebudgera Creek holiday park from Monday until Thursday. It is a lovely spot and the father in law Harry and I caught heaps of big Whiting, Bream and Flathead. Last Saturday on a Broadwater charter we caught some good size sand whiting up to 42cm. Whiting have really increased in numbers and size recently and have been widespread along the Western channels from Biggera waters to Bundall council chambers. They are feeding hard on yabbies and bloodworms. We have caught 6 whiting over 40cm in the past week. Today I did a charter with regular guests Terry, Mark, and Jonathan and it was such a fun day and great weather. We caught over 40 Whiting, Bream and Long Toms on 2 and 4 lb line while wading the Southern Broadwater yabby banks.
Hope you all have a good week and stay healthy and safe. If you have any great catches or photos you would like to share, please email us and let us know how you went.
Stay up to date with all fishing regulations in Queensland https://www.daf.qld.gov.au/business-priorities/fisheries
Fisho Tackle and Coomera Houseboat Holidays now have Hire Tinnies follow the link to view http://www.coomerahouseboats.com.au/our-fleet-type/hire-tinnies/
Seabreeze is a great website to access a local forecast http://www.seabreeze.com.au/graphs/
If you have any great catches to report or fishing photos please email them to  brett@fishotackle.com.au
Good luck with the Fishing.
Brett