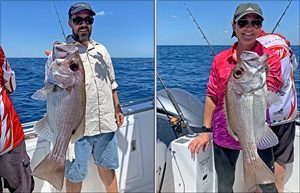 As the winds dropped the boat ramps were pretty much full mid week and quite rightly so. The Noosa bar has been a bit easier to cross and there have been some great weather windows for all.
Out wide North reef has been holding medium sized jewfish over the meter mark. These fish will take a wide range of lures and baits as well as live baits. If yu are a bait fisherman be sure to ask us how to snell hooks together. For lure anglers jigs and soft plastics are the go. I find slow moving lures best and the nemesis curly tail in darker colours work best. Try jigheads around 1-1/2oz depending on your depth and keep braids and leaders around 30lb. For a great PE braid look at Varivas and run a long length of Instinct mono leader to help with stretch.
Mackerel are also starting to filter through with some big spotties and smaller Spanish turning up in shallower waters around Noosa and Mooloolaba. For those anglers fishing for mackerel around sunshine and castaways make sure you have a pilchard floater out for these bigger loan fish. There is no need to run big heavy leaders and 30lb is more than enough. Gang hooks are a must and the Elkat gangs with a tinsel flasher are going to be very popular as these help give baits added attraction and mackerel love a bit of flash. Let these sink to the bottom in the hope of catching abig
Closer in, the stretch of halls reef heading north toward DI is always a greats tarting place for tuna and mackerel. Make sure you have a casting slug always ready and again keep braids to 20lb for max casting distance. Look at the Gillies baitfish slugs which are always a consistent producer of big fish.
Surf fishing species consist of flathead, bream and dart as the main fish. Around the river mouth we have seen some big whiting showing up. These fish have exceeded the 40cm mark and are best targeted with fresh beach worm on 4-6kg mono outfits. If you need help with collecting beach worm we sell worming pliers as well as live worms.
Noosa River has had a mixed bag of species on offer with flathead and jacks highly targeted. If you own a boat then heading up around the ski run can offer good snags and it has and/mud bottom that flatties call home. From here you can continue upriver toward the mouth of Cooroibah for flathead and whiting. Small curly tail soft plastics work very well here as do small paddle tail like the Keitech easy shiner 3 inch. Cast these onto the drop offs and work them out into the main channels. If land based then the dog beach, Weyba and Noosa Sound will be holding mixed trevally and flathead. After dark the jacks will come out to play so be sure you are equipped to stop them. Why not browse our range of black hawk rods which are on special and a very tough blank.
For those looking for something different then why not take a trip into the Noosa Everglades and target the wild Bass. These fish certainly run hard and the scenery is nothing short of beautiful. Take small surface lures like the Sammy 65, MMD slash prawn and the soft shell cicadas and flick the edges. You can also take these lures into any of the dams or lakes in the local area. The hotter weather is providing early risers with a good surface bite which has to be the most exciting way to fish. Be sure to purchase a SIPS permit if fishing any dams or lakes before you go.
Now for all the  latest information log onto www.fishingnoosa.com.au for up to date bar and fishing reports, don't forget to drop into Davo's Tackle World, Davo's Boating and Outdoors in Noosa and  Davo's Northshore Bait & Tackle in Marcoola for all the right equipment, bait and advice to get you catching. Be sure to follow us on Facebook and remember Tight Lines and Bent Spines!
All photos supplied by fishingnoosa.com.au