Hi Everyone, hope you have all had a good week, it was great news to see the lockdown come to an end in South East Queensland giving anglers the green light to get out the water and go fishing. It was a bit of a quirt start to the week with a bit of wind and rain, lets hope the weekend ahead sees some lighter winds and everyone manages to get out and about. Make sure you email me some of your great catches to have your photo in the paper. Let's have a look at some fishing options after lockdown.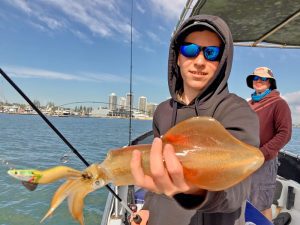 Those lucky enough to sneak a day off during the week after lockdown was lifted were treated to some pretty good Flathead fishing around the Broadwater and Jumpinpin areas. If you can manage to find an area clear of snot weed there were some good catches of multiple fish on offer for those keen to put in the time. You may have to try a few areas until you manage to find a productive spot, the last of the run-in tide and the first of the run out is usually the best time to try and avoid the larger concentration of snot weed that can make fishing very annoying at times. As the tide drops the paddock for the Flathead to hide gets smaller as they move out of the feeder creeks and off the sandbanks and into the easier areas to target. Creek mouths, deep drains and edges of mangroves and sandbanks are all prime territory to have a cast and try your luck. Soft plastics around 3 to 4 inches long rigged of either 1/4 or 3/8 of an ounce sized jig heads make a good all round lure for our local area. Soft Vibes from 40mm to 65mm are again the perfect size to match the majority of smaller bait fish profiles that Flathead will tend to feed on. Hard body lures like the Zerek tango shad are very popular amongst Flathead fishos, try and stick to the right size lure for the line class you are fishing to help with hook up rate, trolling with the current is best as Flathead will lay head into the current waiting for an easy feed to swim past and pounce on. Trolling against the tide will result in a poor hook up rate as the fish will have to turn to attack the lure. There is nothing wrong with keeping a nice feed, just try to handle the larger fish to be released with care to make sure they live to fight another day. Some more common spots to find a Flathead are the Nerang River, Wave Break Island, Crab Island, Currigee, Brown Island, The Aldershots, Pimpama River, Jacobs Well, Cabbage Tree Point, Tipplers Passage, Pandanus Island, Kalinga Bank, Tiger Mullet Channel and the Logan River are all worth a look depending on wind direction.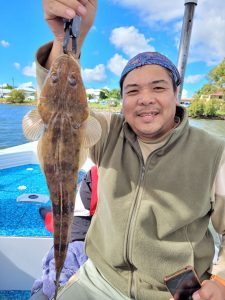 With the wind easing and the swell dropping on the weekend for those keen to brave a few showers of rain on the forecast heading offshore will be well worth the effort. Some good quality Jew Fish should be on offer from the close reefs primarily the 18 to 24 fathom depth tends to fish the best. Or Live baits are a good go to followed by the humble WA pilchard, Mullet fillet or Bonito Fillet will all temp a bite if you are lucky on the day. Sounding around an area is a must, some anglers just head straight to a GPS mark, this may work occasionally but keeping an eye on the sounder for life is the kay to finding better quality fish. I would rather sound around for 30 minutes to find the best show than fish a baron area hoping something good might swim past. You should find a bit of a mixed bag on offer including Tusk Fish, Moses Perch, Trag Jew, Maori Cod and Cobia. As you head wider out to the 36 or 50 fathom line you will encounter bigger Yellow Tail Kingfish, Amberjack and Samson fish which will all stretch your arms. Just keep in mind all Snaper and Pearl Perch must be released during the closure.
Gavin from Sea Probe Fishing Charters reports with the Snapper ban being on, targeting big Jewfish has been good in the closer reefs using live baits and also dead bait and plastics east of the seaway and also picking up the odd Cobia.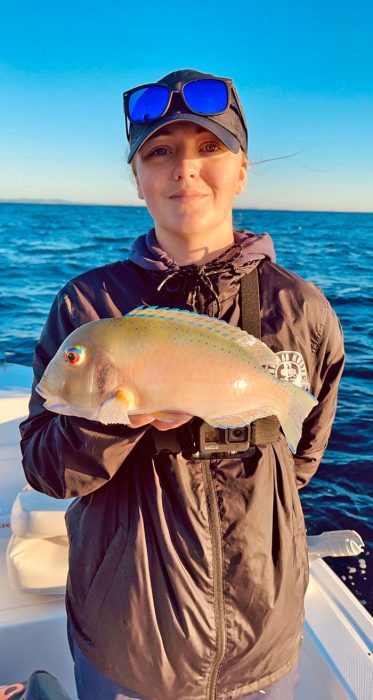 The Snapper and Pearl Perch closure for Queensland waters is now current see link attached for more information https://www.daf.qld.gov.au/business-priorities/fisheries/recreational/recreational-fishing-rules/closed-seasons-waters/tidal-waters
If you have any great catches or photos you would like to share, please email us and let us know how you went. brett@coomerahouseboats.com.au or brett@fishotackle.com.au
Stay up to date with all fishing regulations in Queensland https://www.daf.qld.gov.au/business-priorities/fisheries
Fisho Tackle and Coomera Houseboat Holidays now have Hire Tinnies follow the link to view http://www.coomerahouseboats.com.au/our-fleet-type/hire-tinnies/
Seabreeze is a great website to access a local forecast http://www.seabreeze.com.au/graphs/
Good luck with the Fishing.
Brett