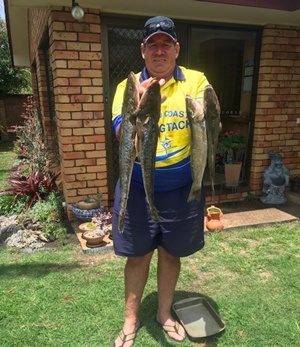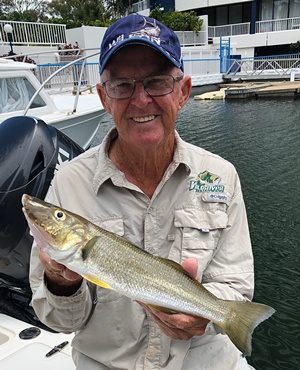 Hi Everyone, hope you have all had a good week, looks like the warm weather and blue skies have returned to the Tweed and Gold Coast after the cool South Easterly winds last weekend and midweek. Good weather will see plenty of Fishos out trying their luck with Sunday looking like the pick of the days to get on the water. Let's check out what's been happening this week.
As the weather heats up targeting Bull Sharks throughout our Rivers, Canals and main systems will be at the top of many Fishos list of things to do. Sharks are prolific through out the Gold and Tweed Coasts and will just about show up anywhere. You don't need a heavy tackle outfit to target the average Bull Shark, I recommend a medium sized estuary outfit rod between 6 to 7ft and 15 to 20lb pound mono will just about take care of the majority of sharks you will encounter. Wire trace is essential as they have razor sharp teeth, I usually run a mixture of 50lb to 100lb trace, a single 8/0 hook on a running sinker rig. Most tackle stores will sell pre maid shark rigs if you are not sure how to make them up, nylon coated wire trace is a must have as Sharks have multiple sensors in their nose as will pick up electrical current from plain wire which will limit the amount of bites you get. My favourite bait is Fresh water Eel by far the standout then followed by Pike Eel, you only need a small section of Eel usually about 5 to 8 cm long is heaps. Eel is a durable and hardy bait that can withstand being attacked by Mud Crabs and Bream unlike Mullet Fillet etc which will not last long. Hook exposure when using Eel is important and will help to increase hook up rate. Live baits are also a great option, Mullet, Whiting or Bream will all work, just make sure your baits are legal size. Some good spots to start to look either by boat or land based are the Tweed River, Currumbin Creek, Nerang River, Broadbeach Canals, Coomera River, Pimpama River, The Never Fails Islands, Jacobs Well and the Logan River. Just be careful when you are de hooking or handling these Sharks as even the smallest pups have a very mean set of teeth.
Good numbers of quality Whiting have again been landed this week around the Gold Coast, the Nerang River has produced some quality feeds for lucky anglers on bloodworms and yabbies as bait. Most of the sandbanks around Jumpinpin and the Broadwater which hold good numbers of yabbies are also holding schools of Whiting feeding during different stages of the tide. As the saying goes no run no fun for Whiting so as long as the water is flowing just keep moving around until you can locate fish to target. Other favourite spots are Coomera River, Pimpama River, Jacobs Well Shoals, Bedrooms and the Logan River. Fishing at night this time of year is recommended with the bigger fish tending to feed after dark. Fishing light is the key, a long 6lb fluorocarbon leader, sized 6 bait keeper hook, 4 ball sinker is a pretty standard rig for worms just upsize your hook a bit of you are using yabbies for bait.
Brad from Brad Smith Fishing Charters Reports we worked hard again this week with most days pretty windy and the water was a bit grainy as a result of the wind and rain. Nevertheless we still produced some fun fishing and some nice quality fish. The surface action was fun with the MMD splash prawns in the cooked prawn colour working well and producing a lot of Whiting, some Bream, and the odd Flathead. Flathead are dramatic when they rise from the bottom as they leave a swirl of sand and mud on the bottom and a hole on the surface of the water as their bucket mouths scoff down the lure. As always we mix up the techniques and caught some Flathead, Bream, Whiting and a few small GT's jigging Samaki vibes and trolling hard bodied minnows.
Clint from Brad Smith Fishing Charters reports this week similar to Smithy's report we had a fair amount of strong wind at the Gold Coast Broadwater. It did help the fishing though, with the sandbanks producing many solid Whiting close to 40cm, and nice Bream, Blue Swimmer Crabs and Flathead. The wind creates surface chop which gives the fish confidence in the shallow water, even on sunny days. The peak bite session occurred in the four day lead up to full moon and two days after, with mornings best. The slowest time around the banks was at high tide. Using light fluorocarbon is essential to fool the bigger ones during the day.
Gavin from Sea Probe Fishing Charters reports 50 fathoms is still fishing well with some good size Amber Jack and Yellow Tail Kingfish hitting live baits. Try fishing the 36 fathoms line for a feed of Snapper, Trag Jew, Tusk fish and some top quality Dolphin have been holding up on the fads. The 18 and 24 fathoms reefs are producing a few nice Jewfish, Snapper and mixed reefies.
Hope you all have a good week and stay healthy and safe. If you have any great catches or photos you would like to share, please email us and let us know how you went.
Stay up to date with all fishing regulations in Queensland https://www.daf.qld.gov.au/business-priorities/fisheries
Fisho Tackle and Coomera Houseboat Holidays now have Hire Tinnies follow the link to view http://www.coomerahouseboats.com.au/our-fleet-type/hire-tinnies/
Seabreeze is a great website to access a local forecast http://www.seabreeze.com.au/graphs/
If you have any great catches to report or fishing photos please email them to  brett@fishotackle.com.au
Good luck with the Fishing.
Brett