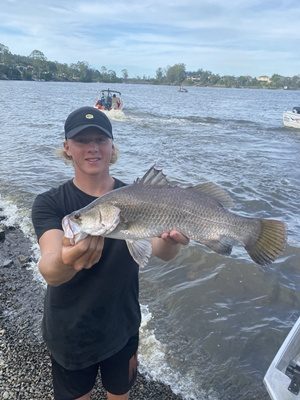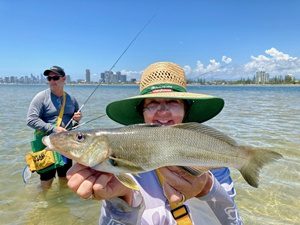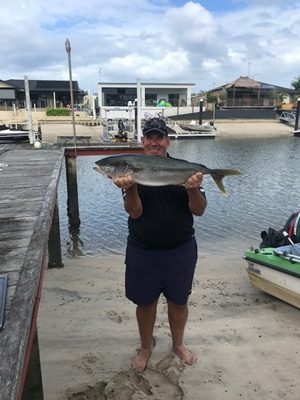 Hi Everyone, hope you have all had a good week, cooler weather combined with wind and showers for majority of the last week has greeted anglers on the Tweed and Gold Coast. Tuesday and Wednesday were the best days to hit the water, if you are keen to get out over the weekend the forecast is looking fairly good with lighter N/NE winds and a drop in swell which will put a smile on offshore anglers faces. let's see what's been on the bite this week.
If the swell drops and the wind eases as per the forecast at the time of writing the report heading offshore in search of a feed of Spotted or Spanish Mackerel will be on the cards for local Fishos on the Gold Coast. Palm Beach Reef and Mermaid Reef have both produced some good catches of quality Spotted Mackerel over Christmas and into the new year, they are great fun to target and put up good fight on lighter tackle.  An early start is a must, make sure you sound around and find some bait to anchor up on and start the burley trail to attract the predators, I usually run a combination of baits and throwing metal slugs around to attract the fish to the boat and stir up fish that are not in feeding mode. Quite often the majority of fish will come on fast retrieved slugs around the 25 to 40gram mark, just change sizes until you can match the hatch of the bait fish they are feeding on at the time. For baits I normally run single strand wire around 15lb combined with a 2/0 or 3/0 chemically sharpened bait holder hook baited with a half pilchard will do the job. Some good size Spanish will be feeding in the same area so be prepared for one of these powerful speedsters to hit at any time. Some other good spots worth a look are the Gravel Patch, Local Bait Reefs off the Seaway and also the 18-fathom line will fish well. Burley is a must and will make a big difference to the days fishing.
We have seen a bit of Bull Shark action again this week in the canals and rivers with a variety of sizes of Sharks being landed. My preferred rig is a plastic-coated nylon trace of aprox 1 to 1.5m in length of either 50 to 100 pound crimped to a suitable sized swivel on one end then matched with either a size 6 to 8 circle or octopus hook depending if are catching and releasing or wanting to keep a feed. A small piece of Pike Eel or Fresh Water Eel makes great bait are a good option especially if there are a few Mud Crabs around munching on the baits. The Coomera River, Pimpama River, Nerang River, Logan River and the Neverfails are all good spots to try your luck. Jumpinpin has also produced a few juvanile Hammer Head and small Black Tip Sharks being caught around the Bar entrance and Tiger Mullet Channel.
The Gold Coast Seaway is still fishing well for school sized Jewfish and has also been holding some decent schools of Mangrove Jack. Drifting live baits is the most productive method to target these awesome fish. Live Yakkas, Pike, Mullet or Herring are the pick of the baits, try to time your trip around as tide change with the bite time usually around an hour before and an hour after the tide change being the most productive.
Brad from Brad Smith Fishing Charters reports the deep holes that can be found in the lower parts of the Tweed River proved to be fishing the best again this week. I was going to try some holes further up the river but found that the water was still quite muddy after the recent flood, as well as another 200mm falling in upper catchment 2 days ago. Giant Trevally as well as Flathead and a few small Jewies known as Soapies were on offer in the deep holes. Drifting and deep-water jigging with Samaki vibes and Ecogear zx 40 lures worked the best for this technique with the darker colours producing the goods.
Clint from Brad Smith Fishing Charters reports a busy week as usual for this time of year, and some very good fishing in the river for Flathead, Mulloway, Tarwhine, and Mud Crabs, while the sand banks in the Broadwater produced some stonker Whiting, school Flathead, Tarwhine, masses of Bream and Sand Crab. The weather has been mixed but that has not stopped us having a heap of fun on light tackle. Again, yabbies have worked well, and Pontoon 21 lures crackjack and Samaki Vibelicious lures coated in Sax scent UV goldprawn. The middle half of the run in tide over the flats have been best lately. This week we'll look for Mangrove Jacks, and during the day the bigger new moon tides should get the flats firing.
Gavin from Sea Probe Fishing Charters Reports Plenty of marlin along the 50 fathom line, try trolling live bait and lures. Still some nice dollies on the 36 and 50 fathom fads and good catches of Spottie Mackerel in close at palm beach and mermaid reef.
If you have any great catches or photos you would like to share, please email us and let us know how you went.
Stay up to date with all fishing regulations in Queensland https://www.daf.qld.gov.au/business-priorities/fisheries
Fisho Tackle and Coomera Houseboat Holidays now have Hire Tinnies follow the link to view http://www.coomerahouseboats.com.au/our-fleet-type/hire-tinnies/
Seabreeze is a great website to access a local forecast http://www.seabreeze.com.au/graphs/
If you have any great catches to report or fishing photos please email them to  brett@fishotackle.com.au
Good luck with the Fishing.
Brett