This is the time of year that many of us live for as anglers. The heat of the summer has gone and we now have daytime temps in the mid 20's. Despite the swell on the bar we have had some magic days and mother's day was one of them. While many anglers were locked down it was a glass out day with many good fish caught. From that day onward the swell faded and we still had some great days into the weekend.
Offshore the longtail were active in close around Halls Reef and the bar. They were skittish but if you approached them the right way then 5-8KG fish were taking small lures and stickbaits like the Bassday Bungy cast. Around the corner heading south, Sunshine reef has been fishing very well for all types of angling. With many anglers dropping paternoster rigs the main species were sweetlip and tuskies. Pilchard floaters have been picking up some solid cobia and the occasional Spanish mackerel.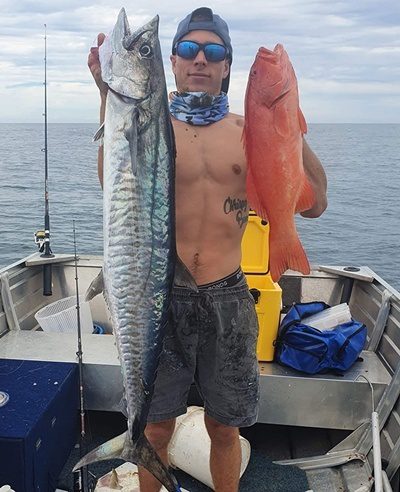 Out wider, North Reef is showing signs of a great snapper season ahead. Solid fish around 80cm are starting to show up. These fish will take big soft plastics like the Berkley gulp grub in nuclear chicken colour. You can also try jigging which appeals to a wide range of fish including cobia and jewfish. Pick up a few slow fall jigs and upgrade the stock hooks to a Decoy middle pike to ensure you have the best chance of hooking up on these finer wire hooks.
Surf fishing will certainly start to improve with anglers south of Noosa reporting higher numbers of smaller jewfish coming in. These fish are best targeted at night on mullet and even tailor should you catch one. With evening temperatures starting to drop the ocean temps will also start to fall which will see both of these fish turning up in bigger numbers. Come in and check out the range of rods from MJF if you are looking for a locally built traditional surf rod.
The Noosa River has been left behind a bit with all the great fishing offshore, but it still remains a great option for those without a boat. Flathead still feature strongly with most anglers returning bigger 60cm plus fish to protect the fishery. You can find them in good numbers around the mouth and going for a walk around the mouth is a great way to explore and fish. Flicking small plastics like the Powerbait minnow into the passing current and working it along the drop offs is a great way to find them. Bait anglers using simple running sinker rigs will also pick them up with small strips of mullet or squid. Try looking around the mouth and the rocks for trevally and bream and maybe even a school sized jewfish on the turn of the tide. Mangrove jacks will start to slow down but are still a viable target. Fresh mullet for bait anglers and live baits work best now they are becoming quieter. Make sure when using live baits they are of legal size and you don't exceed any bag limits.
Freshwater still ticks along with waters starting to clear up following the heavier rains. Many anglers are looking forward to the big schools which will hold in the lower main parts of the main basins. While we wait for this the warmer weedy edges are where you will find bigger bass. Try throwing smaller suspending lures with a twitch and pause retrieve for the big hit. If after a lure then look at the Zerek Tango Shad 50mm which is a great baitfish size sure to tempt a strike. Late in the day when the sun is higher and things heat up you can try surface for toga. It will be tough as they have excellent eyesight but the strike makes it worth the effort. Should you catch one be sure to keep it in the net to recover and calm down. They are easier to handle after time in a net which makes for a safer experience for not only the fish but yourself.
Now for all the  latest information log onto www.fishingnoosa.com.au for up to date bar and fishing reports, don't forget to drop into Tackle World Noosa, Noosa Boating and Outdoors and Northshore Bait & Tackle in Marcoola for all the right equipment, bait and advice to get you catching. Be sure to follow us on Facebook and remember Tight Lines and Bent Spines!