Many anglers will have favoured moon phases and tide times to go fishing. Without doubt the lead up to the new moon is a great time to go fishing as a dark moon is thought to produce a morning bite window. It is also thought that predatory fish can hunt under the cover of darkness vs a full moon where they stand out.
As the week started with a chunky swell and wind chop it allowed experienced skippers and charter boats only across the bar. This saw Sunshine Reef become the popular choice for those wanting a quick trip home. On the chew were snapper around the mid 60cm mark, sweetlip around mid 40cm, a few 5-7kg cobia and other reefies. Twin hook paternoster rigs and pilchard floater rigs continue to work best while sitting on anchor. For those drifting then the pilchard floater becomes more natural in presentation, especially when no weight is used. Soft plastics excel in these conditions and with most mornings overcast bigger fish tend to be on the chew. Smaller 4-5 inch jerk shads allow for great casting and a quick descent so you cover more ground while drifting. Look at the new Molix RT fork flex for a great baitfish profile plastic.
Beach fishing has been a bit hit and miss. Many anglers will find a gutter and stay there, however moving around can yield more fish and more bites so pack light. The new MJF Alvey rods are proving popular with whiting and bream anglers as they are built on Schneider blanks which many anglers instantly recognise. The consistent swell and good rainfall means new gutters should be forming so get out there and stay on the move if things are quiet.
The Noosa River has been showing signs of a good week ahead. Many anglers are finding smaller school sized jewfish with the occasional sizable fish. These fish will hit a huge variety of soft plastics and soft vibes so have a crack with well scented options including Atomic prong, Keitech easy shiner and Gulp minnows. Find the holes and structure and run sounders in side scan if you have a boat. The turn in tide can be a trigger for these fish to feed so try this time if struggling.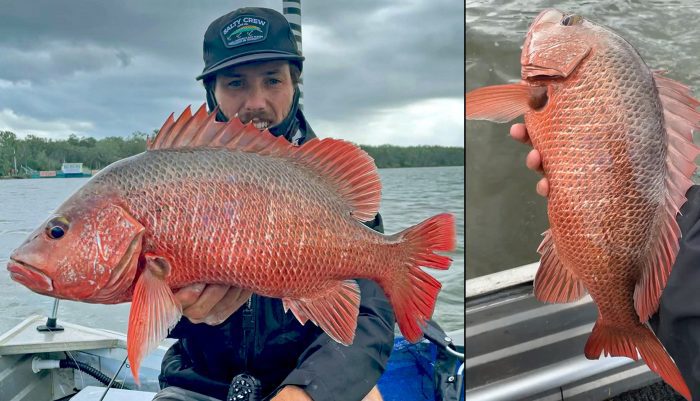 Bream will continue to be found in the lower estuary along with GT, tailor, queenfish and flathead. Although popular lure targets, queenfish are also a great live bait option, taking down big baits. Be sure to run a quality leader like Shimano Ocea fluorocarbon in 20lb minimum when using live bait. Owning a cast net is crucial for this method and if you need help we can show you how to throw one. We stick many sizes from 4 -12 foot and many styles so come in and check them out.
If after smaller species like bream and whiting with a few flathead (and luderick now that the season is under way) then the river mouth rocks and the Dog Beach are the easier land based options. There are many drop off's and deep water holes around there so have a flick and move on if quiet as you will find something around these spots.
Freshwater is getting to the coldest time of the year. Many anglers are heading south in search of huge impoundment cod which are popular targets on swimbaits. We stock a multitude of baits from Jackall and Megabass and the Shimano Tranx 300 is a popular reel for this style of fishing. Come in check out our range of gear which will also work well for the huge 80-100cm flathead due to turn up later this year. The cold snap that is coming is going to drive bass deep so break out your jigs and blades and deep diving lures like the Rapala Jack deep. This lure has a super small body for its 3 meter dive depth which will appeal to fish this winter.
Now for all the  latest information log onto www.fishingnoosa.com.au for up to date bar and fishing reports, don't forget to drop into Tackle World Noosa, Noosa Boating and Outdoors and Northshore Bait & Tackle in Marcoola for all the right equipment, bait and advice to get you catching. Be sure to follow us on Facebook and remember tight lines and bent spines!