Hi Everyone, hope you have all had a good week, unfortunately another lockdown put the brakes on Fishos last week, combined with the windy weather earlier in the week, it made for a quiet time on the fishing front. I recommend you keep an eye on the Queensland Government website for the latest information and rules.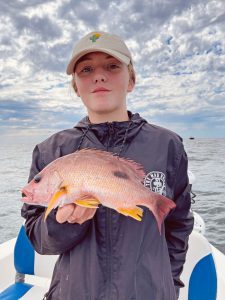 Bream will be a great target option this time of year and have been very active during the Winter breeding season. If you are keen to get the kids out for a fish Bream are the perfect option. We have a very diverse waterways system giving us plenty of spots to target Bream on the Tweed and Gold Coast either land based or from the boat. Land based fishing is a great family option and is an easy as fishing off your local jetty, rock walls or bridges are all good spots to start looking. I always recommend using burly to attract the Bream and hopefully you will come up trumps. A few spots to try are the Nerang River, Gold Coast Seaway Rock Walls, Broadwater Parklands Jetty, Grand Hotel Jetty, Paradise Point Jetty, Coomera River Bridge Fishing Platform and the Jacobs Well. Those lucky fishos that have access to a boat can try their luck in the Gold Coast Seaway, Wave Break Island, Paradise Point Bridges, Runaway Bay, Coomera River Bridges, Dux, Crusoe Island, Tiger Mullet Channel, Short Island and Logan River are worth a look.  Mullet Fillet, Mullet Gut, White Pilchards, Squid, Bonito Fillet, Prawns and Yabbies are a good bait options to try.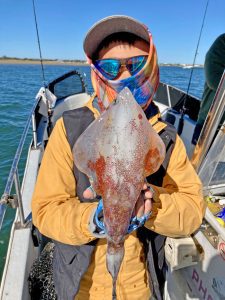 With some nice weather conditions on the way pending lockdown restrictions, it will be worth planning a trip offshore as fishos have reported some good catches off the Gold Coast and Tweed Coasts prior to this week. There is a good mixed bag on offer this time of year on the close reefs like Moses Perch, Tusk Fish, Trag Jew, Maori Cod, Jewfish and Cobia. Tailor have been schooling up on the 18 and 24-fathom reef off the Seaway, Cobia will be in the area targeting these schools. Legal sized live Tailor will make the perfect bait to temp a big Cobia, I recommend when targeting Cobia to run your lines at different depths by using a balloon to control the depth you fish at. To set your fishing line deep use a sinker and just let it down to the depth you prefer and then attach the balloon and let it drift back behind the boat, I also recommend having an unweighted Tailor on the surface as well. On the 36 and 50 fathom line you should find the hard fighting Yellow Tail Kingfish, Samson and Amberjack as well as the other species listed earlier to keep you busy. Not long to go now and you will be able to target Snapper and Pearl Perch again in Queensland waters.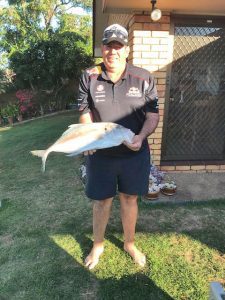 Clint from Brad Smith Fishing Charters reports before lockdown the fishing was quite tough, but we caught some nice big Arrow Squid. They have been more active in the mornings then heading deeper and harder to catch as the days go on. Ecogear ZX40 lures have been catching as many Squid as the jigs. North of Wave Break to Sovereign Island the snot weed has been very annoying, making it hard to fish with lures. Otherwise, the odd Flathead, Mackerel, Tailor, Whiting, Flounder and Bream have been around. Next week is lead up to new moon, which should see bigger catches of squid and fish. So often a slow week is followed by a better one.
The Snapper and Pearl Perch closure for Queensland waters is now current see link attached for more information https://www.daf.qld.gov.au/business-priorities/fisheries/recreational/recreational-fishing-rules/closed-seasons-waters/tidal-waters
If you have any great catches or photos you would like to share, please email us and let us know how you went. brett@coomerahouseboats.com.au or brett@fishotackle.com.au
Stay up to date with all fishing regulations in Queensland https://www.daf.qld.gov.au/business-priorities/fisheries
Fisho Tackle and Coomera Houseboat Holidays now have Hire Tinnies follow the link to view http://www.coomerahouseboats.com.au/our-fleet-type/hire-tinnies/
Seabreeze is a great website to access a local forecast http://www.seabreeze.com.au/graphs/
Good luck with the Fishing.
Brett