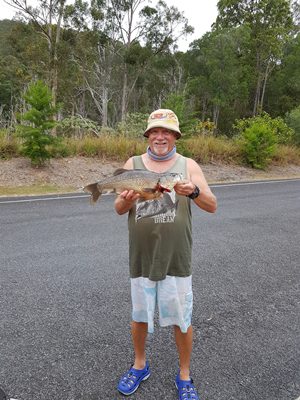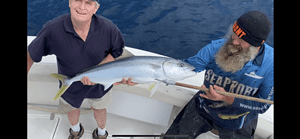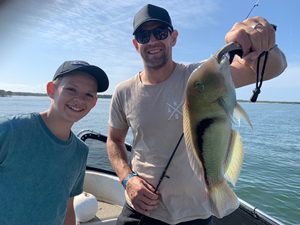 Hi Everyone, hope you have all had a good week, a bit of a cooler end to September School Holidays with Southerly winds making conditions average at times for fishing on the Gold and Tweed coast. Great news we have a long weekend to get out and have some fun, let's have a look at some fishing options to explore.
For those that ventured out offshore were rewarded with some great catches of Snapper and Trag Jew from the 36-fathom line producing a nice feed. The current has picked up a bit, but it is still quite fishable as long as you use the correct size sinker to suit the conditions. Customers also picked up a few Pearl Perch, Tusk Fish and Cobia. This weekend is looking ok on Saturday being the pick of the days so far at the time of writing my report. The swell will increase a bit on Sunday, just remember to have the latest forecast before deciding to go offshore and also be aware of bar conditions if you are a bit inexperienced as the extra swell will cause issues especially on the run out tide. Float lining is my preferred method to fish as it presents a more natural looking bait, you control the sink rate and can be ready to strike when a predator picks up your bait. My float lining rig consists of 3 gang of 5/0 Mustad 7766 hooks with swivels between each hook and a ball sinker run straight through to the hooks. I usually use 20lb leader and will go up to 40lb depending on my bait choice or target species. The 24 and 18 fathom reefs will also be worth a go with some good Snapper and Cobia showing up along with a mixed bag including Tusk Fish and Moses. Best baits are Mullet Fillet, Bonito Fillet, Yakka's, WA Pilchards and large Squid.
It's good to see customers having fun this week making the most of School Holidays catching some nice Flathead, Bream and Whiting around Jumpinpin, Logan River, the Broadwater and Tweed River. Yabbies, White Pilchards, Worms and Prawns have been the best baits producing some good quality fish. Some spots to try your luck over the Queen's Birthday Long Weekend are Canaipa Passage, Cobby Passage, Short Island Huts, Slipping Sands, Crusoe Island, Gold Bank, Eden Island, Kalinga Bank, Tiger Mullet Channel, Logan River, Coomera River either North and South Arms, Paradise Point, Crab Island Wave Break Island and the Nerang River. Land based try Paradise Point, Esplanade at Runaway Bay, Coomera River, Grand Hotel Jetty, Sundale Bridge, Marine Stadium, Nerang River and Jacobs Well.
As the water temp increases, we will start to see more Mangrove Jack, Cod and Trevally showing up giving anglers plenty of fishing options to target on the Tweed and Gold Coast. These fish are the thugs of the estuary and are great sport fish to target amongst structure which will test even the best of anglers. Mangrove Jack and Cod once hooked will tend to head straight back to their snag or hiding spot, you always have to be ready to put the brakes on these hard fighting species.
Clint from Brad Smith Fishing Charters reports i was lucky to fish with AFL legend Luke Hodge and his son Cooper. Luke won four AFL premierships with Hawthorn and was club captain. What a champion and tough competitor! I asked him what it's like to win one flag let alone four. He said incredible but it all goes so fast. We caught some Tuskfish, Flathead and Whiting around Crab island. On other days this week we fished similar areas while the tide was running and caught up to 100 fish per day on Ecogear blades, Pro Lure blades, Samaki soft vibes, yabbies and beach worms. We did a couple of nights too in the Nerang river catching some nice Sand Whiting on worms and yabbies. This coming week is leading up to full moon on Friday, which will fire up the pelagics. The day time tides are a good size to target the Broadwater Channels too. Remember to use 6-10 lb fluorocarbon leader to get more bites. The rivers now need a big flush of rain to rejuvenate them and are best fished at night until then.
Gavin from Sea Probe Fishing Charters reports plenty of Snapper on the 50 fathom line along with Kingys and Amberjack mixed in amongst them all taken on Mullet, Pillies, Squid and live bait . 36 fathoms is still producing Tuskies, Pearlys, Trag and the odd Dolphin Fish still around the fads.
Hope you all have a good week and stay healthy and safe. If you have any great catches or photos you would like to share, please email us and let us know how you went.
Stay up to date with all fishing regulations in Queensland https://www.daf.qld.gov.au/business-priorities/fisheries
Fisho Tackle and Coomera Houseboat Holidays now have Hire Tinnies follow the link to view http://www.coomerahouseboats.com.au/our-fleet-type/hire-tinnies/
Seabreeze is a great website to access a local forecast http://www.seabreeze.com.au/graphs/
If you have any great catches to report or fishing photos please email them to  brett@fishotackle.com.au
Good luck with the Fishing.
Brett