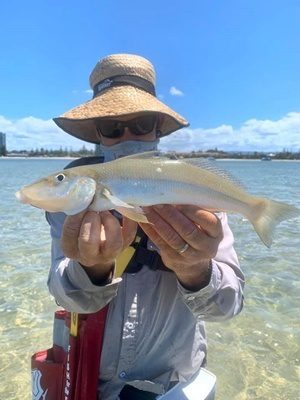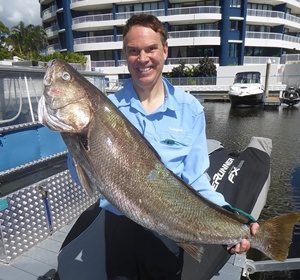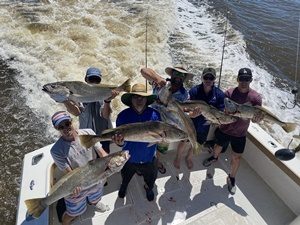 Hi Everyone, hope you have all had a good week, it was nice to see the sunshine again on the Gold and Tweed coast after all the rain we have been subjected to the past week. With Easter and school holidays here, our waterways have slowly started to clear up after flooding rains. It will take quite a while to get back to normal, but it is still worth trying your luck for a feed of seafood on Good Friday. Sheltered waters will be the go with the forecast not looking the best as we see a return to stronger South Easterly winds, large swells and rain. At the time of writing my report the Gold Coast is not part of any Covid 19 lockdown protocols by the Queensland Government, make sure you have all the latest information before venturing out. Let's look at few holiday fishing options to explore.
School Holidays are here and getting the kids out and about and trying their luck at catching a fish is a great idea for parents looking for something new to try. Experience is not necessary, just call into your local tackle shop and I am sure they will be all too happy to give you all the advice on the right bait, tackle and a few spots to try your luck at catching a fish with the kids. I recommend a basic light estuary combo with 9 to 12lb line, a running sinker rig with a size 3 to 4 sinker and a size 2 to 4 bait holder hook will do the trick on the normal bread and butter species you will find on offer like Bream, Flathead and Whiting. A few good spots to try either land based or by boat are the Tweed River, Currumbin Creek, Tallebudgera Creek, Nerang River, Marine Stadium, Broadwater Parklands, Main Channel near Seaworld, Grand Hotel Jetty, Lands End, Runaway Bay Canal Entrances, Paradise Point Jetty, Coomera River and Fishing Platform under the Highway Bridge, Jacobs Well, Cabbage Tree Point and the Logan River. Try your luck at pumping yabbies as they are great bait, also try using Prawns, Worms, White Pilchards or Mullet Fillet.
Mud Crabs have been around in fairly good numbers again this week with locals scoring a great feed for Easter, the rain did its job and flushed out the rivers and creeks stirring up the Mud Crab population. The waterways will be busy even if the forecast is not the best, I recommend where possible try not to leave your crab pots unattended for too long as unfortunately some people just can't help themselves and are tempted to share you hard earnt catch.  Try dropping your pots around the river mouths and also along the deeper channels in search of Crabs that are on the mover, it may be a week or two before they start to move back up into the upper reaches of the Estuaries, this is also dependant on how much extra rain we receive. Some spots to try are the Tweed River, Tallebudgera Creek, Currumbin Creek, Nerang River, Mouth of the Coomera and Pimpama Rivers, Never Fails Islands, Jacobs Well, Canaipa Passage, Russell Island and the Logan River Mouth.
Before the Southerly wind hit and the swell picked up the close reefs were fishing pretty well with local Fishos scoring some great catches of big Jewfish, Snapper, Moses, Trag, Tuskies and some extra-large Tailor. Both the 18 and 24 fathoms reefs off the Seaway produced well, once the weather settles it will be worth a look.
Do not forget about the Pirtek Fishing Challenge which is held on 17th and 18th of April this year which is a new format for this competition. It is a fantastic event and all money raised goes towards prostate cancer research. Check out the link for more details and how to enter https://pirtekfishingchallenge.com.au  There are some awesome prizes on offer, and everyone gets a hat and brag matt, also this year all the junior entries receive a free packet of soft plastic lures which is a great bonus.
Clint from Brad Smith Fishing Charters reports our local river catchments got some of the biggest rain of these floods. It will be too muddy to fish up the rivers at this stage. Around the seaway will be the place to be and on the run-in tide. The tides are getting bigger with lead up to full moon which means you will need to focus your efforts an hour each side of high tide. At other times try along the edges of the main channel from the spit to marina mirage in that 4-6 metre range, and on all the yabby banks from Wavebreak to Southport. Yabbies will work well as bait, and flashy and dark coloured vibes. The run-out tide does produce water that is too fresh and dirty. Water is still overflowing from Hinze dam.
Gavin from Sea Probe Fishing Charters reports after the recent rain the reefs were firing out on the 50 fathoms plenty of nice size Snapper, Kingys and Ajs were on the chew using live bait for the Kingfish and Amberjack and using mullet and WA pilchards for the Snapper. In the closer reefs Mackerel were a no show but some nice Silver Jewfish were on the chew making up for it on live slimeys and yakkas.
If you have any great catches or photos you would like to share, please email us and let us know how you went. brett@coomerahouseboats.com.au or brett@fishotackle.com.au
Stay up to date with all fishing regulations in Queensland https://www.daf.qld.gov.au/business-priorities/fisheries
Fisho Tackle and Coomera Houseboat Holidays now have Hire Tinnies follow the link to view http://www.coomerahouseboats.com.au/our-fleet-type/hire-tinnies/
Seabreeze is a great website to access a local forecast http://www.seabreeze.com.au/graphs/
Good luck with the Fishing.
Brett