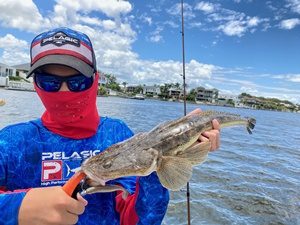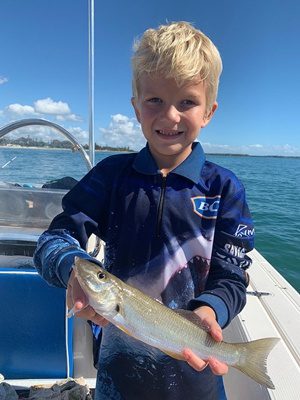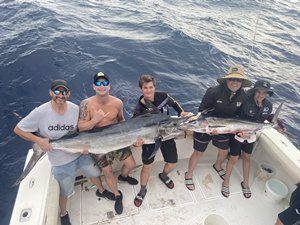 Hi Everyone, hope you have all had a good week, Black Marlin Mayhem off the Gold Coast at the moment seeing hundreds of these awesome fish caught and released during the Gold Coast Game Fish Clubs Light Tackle Fishing Competition last weekend. Plenty of rain on the Northern end of the Coast during the week will stir up the rivers once again just as they started to clear up. let's check out a few options if you're keen to try your luck on the Tweed and Gold Coast this weekend.
The annual run of Little Black Marlin off the Gold Coast has been the best on record for many years with some lucky boats catching and releasing over 20 Black Marlin per day in the Gold Coast Game and Sport Fish Clubs Light Tackle Tournament held last weekend. Local Fishos and Charter boats have also been getting in on the action with fantastic numbers of fish being caught putting massive smiles on all anglers involved. The best fishing at the moment has been in the 80m mark off the Gold Coast around Spot X holding big schools of bait which has attracted these awesome predators to feed. As the fish have been so concentrated in that area most boats have been dropping live baits rigged on circle hooks into the bait schools and waiting for the Billfish to pick off the injured bait fish out of the school, this is a very affective method given the numbers of fish. Traditionally trolling skirted small to medium lures for small Black Marlin is a preferred method for anglers if you need to cover ground to find the bait and fish this is a very visual way to fish with the surface strike action and the screaming reels from the blistering runs of these speedsters. Conditions change rapidly at times and the fish will not hold in one area for too long, if things are quiet you will need to cover ground and keep your eyes peeled on the sky and water or listen out on the two-way radio for anyone willing to share info. By catch like Wahoo, Dolphin Fish, Cobia and Mackerel are all an option depending on the water depth you choose to target. Water temp plays an important roll in where to look, it's not uncommon to troll up a Marlin from in close starting at the bait grounds and working you way out from there. Sullies Reef and the Cottons off Jumpinpin are always worth a look as these areas have produced good numbers of fish over the years. Just remember to take care when a Marlin is boat side as they have a weapon of a beak which can do some damage if not treated with respect and they can jump without warning.
Customers reported they have done well scoring a few nice Mud Crabs after the rain during the week using Mullet and fish frames as bait. The Coomera River nearer the mouth of the North or South Arm has crabbed well, also the Pimpama River, Logan River, Nerang River, Brown Island, Jacobs Well and around Brown Bays on Russell Island have produced a feed.
Bream are loving the extra dumping of rain as they don't mind a heap of fresh water in the system, fishos have been catching plenty this week. Bream will have a crack at just about anything you choose to use as bait and can be found schooling up in numbers around most canal entrances, bridges, jetties, rock walls and  marinas. Find the right structure and you should do well. They are a great target species for the kids to chase on school holidays.
Brad from Brad Smith Fishing Charters reports the beginning of the week was especially good with nice overcast and sometimes light summer showers falling. These inclement conditions suit the fish and are slightly cooler which makes things more comfortable for us anglers. We really mixed up the techniques this week with some deep water trolling as well as some deep-water jigging. With the water starting to clear up after the recent flooding it even enabled us to do a bit of surface popper fishing around the top of the tides. The species caught this week were Whiting, Flathead, Bream, Jewfish, Giant Trevally and Mangrove Jacks with atomic minnows, samiki vibelicous and mmd splash prawn lures doing the job.
Clint from Brad Smith Fishing Charters reports we mixed it up this week with some fishing in Nerang River getting some good Flathead on Westin soft plastics and Samaki 70mm soft vibes. While in the Gold Coast Broadwater good catches of Sand Whiting continue to provide plenty of entertainment on ultra-light tackle. On busy days you need to find quieter areas away from the water traffic, or the fish get timid as the day goes on. There is big schools of Winter Whiting in the Southern Broadwater. We also fished for Mangrove Jacks, catching and releasing two nice fish 51cm and 54cm early in the week. The big new moon tides have been tricky to fish, I've been finding the run out most successful. The first few days of this coming week the flow drops off considerably in the mornings, which will suit the banks at first then the deeper channels and seaway later in the week for Mulloway.
Gavin from Sea Probe Fishing Charters reports Marlin have been chewing there heads off in 80m of water on live slimeys, yakkas and trolling lures. Bottom fishing Snapper, Pearlies Trag Jew and also for Mackerel in close has been producing some great feeds for happy anglers.
If you have any great catches or photos you would like to share, please email us and let us know how you went.
Stay up to date with all fishing regulations in Queensland https://www.daf.qld.gov.au/business-priorities/fisheries
Fisho Tackle and Coomera Houseboat Holidays now have Hire Tinnies follow the link to view http://www.coomerahouseboats.com.au/our-fleet-type/hire-tinnies/
Seabreeze is a great website to access a local forecast http://www.seabreeze.com.au/graphs/
If you have any great catches to report or fishing photos please email them to  brett@fishotackle.com.au
Good luck with the Fishing,
Brett.