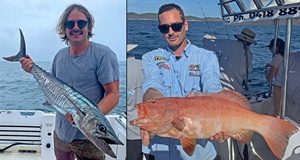 Changes appear to be the norm this week. We had light winds last week and blustery stormy conditions from Monday onward. Only a few trips ran from the charters and they fished the local Halls Reef section. This area provides some comfort from SE swells and winds and holds a mixed bag of species. Snapper frequent this spot as do pearl perch and sweetlip. With this reef section holding good numbers of baitfish it is also one of the best places to chase pelagics when conditions allow.
Fortunately Noosa has some great options for land based fishing and some good options to hide from the rain should a shower pass overhead. The most obvious spots are the bridges like Weyba Bridge. This offers fishing on both sides so you can move about according to the wind. You can fish many styles here and the species list can be extensive depending on tide and time of the day.
Day fishing soft plastics, soft vibes and deep diving jerkbait will see you tempt anything from a small jewfish to flathead. Surface fishing can be explosive here first and last light and little poppers and stickbaits worked quickly across the surface usually gets the job done. Look at the new range of Jackall chubby poppers for a great small option that is a hit with smaller trevally.
Bait anglers will do well on bream, trevally and flathead and at night you may be lucky to land a mangrove jack. The obvious structure is the first place a big jack will run to, so fish heavy and pull hard so you turn the fishes head away from a certain bust off. These fish are very prone to taking live baits. If you need help with throwing a cast net, we can certainly spend time with you and show you how to throw like a pro.
Away from the bridges the recent rains will have made the river a little dirtier than previous weeks so fishing the incoming tides around the lower part will see the cleanest water. Flatties, whiting and bream will be sitting deep as the cooler freshwater passes overhead. During this time baits will work best as will soft plastics and soft vibes because of their heavier vibration. Look at smaller baits and lures as often fish tend to feed less aggressively during the rains. The new Zip Baits Zoea 49S is the perfect prawn lure for anglers on the light stuff.
Surf fishing is also on hold due to the swell, but following the last big swell many reports of good gutters have been reported. Jewfish will hunt in the rough stuff, so if you go out be sure you fish in pairs, especially if on a rocky point or headland. If looking for a strong and lightweight rod check out the Penn prevail range. There are options from 9 foot and up and built to stop hard running, powerful fish.
Freshwater lakes and dams often see the rains drawing fish into the shallows. These fish feed on prey items that get caught and washed into the main body of water with the flooding rainwater. This is a great time to own a kayak as they give you the ability to push up into super shallow water and quietly. Once here you can pick up fish previously out of range to boat owners. Don't forget to purchase a SIPS permit before fishing local dams and lakes. The money generated from this goes back into restocking the area, giving you great chances of catching a fish.
Now for all the  latest information log onto www.fishingnoosa.com.au for up to date bar and fishing reports, don't forget to drop into Davo's Tackle World, Davo's Boating and Outdoors in Noosa and  Davo's Northshore Bait & Tackle in Marcoola for all the right equipment, bait and advice to get you catching. Be sure to follow us on Facebook and remember Tight Lines and Bent Spines!