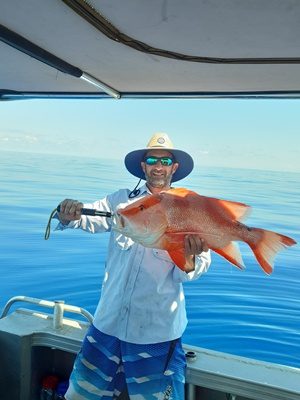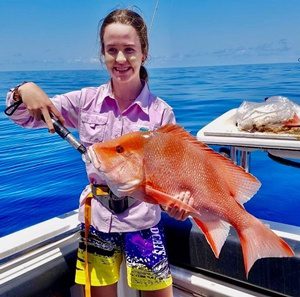 BUNDABERG INSHORE
With the Coral Reef Fin Fish closure finished now we can get back into it.  There is still some school mackerel being caught using metal lures retrieved quickly back to the boat, or by dropping them to the bottom and then retrieving them back to the top.  Floating out a well-presented pilchard should also land a mackerel or two.   There has been a few good tuskys, red emperor and coral trout all caught before the closure. With the wind not looking too good for the Bundaberg area for the next week, always check the weather forecast before heading out.
BURNETT RIVER
There has been some good-sized mangrove jack caught over the past week using weedless Zerek Prawns fished hard in the snags.  Also using 4'' paddle tails on the rock bars casting along the rocks and retrieving them back to the boat is the go.  There are still reports of some big whiting being caught using sand worms and yabbies in the shallows.  The flathead are starting to fire as well, fishing the sand bars on either side of the tides. There are still some prawns in the deeper holes, so don't forget to throw the net in.
BURRUM RIVER
We are seeing some good-sized squid still getting around on the sand flats in the Burrum at night.  The best method of catching them is using a big spotlight and hand spear walking around in the shallow sand flats. The sand crabs are still out the front of the Burrum River so it might be worth throwing the pots in overnight to get a tasty feed. Back up the river they are still catching the odd grunter and whiting with the mangrove jack and barramundi starting to come on the chew due to the warmer water.
LAKE MONDURAN
The water temperature in Lake Monduran is rising and the past week has seen some good barramundi being caught. The biggest one reported went 107cm, once again using the suspending hard bodies in and around the trees. The paddle tail plastics up to 7'' on the windblown points have been doing the damage with most of the big fish being caught down towards the front of the dam. With the warm weather upon us we should see a lot more fish caught this season. Just remember that the salt-water barramundi closure starts 1st of November to the 1st February but we can still enjoy the fresh-water barramundi and bass in our Queensland dams.
Until next time,
Tight lines.
Nathan Sutton
Tackle World Bundaberg