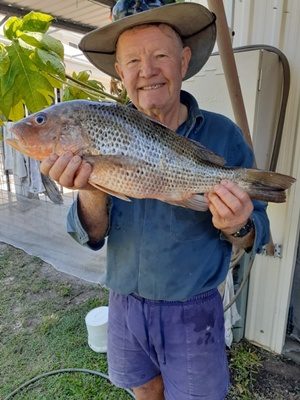 BUNDABERG OFFSHORE
Running true to form, the Bundaberg area had good weather during the reef closure last weekend and now that it's all open again, we are back to 'normal'. This weekend's forecast is not looking too bad with 10-15 knot east /south-easterly winds predicted. As always, check your local weather forecast prior to heading out. 
BUNDABERG INSHORE
At this time of year schoolie mackerel are in full swing right along our coastline. Casting Halco Twisties and Flasha spoons off the bottom will get you good results. It is always worth floating lightly-weighted pilchards as this can be a deadly technique to land a few schoolies. For anglers fishing closer to the bottom plenty of nice grunter and grass sweetlip have been keeping anglers entertained.
BURNETT RIVER
It was great to see so many people out and about fishing on the Burnett River last weekend. Mangrove jack have really turned on over the past week. Areas such as Toft Rocks, Splitters Creek and Fairymead Bend have been working well now that the days are getting warmer. Other species such as flathead and whiting have also been on the chew around Paddy's Island and Rubyanna. Finally, some nice muddies were caught last week with the bigger tides flushing out some good-sized bucks.
THE KOLAN RIVER AND BAFFLE CREEK
The mouths of both the Kolan and Baffle systems have produced some trophy sized flathead. Berkley Gulp and Daiwa Bait Junkie soft plastics have both been working well with those monster flatties. The upper reaches are still producing plenty of mangrove jack. Casting top water lures such as the MMD 95mm Splash Prawn against mangroves and rock bars is a super exciting way to fish for mangrove jack.
Once again, a few muddies have fired up in the Kolan and Baffle. Let's hope this continues as we get closer to Christmas.
LAKE MONDURAN
Over this past week Lake Monduran has produced some cracking barra. One of our local Bundaberg anglers managed to land a 115cm barramundi last weekend on a Jackall Squirrel. This was a magic fish and goes to show just what a world-class fishery we have here right on our doorstep. The Monduran Anglers and Stocking Association released another 19,000 baby bass into Lake Monduran last Monday.  Lake Monduran is one of a few Queensland impoundments with a healthy supply of both bass and barra. It is fantastic to see quite a few barra around the meter mark being hooked. Catching them from in amongst the timber is extremely challenging but it's all part of the fun!
A few things to look out for – MASA is running a fantastic Christmas raffle.  There's $5,000 in prizes for a $5 ticket. Tickets can be purchased either instore at Tackleworld Bundaberg or online through Monduran Anglers & Stocking Association Facebook page.
In other news, there is an online survey to keep track of the amount of barra and bass caught out of Lake Monduran to try to improve this fishery even more. This can be done on the Monduran Anglers and Stocking Association Facebook page at https://www.facebook.com/Monduran-Anglers-and-Stocking-Association-174163239452642 where you can download their new APP, then scan the QR code and enter the details of your catch.